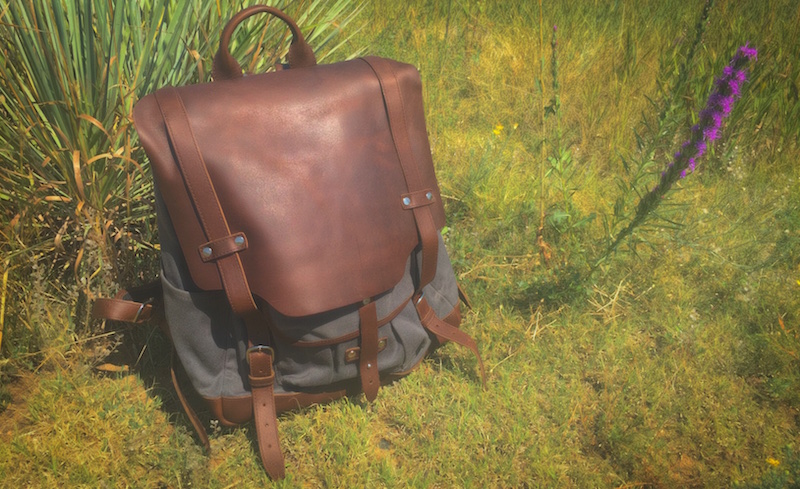 Today I'll be taking a look at Pad & Quill's new Leather Backpack ($295.00), a gorgeous handmade leather and waxed canvas backpack from the Minneapolis-based accessory manufacturer. And I'll let you in on a little secret: this backpack is only the second product I've reviewed to warrant the "Apple World Today Top Pick" label. You'll find out why as I review this well-designed piece of handiwork.
Design
Like most of the quality products from Pad & Quill, the Leather Backpack has a back story. In this case, Mr. PQ (AKA Brian Holmes) had what he called a midlife crisis (I'm older than Brian and I still haven't had one) and bought a Triumph motorcycle. Of course, when you're riding a beautiful bike like that, you need a backpack that's up to the task of looking as good as the motorcycle. The resulting design was the Leather Backpack.
I have a few of Pad & Quill's bags and cases, and have reviewed a variety of bags from a number of top manufacturers, but the Leather Backpack is the hands-down the best-looking computer bag I've seen. The top flap closure, handle, straps, and bottom of the backpack are made of a rich full-grain leather that is buttery smooth. Our review bag came in chocolate (brown) leather and gray 24-ounce waxed canvas; other color combinations include galloper black leather and olive green canvas, chestnut (brown) and olive green, chestnut and ranger tan, and galloper black and gray.
By the way, that's Mr. & Mrs. PQ in the video, with Brian on the Triumph and Kari following up in the FJ Cruiser support vehicle. I somehow like the idea of carrying the backpacks up to the top of a hill and sharing a bottle of wine as the sun sets…
But I digress. The backpack was a necessity for Brian since the Triumph obviously has no glove compartment. So it has capacity for a lot of stuff, starting with a space for up to a 13-inch laptop. If you have a 15-inch MacBook Pro, there's a Large Leather Backpack ($365.00) available as well. On the back is a large 7 by 9 inch pocket that will hold a lot; chargers, battery packs, even an iPad mini. The sides are equipped with open-top pockets perfect for holding a water bottle or thermos mug.
The top of the bag is cinched shut with a nylon cord closure while in transit, then covered by that big leather flap. The cord is threaded through a number of nickel grommets; all of the hardware is either beautiful nickel or hand-pounded copper rivets. With all of this quality hardware, you'd expect the Leather Backpack to last forever… and obviously Pad & Quill does too, as they supply each backpack with a 25 year warranty.
The sewing is all done with nylon thread and parachute-grade stitches. The leather artisan who makes your backpack signs a leather patch as a sign of pride of the insanely great craftsmanship that goes into making one of these bags.
Function
I currently carry a backpack with me whenever I go on one of my journeys, loaded down with two DSLRs, a long zoom lens, charging equipment for phones, computers, and cameras, extra memory cards, and whatever else I think I must have while traveling. That backpack is really nothing special; just a somewhat generic Victorinox Swiss Army nylon bag with three separate pockets. My goal with this review was to see if I could pack the same amount of gear — or more — into the regular-sized Leather Backpack.
The 12-inch Retina display MacBook and a pair of iPads went into the padded computer pocket with no problem, and I used the leather closure to keep them all in place. The Leather Backpack is wider than the Victorinox backpack, so the camera equipment actually fit better into the bottom of the bag. A handy multiple plug outlet I take with me on trips went into the main part of the bag as well. The other items — including small bags that contain the memory cards, adapters, and the charging bricks — fit into the outside pocket. I still had enough room to put two ScotteVest jackets into the backpack. I think it passed the test.
But what about comfort? Fully loaded with my gear, the Leather Backpack weighs 16 pounds! To carry that through some of my "favorite" international airports, it's going to have to feel comfortable on the shoulders and back. There is padding on the straps, but it didn't seem to be as thick as that on the old reliable Victorinox. What I found is that the straps did a very good job of distributing the weight on my shoulders. I also liked the simple "belt-like" adjustment straps on the Leather Backpack, which were easier to figure out than the various thermoplastic toggles and snaps on the old backpack, and I was able to get the back to sit comfortable on my back as well. Part of the padding that's used to protect your laptop? It's also padding your back (see below).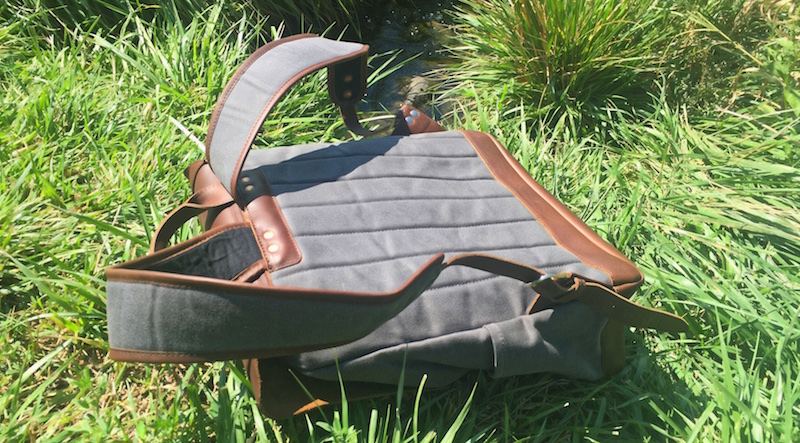 So it passed both the capacity test and comfort test with flying colors! Being wider helped the Leather Backpack in one more way; when laid flat on the floor of an airplane, it doesn't stick up as high and is easier to put under the seat in front of you.
Conclusion
Sure, I knew going into this review that I was going to be looking at some quality gear — I just expect that from Pad & Quill and some other accessory manufacturers. I kept looking for something that I could call out as a flaw… and couldn't find one.
Not everyone will want or can afford a nearly $300 backpack, but let's face it — the Pad & Quill Leather Backpack is probably the last backpack you'll need to buy. The top-notch materials and solid construction, beautiful design, and workmanship make this my top pick for 2015 for a computer bag. This is only the second time this year Apple World Today has made a top pick selection; the first was the Logitech MX Master Wireless Mouse.
Should you decide to invest in the Leather Backpack, be sure to use the coupon code AWT11 for a 10 percent discount on any order courtesy of Pad & Quill.
Apple World Today Rating (out of five stars): ★★★★★