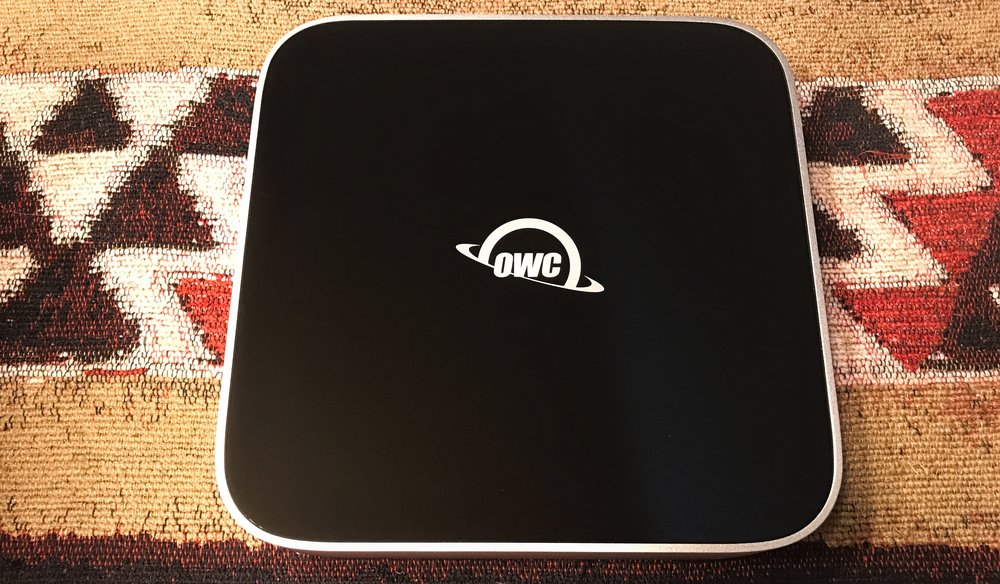 At least once a week or so, the team at Apple World Today publishes a reminder to keep your devices backed up. Apple has made backups as simple as possible with an iCloud-based backup scheme for iOS and Time Machine for macOS, but many people still leave their data vulnerable to possible loss. OWC is as dedicated as we are to making sure your data is backed up, and today we're looking at the new OWC miniStack 1TB USB 3.1 Gen 1 external hard drive.
Design
The miniStack is designed to be your Mac mini's best buddy; it mimics the look of the Mac mini in every way, has the same dimensions, and is meant to be placed on top of or below your 2010 or later Mac mini. Of course, as an USB 3.1 Gen 1 external drive, it doesn't have to be used with a Mac mini…but it sure looks good when it's paired with the mini.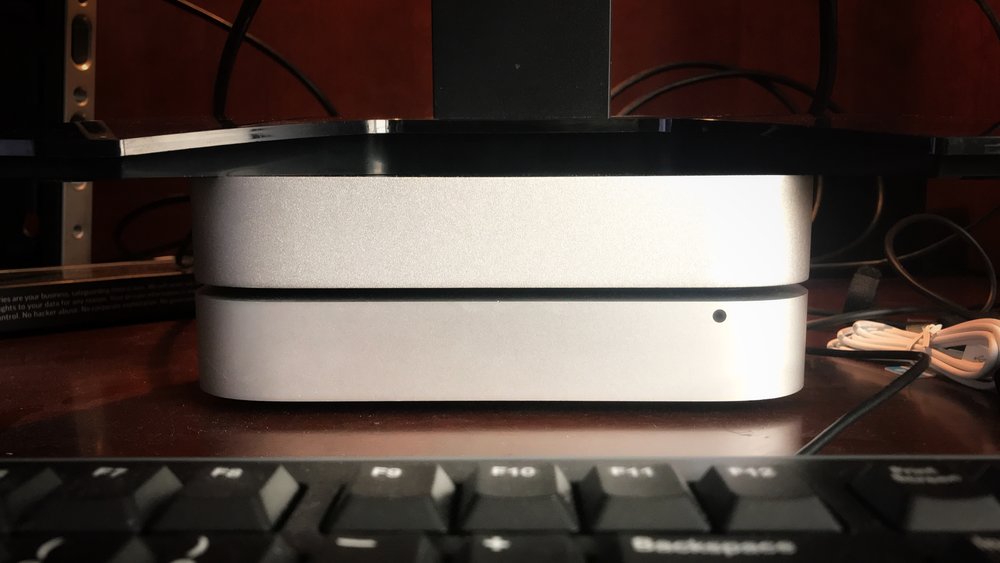 In terms of size, the miniStack is 1.4 inches thick and 7.7 inches on a side (36mm x 197mm x 197mm), and weighs 1.9 lbs (.85kg) without a drive.
The OWC miniStack can be configured as an empty storage enclosure into which you place your own 2.5- or 3.5-inch SATA hard drive, or in versions that include a 7200RPM 1TB ($139.99), 2TB ($169.99), 3TB ($198.99), 4TB ($249.99), 5TB ($278.99) or 6TB ($348.99) Toshiba hard drive. Our review drive was the 1TB model.
To keep the hard drive running cool, OWC wisely chose to place a fan in the enclosure. It's a special MagLev fan that runs at a very high speed for the best possible cooling, but makes very little noise. Compared to the two rather noisy drives that come with the Mac mini Server (late 2012), all you hear from the miniStack is a little bit of fan noise.
Power is provided by an included power supply with a thin cable that plugs into the back of the unit, and a USB Standard-A to Standard-B cable is included for connecting the drive to your Mac. There's a standard port for a Kensington locking cable as well; a nice touch that's not found on a lot of external drives.
While the miniStack works best with a Mac or PC with a USB 3.1 Gen 1 interface, it is backward-compatible with any Mac or PC that has a USB 2.0 interface.
A very complete and well-written Quick Start Guide is packaged with every miniStack. It's primarily meant to be used if you're installing your own drive, and includes full instructions on how to do so and then format the drive.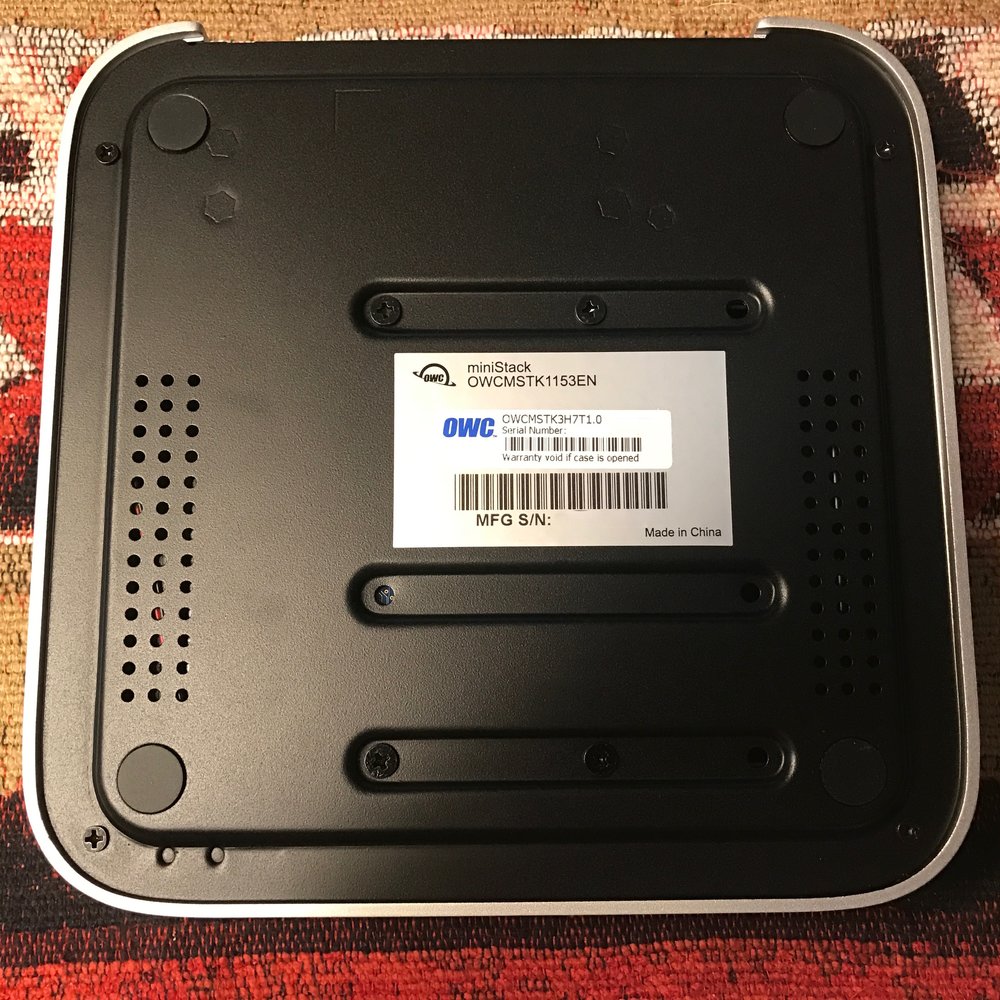 OWC provides a 3 year warranty and 24/7 customer support, so in the exceedingly rare case that you might run into a problem with the miniStack, you're covered.
Function
After connecting the power supply and cable to the miniStack, placing it atop the Mac mini, and pressing the power switch, a circular OWC HD icon appeared on the Mac desktop. With a double-click to open the drive, both Mac and PC versions of the OWC Drive Guide became visible, along with a PDF user guide, a ReadMe.txt file, and a folder marked OWC Software.
The ReadMe.txt file (which should probably be named "ReadMeFirst.txt" so that it's the first file that users open) notes that the OWC Drive Guide app should be launched. That app asks for permission to make changes on your Mac (requires admin login), then goes through a series of well-explained and clear screens to prepare the drive for use (see gallery below):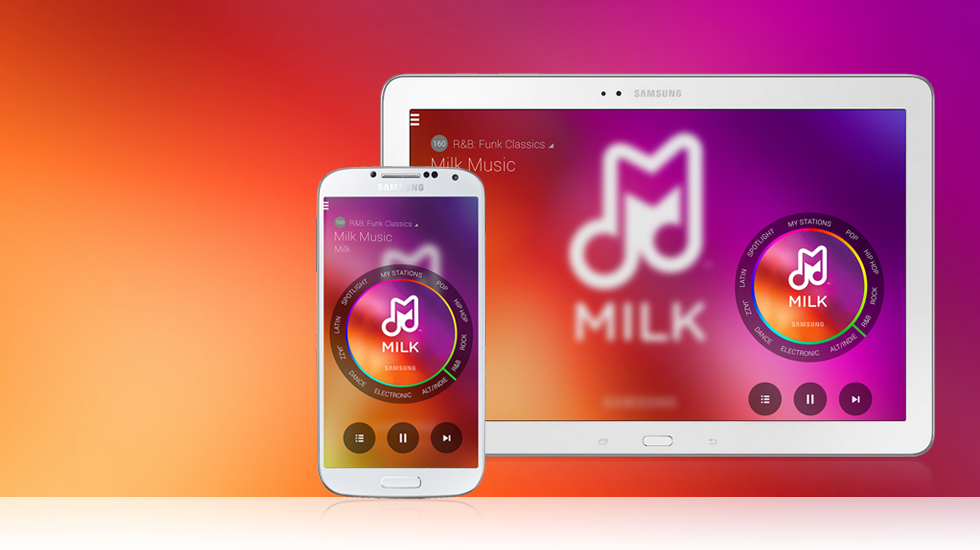 Omnifone claims to be the only independent music platform provider with a footprint in 45 countries across five continents. The company's website says it's delivered global deals with all major labels, hundreds of independents "and all the relevant publishers and collection societies." Omnifone has — or, rather, had — had partnerships with companies like Sony, Samsung, Vodafone, and PonoMusic. Samsung, for instance, used Omnifone's technology for Milk Music.
However, the company declared bankruptcy in May after losing Sony and Blackberry as clients. TechCrunch notes that Apple isn't buying Omnifone, as was rumored earlier this year, but acquiring talents and probably patent rights. Thecompany has over 50 patents registered to it, covering areas like digital media identification, streaming and downloading.