It's with a great deal of pleasure that we are introducing our sponsor for this week, Juicy Bits. The team at Juicy Bits has been hard at work lately on their new app for iPhone and Apple Watch, WhereNotes (free with in-app purchase).
Juicy Bits describes WhereNotes like this — "…makes it easy to remember something somewhere and recall it when you return. It's like having your own private notebook at each place you visit." Use cases include being able to remember a favorite restaurant meal so you can order it next time, grabbing a photo of an item you want to buy at a store so it's visible to you the next time you visit, or remembering the names of people at each place you visit. One idea for realtors — have photos and notes about each property you represent show up automatically on your wrist (or iPhone) when you visit those properties.
On Apple Watch, voice dictation lets you add text notes to your pinned locations. Buy the one-time "Unlock Everything" in-app purchase for $4.99 and you'll be able to add audio recordings, checkboxes, and counters.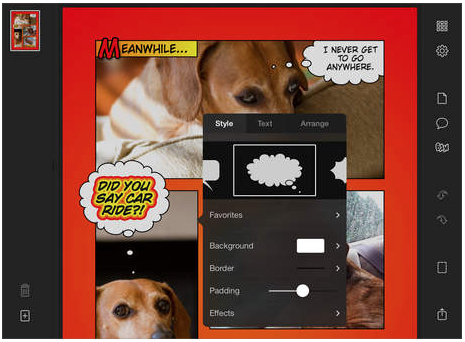 In case you're wondering where you've heard about Juicy Bits before, they're also the folks who brought the fun and useful Halftone 2 – Comic Book Creator app to iOS. Halftone 2 was an App Store Best of 2013 winner and is a perennial Editors' Choice on the iOS App Store. The app makes it simple and fun to create comic and scrap books with your images by selecting a page layout, applying filters, adding speech and thought balloons, adding and position captions, and then sharing the creation as either an image, a multipage book, or high-def video. Halftone 2 is available for just $1.99, with in-app purchases providing even more fun and functionality.
We'll have a full review of WhereNotes soon; in the meantime, please show your support for our sponsors with your purchase of WhereNotes for Apple Watch and/or Halftone 2. Thanks, Juicy Bits!