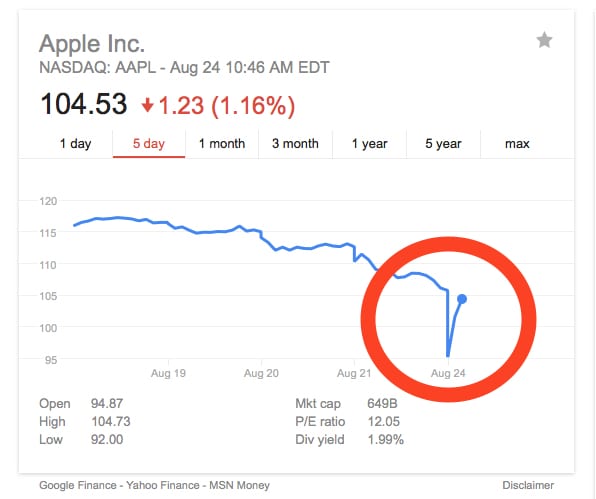 A precipitous drop in the Chinese Shanghai Index resulted in markets around the world opening well below Friday's closing prices. Shares in Apple opened below $100 at $94.87 before bounding back into safer territory. About one hour after the opening of the New York Stock Exchange and NASDAQ this morning, AAPL was hovering around the $104 mark.
The shaky opening follows concerns of a wider collapse of the Chinese economy, the world's second largest. Many investors are already referring to today as "Black Monday," thanks to a drop of almost 1,100 points in the Dow Jones Industrial Average — of which Apple is a component — at the open of trading today. At this point, the DJIA has recovered slightly, back up about 800 points.
Apple CEO Tim Cook remains upbeat about China and the company he runs, sending the following email to The Street's Jim Cramer early this morning:
AAPL last saw sub-$100 territory in October of last year. Shares reached a high of $134.54 on April 28, 2015.