For most people shooting photos with a digital camera or iPhone, there's not a lot of thought put into what format the file is saved in. Back in the days when storage was limited both in SD cards and smartphones, files were always saved in JPEG format, meaning that they were compressed immediately to save space. But compression has an effect on the quality of digital photos, so professionals save in RAW, uncompressed format. iOS 10 now has the ability to work with RAW files, but the standard Camera app still resorts to JPEG. That's why apps like Obscura (US$4.99) from developer Ben Rice McCarthy are gaining popularity as a way to shoot RAW images with the iPhone or iPad.
Obscura works on the iPhone SE, 6s, 6s Plus, 7, 7 Plus, and the 9.7″ iPad Pro, and provides the type of manual control that usually has professional photographers reaching for their DSLRs. The app provides manual control over ISO (aka "film speed"), exposure, focus and shutter speed, but also has automatic controls for those times you want to just pick up the iPhone and shoot.
The app not only captures in RAW format, but can apply one of 28 filters to the image in real-time, letting you see how they look before you take the photo. One feature I love is the availability of white balance controls, which provide instant correction for different types of lighting. You'll never have a photo tilting at an odd angle (unless you're composing it that way deliberately) thanks to a built-in spirit level, and grid lines are available with a tap for composition.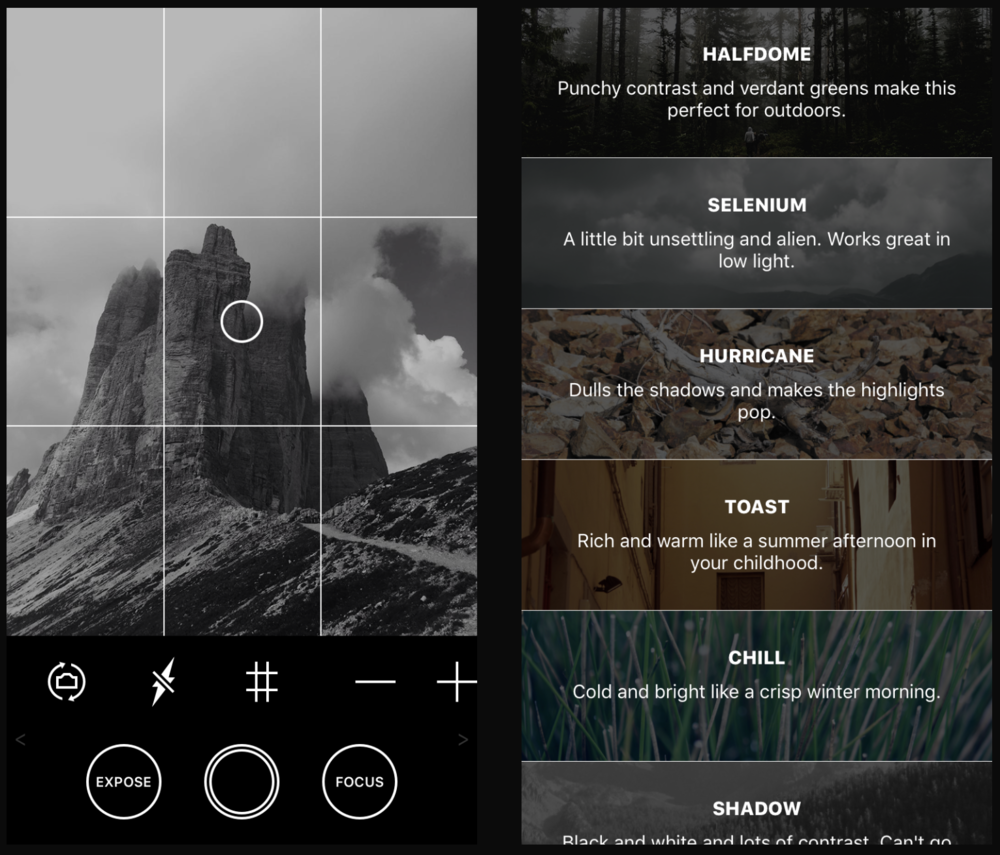 The user interface is also unique when compared to that of the standard Camera app. The exposure and focus controls are adjustable with the swipe of a thumb, pretty much accessible from anywhere when you're setting up a photo.
I was quite impressed with the real-time filtering; it was just nice to get an idea of what a photo would look like when shot with a warm glow applied or in gray scale. Once you're in filter mode, it's easy to swipe through all of the available filters. The ability to always have the ISO and shutter speed displayed on the "viewfinder" is useful, as higher ISO images tend to be quite grainy. The manual focusing provides much finer control as well, making it possible to shoot images without the "hunting" that the standard Camera app often does when it's seeking focus.
For many iPhone photographers, the standard point-and-shoot capabilities of the Camera app are going to be fine. For those who want the ultimate in manual control, filtering, and the ability to grab photos in RAW format, Obscura is a powerful tool to have.
Update: I was having some issues figuring out how to export my images as .DNG RAW images, and fortunately got an immediate response from the developer. It turns out that the best way of importing the images to a Mac for post-processing is to either use the Photos app and have it import over a USB cable, or do the same with the Image Capture app. Both ways, the photos came over as .DNG where they could be manipulated as RAW.