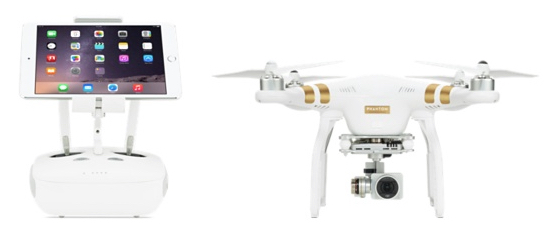 Drones are big business. Whether you're a news organization trying to get shots of the new Apple headquarters building, a surfer wanting to get a different video angle, or a pro mountain biker who wants video for her sponsor, drones are providing high quality video with altitude. Now Apple's getting into the act, adding the DJI Phantom 3 Professional (US$1,259.95) and DJI Phantom 3 Advanced ($999.95) camera drones to the accessory lineup.
Both of these drones are iOS-connected, and feature high-end capabilities like GPS location lock, auto piloting, and — on the Professional model — a 4K UHD video camera. The DJI GO app, available for free for the iPhone or iPad, gives pilots a live HD view of what the drone is viewing and displays a real-time flight record.
The DJI drones can be either delivered to your home or to a nearby Apple Store for personal pickup.