On a regular basis, Apple World Today posts a list of notable new apps or app updates that have been released. They may not necessarily be new, but they're popular and deserve mention. Here are this week's picks.
macOS
Rogue Amoeba has updated SoundSource, a macOS tool that provides access to critical audio settings, to version 5.
The app allows users to change the audio devices used for input, output, and sound effects, adjust the volume levels of those devices, and more. The most visible change in SoundSource 5 is its updated look. It now uses less screen space by default, offers an even sleeker Compact view to really save space, and has an updated menu bar icon that always shows volume and mute status.
SoundSource now automatically manages its list of audio applications, reducing the need for manual configuration. Now, whenever an app plays audio, it will appear in SoundSource, ready for adjustment.
Tucked in the app's preferences are new menu bar meter options. These can show activity for the default output device, default input, and any active apps. They also provide global mute controls, for one-click muting of the microphone or silencing a bothersome app.
With version 5, SoundSource takes makes it even simpler to use the 10-band equalizer to enhance audio, and getting the most out of even tiny speakers takes just a click, with the Volume Overdrive and new Magic Boost 2 effects.
The app also makes it possible to apply Audio Unit effects to any audio playing from the Mac. In version 5, large AU libraries are navigated with built-in Search, and effects can be pinned for global access. SoundSource also now offers support for the newest Audio Unit v3 plugins.
SoundSource can be accessed via its icon in the menu bar. Regardless of what application is in the foreground, users can adjust their global audio settings with just two clicks. SoundSource also provides the ability to do soft play-through of audio from input devices to any output.
SoundSource runs on macOS 10.13 and higher. A free fully-functional trial available for download. While in trial mode, SoundSource's features will disable after 10 minutes of use. The unrestricted full version can be purchased for $29. Upgrades from version 4 are $19.
Stellar has introduced an updated version of Stellar Photo Recovery Software that enables users to restore and recover an unlimited amount of lost or deleted photos, videos, and audio files on macOS and Windows systems.
Previously known as Stellar Phoenix Photo Recovery, the upgrade offers additional features including the ability to restore image files from corrupted drives, preview files before recovery, recover photo, video, and audio files from external media, and more.
Stellar Photo Recovery can retrieve a plethora of photo, video and audio file types, including JPEG, PNG, GIF, RAW, MP4, 3GP, AVI, MPEG, MKV, MTS, DIVX, MOI, VOB, OGG, OGM, 3G2, ASX, MTS, AJP, F4V, VID, TOD, HDMOV, MOV, MQV, M4V, and many, many more. It's also capable of recovering and restoring image, video, and audio files directly from a range of cameras, including DSLR, Mirrorless, Action, VR, and Drone Cameras. Additionally, Stellar Photo Recovery supports all 4K, 8K, and 360 cameras.
Features also include memory card recovery, which enables users to retrieve files from damaged, corrupt, or inaccessible memory cards, SD cards (including mini, micro, SDHC and SDXC), memory sticks, compact flash, CF cards, CFast, smartmedia, multimedia cards, XQD memory cards, eXtreme (XD) picture cards, Eye-Fi WiFi SD cards, P2 cards, and all other flash cards. The software also has the ability to retrieve lost videos, photos and audio files from BitLocker encrypted drives, volumes, or partitions; and a comprehensive deep scanning capability that enables users to search for lost multimedia files on the basis of file signature.
A demo is available at www.stellarinfo.com/photo-recovery-software.php. Registration is US$39.99 for the Standard Package and $49.99 for the Professional Package costs $49.99, which enables users to repair corrupt photos and extract thumbnails of severely corrupt photos on top of the standard photo recovery features. A Premium version of the software is also available for $69.99 that, in addition to the features in the Professional Package, enables users to repair corrupt videos, repair multiple corrupt videos at one time, and supports multiple formats. Each package option includes free tech support for one year from the date of installation.
iOS
FXhome – creators of free video editing and VFX software HitFilm Express – have made their mobile app debut with a new 3D tracking tool. CamTrackAR is a tool for professionals needing quick pre-visualization and any video creator wanting to speed up their post-production workflow.

Supported on iPhone SE and 6S onwards (as well as iPads on iOS 13.2 and later), it takes advantage of Apple's AR technology to simultaneously record footage and camera tracking data in real-time on your iPhone. Users can then import this into their post-production software of choice to instantly apply VFX and 3D elements in 3D space.
The app is currently free to use, and exports pre-tracked footage for use in free programs HitFilm Express or Blender (as well as FXhome's professional post-production software HitFilm Pro). Users will have to pay to add more than one anchor point for tracking and to export to other programs such as After Effects: US$4.99 per month subscription, or $29.99 lifetime). Search CamTrackAR is now available on the App Store to download the app.
iTranslate, a language technology company, has launched Grammatica, the AI-powered writing assistant app. It's designed as a personal proofreader for emails, texts and more.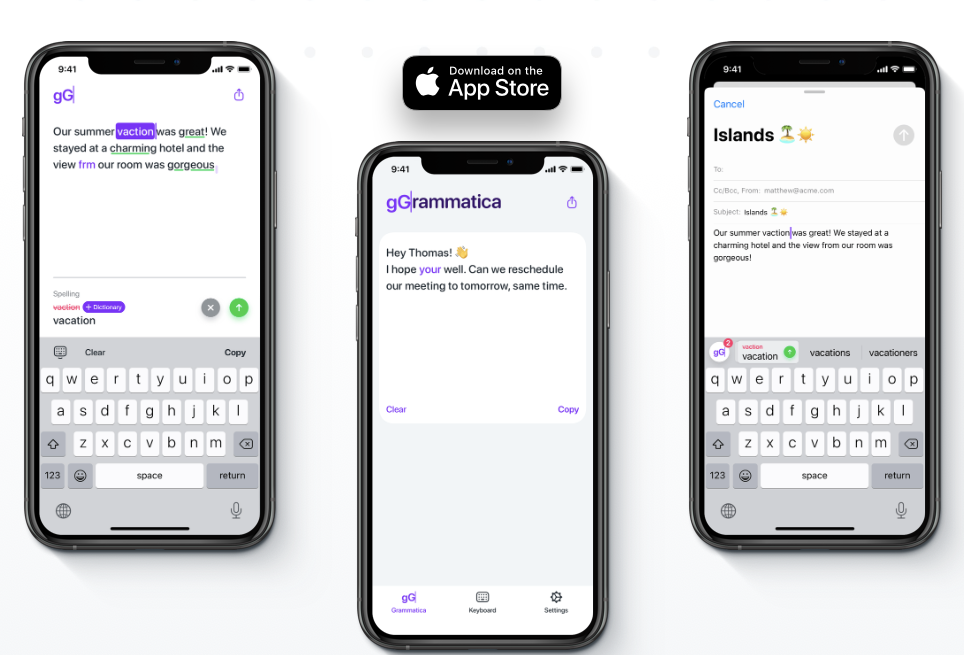 Messages can be composed in the app itself, or via the included keyboard extension in most messaging and communications apps. Grammatica is free, but does tout in-app purchases.
tvOS
Xeric Design has announced that EarthDesk, its real-time dynamic desktop map, is now available for tvOS in the App Store.
The app converts your Apple TV into a near real-time, dynamic image of our planet, continuously updating throughout the day. EarthDesk TV displays accurate sun, moon, and city lighting, and uses current satellite weather data to display global cloud coverage with transparency and moonlight reflection, allowing you to track hurricanes and other weather systems on your large screen TV.
EarthDesk TV includes four high-resolution maps and four map projections, including a globe. It offers a random viewpoint option that moves through a dazzling array of world views every 40 seconds, dramatically reducing potential burn-in problems.
EarthDesk TV costs US$4.99 and allows users to purchase an optional data subscription for one, three, six, and 12-month periods (starting at $1.99/month) which offers 16 times more detail in the cloud layer, as well as worldwide earthquakes, named storms (typhoons, hurricanes, etc.), and the current position, past track, and future track of the International Space Station.
Without a data subscription, EarthDesk TV's cloud data updates every six hours at a detail level of two megapixels. There are no other data feeds.