On a regular basis, Apple World Today posts a list of notable new apps or app updates that have been released. They may not necessarily be new, but they're popular and deserve mention. Here are today's picks.
iOS Apps/Updates
NPM Properties has launched TornadoFree. Not only does the free app give an alert for a tornado, it provides a map to safety. TornadoFree runs in the background, receiving regular weather updates. If a tornado forms nearby, and you are in its destructive path, the app immediately alerts you. Simply press "Map Me Out!" and the application maps you to safety.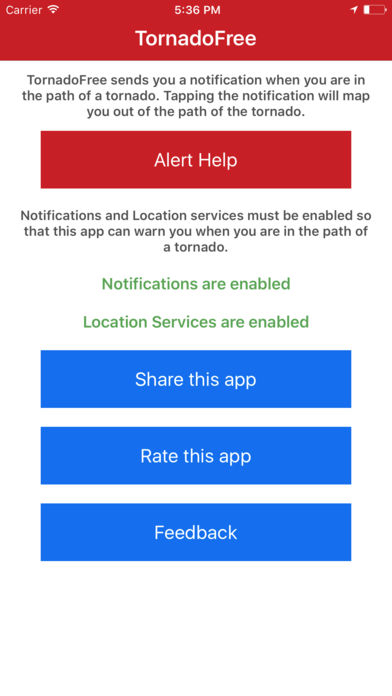 macOS Apps/Updates
Pixeleyes has announced AutoMounter 1.5, an update to their menu item designed to automatically mount your network shares on macOS.
The utility will mount your shares from an available server or network-attached storage appliance, and they'll appear on your Desktop. AutoMounter 1.5 offers advanced mount rules, the ability to mount to custom locations, opening apps and files on mount, and a dark UI theme.
AutoMounter 1.5 requires macOS 10.11 or higher and costs $9.99. The "Pro Settings" features require a $3.99 in-app purchase. AutoMounter is available worldwide exclusively at the Mac App Store.
ProtectStar has updated Data Shredder for macOS (10.11 or higher) to version 1.0.4. It's a military grade data deletion tool.
Data Shredder for Mac securely deletes data using secure deletion algorithms that purportedly meet and exceed government, military, and industry standards. Users drag 'n drop files, folders, volumes or even external devices to the app. Data Shredder then erases any chance for data reconstruction. Version 1.0.4 is a maintenance release.
Data Shredder for Mac Professional uses certified deletion algorithms, including: DoD 5220.22-M ECE, Peter Gutmann, HMG Infosec No.5, German BSI-2011-VS, US Army AR380-19 and more. Data Shredder for Mac Military Edition uses those same algorithms. Plus, it makes use of enhanced military deletion methods like NATO standard, US Navy NAVSO P-5239-26 (MFM & RLL), USAF AFSSI-5020 (United States Air Force), BSI TL-03423 and Canadian CSEC ITSG-06. Each algorithm has been analyzed by independent authorities and organizations to ensure it really does what it promises, which is destroy data beyond any hope of restoration.
Both editions have integrated the Advanced Secure Deletion Algorithm developed by ProtectStar in 2017. The new deletion method also encrypts the blocks completely using the 256-bit AES (Advanced Encryption Algorithm) and uses high-quality random numbers generated based on Feder Information Processing Standards (FIPS).
Data Shredder for Mac Professional Edition costs $19.90 ,and Data Shredder for Mac Military Edition is $29.90. Both editions are available worldwide exclusively through the ProtectStar website.