On a regular basis, Apple World Today posts a list of notable new apps or app updates that have been released. They may not necessarily be new, but they're popular and deserve mention. Here are today's picks.
macOS Apps/Updates
TableFlip is a new text-based table editor for the Mac (and, as far as I know, the only one). It's designed to take the pain out of writing Markdown tables.
With TableFlip, you can open Markdown documents and edit tables in-place; no copy & paste is needed. It's fast and makes creating tables from scratch very easy, according to its creator, Christian Tietze.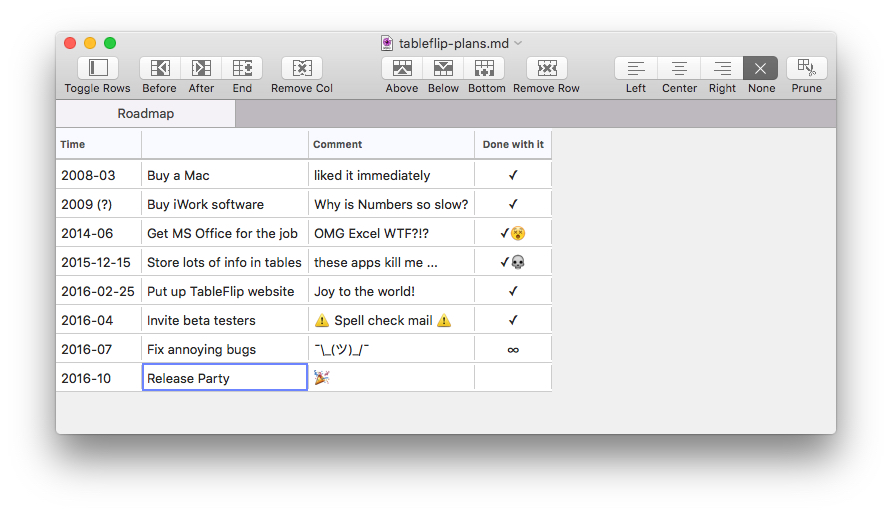 TableFlip requires macOS 10.10 or higher. It normally costs $18.99, but is available for $15.19 for a limited time.
SmileOnMyMac has updated TextExpander, a macOS utility that lets users define abbreviations for frequently-used text strings and images, to version 6.1. The upgrade adds Portuguese localization as well as the ability to use fill-in snippets with Apple's Dictation.
Now you can preview a snippet before expansion using the new Preview button in the snippet editor. The snippet editor also has improved drag and drop support.
TextExpander 6.1 requires macOS 10.10 or higher. It costs $40 annually or $7.96 monthly. Current TextExpander users receive a 50% lifetime discount on a "Life Hacker" plan. Users who purchased the utility after Dec. 1, 2015, can get three months on a Life Hacker plan.
Adobe has posted security updates for its Flash Player plugin that deal with vulnerabilities that could allow a hacker to take control of a targeted computer.
For Mac owners, the updates include Flash Player Desktop Runtime 23.0.0.185, Flash Player Extended Support Release 18.0.0.382, and Flash Player for Google Chrome 23.0.0.185. The updates can downloaded using either Flash's included update tool or the Adobe website.