On a regular basis, Apple World Today posts a list of notable new apps or app updates that have been released. They may not necessarily be new, but they're popular and deserve mention. Here are today's picks.
macOS Apps/Updates
24U Software has introduced version 4.1 of 24U SimpleSound Plug-In. It enables FileMaker Pro to play back audio in the background, without blocking the user interface, and manipulate ID3 metadata in the MP3 audio files
Version 4.1 adds: 64-bit compatibility with FileMaker Pro 14, 15, and 16;, a completely rewritten audio playback engine that takes advantage of the native audio formats supported by the host platform; and ID3 metadata support has been extended both to support wider range of ID3 tags, including lyrics and artworks, and to work on FileMaker Server as a server-side plug-in.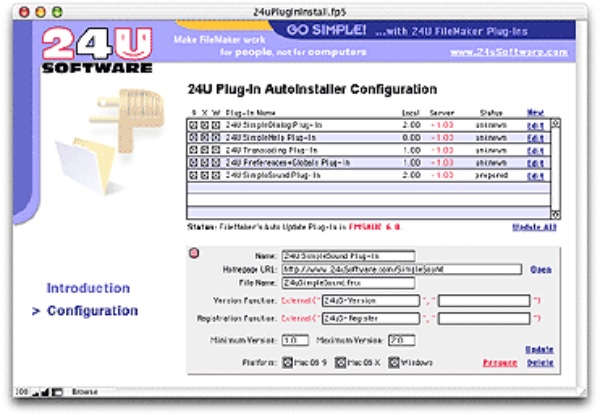 A demo of 24U SimpleSound Plug-In 4.1 is available. Licenses start at $49 per user, volume discounts are available for 5 or more users. Server licenses start at $499, discounted when buying for 2 or more servers. Optional Premium Support and Implementation service are available with the the purchase of 24U SimpleSound Plug-In 4.1.
Existing customers can upgrade to the new version at 50% off the regular prices if placing order within 14 days upon release, and 30% off if buying later. Customers who have bought 24U SimpleSound Plug-In on or after Nov. 10, 2017, or have got access to pre-release copy of the new version are eligible for free upgrade.
The Document Foundation has released LibreOffice 5.4.4, an update of the LibreOffice 5.x family for macOS, Windows, Linux and the cloud. The upgrade "over 80 bug and regression fixes."
LibreOffice Online is fundamentally a server service, and should be installed and configured by adding a cloud storage and a SSL certificate. It might be considered an enabling technology for the cloud of ISPs or the private cloud of enterprises and large organizations. LibreOffice users, free software advocates and community members can support The Document Foundation with a donation.