I had really looked forward to Apple's AirPower wireless charger, which turned out to be vaporware. However, I've quit singing the AirPower blues now that I'm using the Nomad Base Station Apple Watch Edition.
It works and looks great. The dark aluminum pad measures about 6.5 inches wide x 4 inches deep, has rounded corners, and large black leather pad on which your devices. The Nomad Base Station Apple Watch Edition has three Qi-certified coils at 7.5W wireless charging each on its bottom, which gives you a variety of charging options.
You can put a pair of AirPods in a wireless charging sleeve onto one side of the long pad and have room for an iPhone on the other side, while leaving room for an Apple Watch — which has its own integrated MFi-certified Apple Watch charging puck since the smartwatch does support wireless chargin. Or you can charge two iPhones, plus an Apple Watch. (Note that the charger doesn't have USB ports for cable charging.) Wireless charging provided a full charge to my iPhone XS Max in about five hours.
The Nomad Base Station Apple Watch Edition comes with an AC adapter and two international adapters. The bottom of the Base Station has two rubber strips to keep it from sliding around on a desk. Its 7.8 ounces of weight also helps keep it stationary.
There are LED charging indicators to keep you informed on charging status. The white LED may turn off after a while to save energy. LEDs remain off when there are no devices charging. There's also an integrated ambient light sensor that conveniently dims the LEDs at night while your devices are charging to minimize distraction and maximize your recharging time.
The Nomad Base Station is designed for the Apple Watch Series 4 and is compatible all previous versions of Apple Watch (though you'll probably have to remove a protective case if you have one installed). It supports Nightstand Mode in which the smartwatch displays the date and time, along with the remaining charge. If you set an alarm, it also appears on the watch face.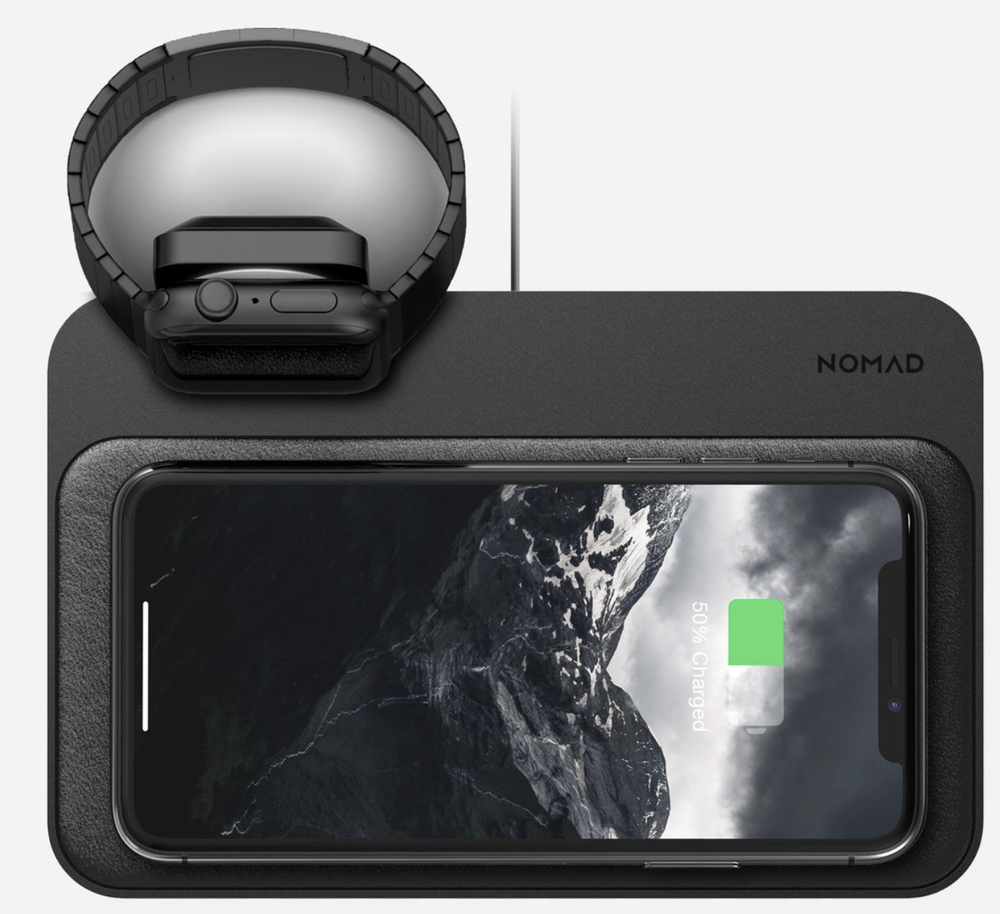 There are a few things you should be aware of. The Nomad Base Station Apple Watch Edition only works with AirPods with a Wireless Charging Case. Most folio cases for the iPhone work fine with the Nomad charger. However, DO NOT charge your phone wirelessly with a steel plate or magnetic back, as this may cause rising temperatures and may damage your devices.
The Nomad Base Station Apple Watch Edition isn't inexpensive at $139.95. However, I find it worth the money since it provides a single device that can charge my Apple Watch, AirPods, and iPhone XS Max. And it seems to be a hit, as it's backordered until June 20 — at least as I was writing this review.
Apple World Today Rating (Out Of 5 Stars): ★★★★★