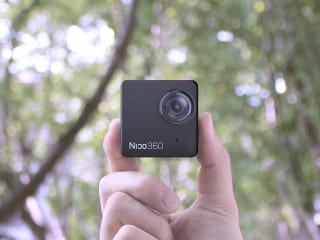 A lot of you know me as a huge fan of 360° spherical photos. I used to take them with some of the apps that are available for the iPhone (like Google Street View and Sphere), then graduated to the Ricoh Theta S camera late last year. Today a new 360° camera went live on Indiegogo, and it promises to bring a whole new level of portability and affordability to spherical photography. The Nico360 has already jumped past its funding goal with a little over a month left, and all of the initial Super Early Bird Perks (available for $99) are sold out.
That's OK, since you can still get one for $129 along with a battery pack/selfie stick. So what's so cool about the Nico360? First is the size. My Ricoh Theta S measures 130mm x 44mm x 23mm, while this little gem is 46mm x 46mm x 23mm in size. Retail price on the Nico360 will be $199, while the Ricoh Theta S runs $349. It has better resolution than the Ricoh (1920 x 1080) at 2560 x 1440 pixels, and four times the storage at 32GB. It's also waterproof, while the Ricoh is not.
Add the fact that there's a way to live stream VR video without a PC and built-in rotation stabilization to keep things smooth while you're walking, and the Nico360 is a big surprise in a little package. The developers plan to ship in October of 2016, and there are several stretch goals they're aiming for — and will probably meet. If they make $100,000 in funding (after less than a day they're almost at $70,000) they will make a diving case for Nico360. The $200,000 stretch will support 4K video recording.
In case you're thinking that viewing 360° photos requires a VR headset of some sort, it doesn't. Facebook recently added support for 360° images that you can either click/tap and drag around, or view by moving your iPhone around and you'll even be able to live stream VR video using Facebook Live.
As with the Ricoh Theta S, the Nico360 will come with its own app. I'm hoping that the device will also be supported by Google Street View. You've got 36 days left to back the Nico360 project. What are you waiting for?
By the way, you can view a 360° photo on our Facebook page right now.