Synology has announced two new products: the $1,660 FlashStation FS1018 (pictured), the company's first all-flash desktop NAS, and $299.99 DiskStation DS218, a new addition to the family of NAS designed for homes. Also, Virtual Machine Manager, a new package that allows you to run virtual machines on your Synology NAS, is officially available.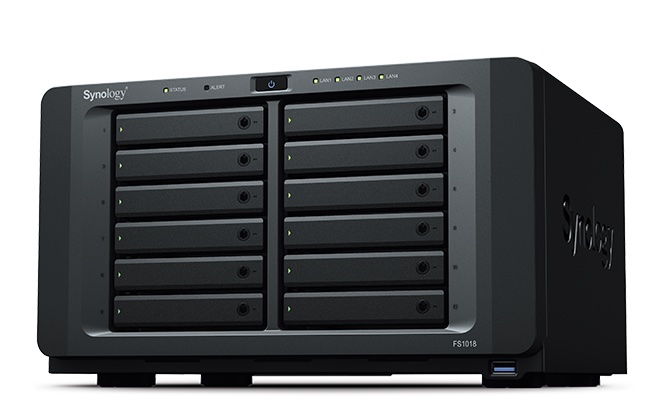 The FS1018 is a compact 12-bay, low-latency, all-SSD desktop NAS powered by an Intel Pentium D1508 dual-core CPU and 8GB DDR4 EEC memory, expandable up to 32GB. It's designed for work groups and small businesses that need powerful file storage and sharing, such as creative agencies, in a smaller, more convenient package.
Another feature of the new FS1018 is its ability to run Virtual Machine Manager. Synology's new virtualization software provides the ability to install and run multiple virtual machines including Windows, Linux, and Virtual DSM on a Synology NAS. This allows for more flexibility when deploying and maintaining different services and resources.
The DS218 is a 2-bay NAS equipped with a 64-bit quad-core processor delivering sequential throughput at over 112 MB/s reading and 112 MB/s writing. It comes with 2GB of DDR4 memory; that's four times the capacity of its predecessor. The DS218 is also optimized for 10-bit 4K H.265 video transcoding via Video Station, making it a good choice for multimedia fans or anyone looking for a small file sharing and backup target for home.