According to the latest market share survey from NetMarketShare, the market share for Mac OS X and iOS both dipped in August.
According to the report, among desktop operating systems, Mac OS X had 7.53% of the global market share in August compared to 7.67% in July (that's global market share; in the US it's over 12%). The all-time high for OS X was in October 2013 when it had 7.73%. Windows remains dominant with 90.84% as of August. That's up from 90.65% in July.
Parallels also offers a choice of other operating systems that can be installed, including Chrome OS, Ubuntu Linux, Android, and of course OS X. Why would you want to install OS X on a virtual machine? Simple — it's a great way to run a beta version of the next generation of the Mac operating system. Parallels Desktop 11 has very few problems running OS X El Capitan.
In reality, I did have some easily-resolved issues with installing the guest operating systems. With Windows 10, I had purchased the operating system (the sacrifices tech bloggers must make…) on a flash drive; Parallels couldn't tell that it was a "bootable drive" so I had to download an image file from the Microsoft site. That was about 4GB in size, and took about 25 minutes to accomplish.
Installing OS X El Capitan on a VM was even more problematic for some reason; Parallels is supposed to look for the installer on the recovery disk (I already had El Capitan set up on an external drive partition), but it couldn't find it. I finally realized that the beta version of OS X El Capitan needed to be updated before I could get Parallels to recognize the installer.
It was rather amusing to me, a Mac geek since 1984, that Windows 10 installed much faster under Parallels than OS X El Capitan.
Performance
All of the testing was done on my workhorse late 2012 27-inch iMac, which runs a 3.4 GHz Intel Core i7 processor and rocks 16 GB of RAM. While it's not new by any means, it's no slouch.
Windows 10 runs incredibly fast under Parallels Desktop 11, and doesn't seem to really cause the Mac to even breathe hard. I have actually gotten to the point that I am keeping the Windows virtual machine up and running all the time in full-screen mode (switching between it and OS X with a three-finger swipe on the Magic Trackpad), and I see no performance hits on my day-to-day use of the iMac.
So why would I want to keep Windows 10 up and running all the time? Well, if I choose to run it in "Coherence" mode — meaning that it looks like a regular Mac app and intermingles with my other open Mac apps — I can use Microsoft's answer to Siri, Cortana.
All I can say is that Apple needs to get moving on porting Siri to OS X for more than speech-to-text. I have found Cortana extremely useful for getting answers to questions, looking up maps, and more. There are also a couple of Windows-only apps that I run on occasion, although more and more of those apps are moving to OS X and iOS.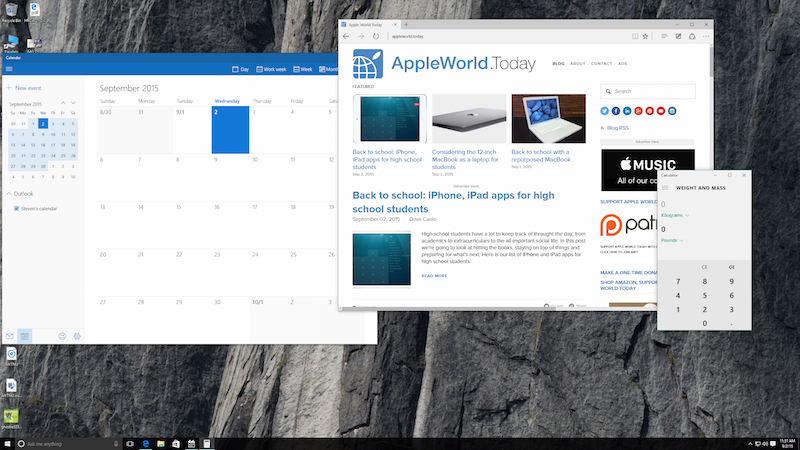 The new Windows 10 browser — Microsoft Edge — works great under Parallels Desktop 11 as well, and if you ever find yourself needing to get to a website that just doesn't play well with Safari (there are a few), Edge works just great as an alternate browser in Coherence mode. I found it was capable of doing video playback with no problems at all.
How about OS X El Capitan running under Parallels Desktop 11? I found it to be much faster than running the beta OS off of an external Thunderbolt drive, so I've now moved El Cap off of the external drive and will stick to running the betas on El Capitan.
One issue I do see with OS X El Capitan as a virtual machine is that video can sometimes flicker; I never saw that problem when running El Capitan on a dual-boot setup, so I attribute that to Parallels Desktop 11. I do realize that El Capitan is beta software, so I would expect the video situation to improve once the new operating system is released.
Conclusion
I've been very happy with Parallels Desktop 11 since installing it on my iMac, and still find it to be the best virtual machine environment for me. It's fast, it's not a resource hog (at least on my iMac), and it's actually quite inexpensive considering what it does. Just realize that you'll be paying about $50 a year to keep it updated to the latest feature set, or $100 if you're using the Pro or Business versions.
Parallels Desktop 11 is perfect for those people who are supplying their own computers (BYOD – bring your own device) to work and have to run at least some Windows-specific applications. It does a wonderful job of running Windows 10, and if you've ever wanted Siri on your Mac, Cortana will be more than happy to sit in the background and wait for you to ask a question.