iFlicks for the Mac is a handy tool for importing video. It's easy to use — and useful if you want to put all your multimedia eggs in one basket. You can import video files into iTunes to play in iTunes, Front Row, iPod, iPhone and Apple TV. However, note that iFlicks can modify or trash video files, so you should back 'em up first before using the software for the first time.
iFlicks supports a variety of video formats, including QuickTime (.mov), Audio Video Interleave (.avi), H.264/MPEG-4 (.mp4) and Matroska (.mkv). It takes an existing video file and puts it into the QuickTime container so it's readable by iTunes (if the format isn't already supported natively supported). Most features are directly accessible using the integrated iTunes Script menu. And processed videos can automatically be added to the iTunes Library or any playlist at any time.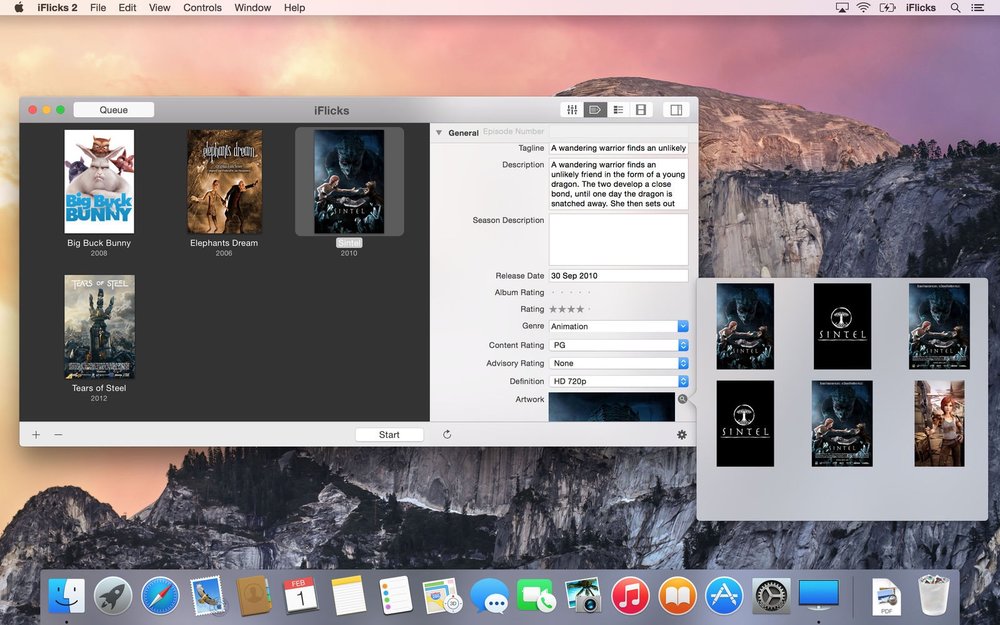 With iFlicks' built-in movie player, you can preview a movie. The application offers standard controls such as play, pause, stop, fast forward, and rewind — all with full screen playback support. At any time, iFlicks can resume a movie from the point it was stopped.
I like the flexibility of the app. If you put your videos/movies all in the same folder, you only have to set up your directories once. However, there are a variety of import options for those who like to keep 'em in separate folders and sub-folders.
What's more, iFlicks directly supports TMDb. By taking advantage of TMDb's application programming interface, you can add a plethora of metadata and artwork to imported videos. iFlicks also supports the repository of TV show related data available from TheTVDB, and the data is used to recognize TV shows and add corresponding metadata.
Most of the time iFlicks is dependable at adding the right show info. However, things such as the plethora of NCIS shows can confuse it, so you may have to help it choose the right show for info.
Also, it may not always grab poster frames for certain videos. But If iFlicks doesn't automatically find the right info, you can assist it via the search tool and — if you need to — manually edit the tags using a tag editor.
Thanks to AppleScript, iFlicks is scriptable. Almost all operations of the program can be controlled directly from the Script Menu in iTunes. A collection of sample scripts are automatically installed with the application. In addition, there are Folder Action Scripts that can allows iFlicks to trigger actions by dropping files into specific folders.
iFlicks has recently been revved to version 2.6. It makes the software compatible with new video and audio formats and makes internal metadata handling more reliable.
iFlicks 2 requires mac OS X 10.10 or higher. It costs $34.99 and is available at the Mac App Store.
Apple World Today Rating (out of 5 stars): ★★★★