I've now spent over three months with my Apple Watch. My thoughts, in a nutshell: I like it, but I certainly can't recommend it for everyone due to its price. And, of the many Apple devices I own, if I had to give up one, it would be the first to go.
That said, I do like having a wristwatch. Perhaps I'm simply indoctrinated after a lifetime of wearing one, but I enjoy being able to tell what time without pulling my iPhone out of my pocket.
Of course, buying an Apple Watch just to tell time would be like buying a 5K iMac with Retina display just to check your email. In other words, a waste of money.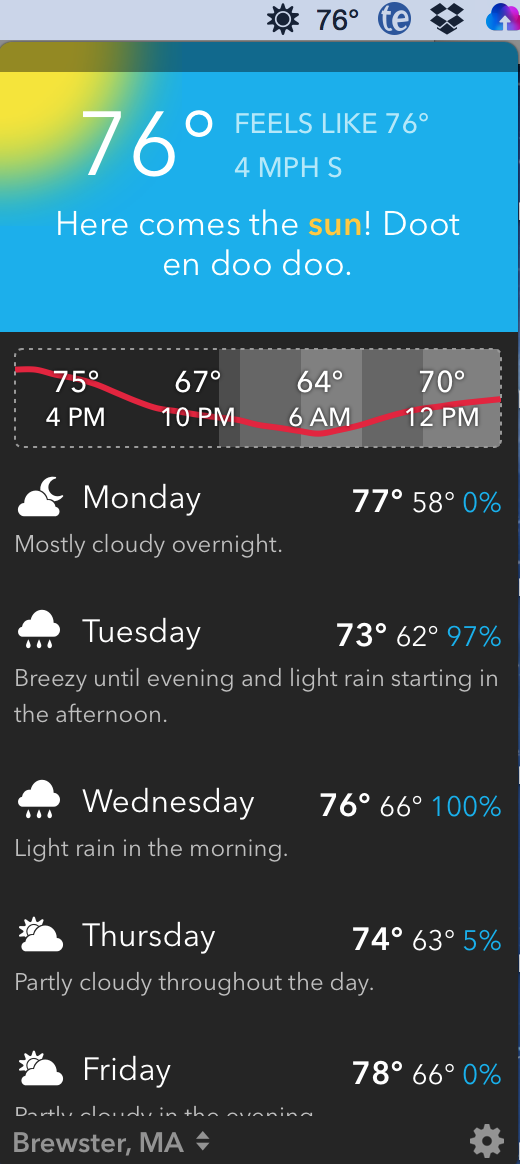 Attention, meatbags. CARROT Weather is now available for the Mac. The robot with a vindictive personality has escaped the confines of iOS and infiltrated your computer, bringing with it accurate weather forecasts for multiple cities, secrets to unlock and a time machine. Here's our look at CARROT Weather for Mac.
CARROT Weather for Mac is very similar to the iOS apps, with the same animations, look and feel. It also delivers the same weather forecasts, with thorough information like lows and highs, precipitation, UV index, pressure, dew point and more.
The "time travel" feature is pretty cool, too. Pick any date within the last 70 years, and CARROT Weather will display the weather for that date in your chosen location. It will even predict the weather 10 years into the future. Let's see the TV weather man do that.
Unique to the Mac version is a customizable mini window that lives in the Menu Bar. It displays a one-week forecast and can be detached from the menu bar to float above your other windows.
Those who like the CARROT iOS apps will enjoy CARROT Weather for Mac. It's the same bot you know and love, delivering up-to-date weather reports to your computer. It it looks fantastic full-screen. It's available from the Mac App Store now for $9.99.

The 14 were charged with illegally accessing computer data at Foxconn, the Taiwanese company best known for making Apple devices. The convicts alleged used knowledge gained at the company to break into the iPhone network authentication server system to unlock the phones,according to Tencent Tech (as noted by BrightWire.com, a global investment newswire).
The group made more than CNY 3 million (about US$470,000) from the deals, the article adds. The convicts — who received fines ranging from CNY 20,000 to CNY 1 million — are from Foxconn's factories in the cities of Zhengzhou and Shenzhen.