Intel has given some details about its upcoming Skylake processors, sharing some info of the processor's architecture. What we don't know is when we'll see it in Macs, though I'm not expecting that to happen this year.
Reducing power consumption is Intel's top priority for Skylake. The company is also reducing the size of the processor, resulting in smaller motherboards. What's more, the next gen Intel chip is touted to provide gains of 10x or more and support DDR4 RAM for further speed improvements. However, there are other cool features — assuming the rumors are true.
For example, Skylake will purportedly bring wireless charging and data transfers by adopting the WiGig standard — a technology that enables gigabit-speed communications without using wires. This will form the basis of the wireless docking capability. And perhaps wireless display connectivity and charging.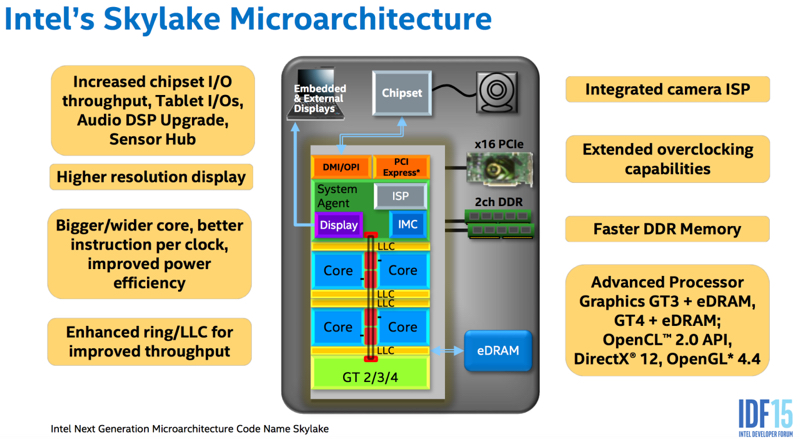 In other words, it's possible that a Skylake Mac laptop would need no cables for power, connectivity with accessories, or connection to an external monitor. (Hmmmm. Could Apple be planning a WiGig Cinema Display?)
The problem is that it's uncertain when Skylake will ship in large quantities. DigiTimes, which has a spotty record at predicting Apple's upcoming product plans, says Intel is planning to launch 18 new Skylake processors for notebooks starting in October. If so, we could see Mac laptops (and maybe an iMac) with Skylake processors in time for the holidays.
I hope they're right. However, my gut tells me that it will be early spring before we see those systems. My crystal ball tells me that September will be the month of new iPhones, new iPads and a new Apple TV, and that October will see the long-rumored "iPad Pro" and a 21.5-inch iMac with a Retina display unveiled. I also think that we'll see a price cut on the Apple Watch to spur holiday sales.
As for Skylake Mac laptops and iMacs, look for them in early 2016 (at least by spring). I think they'll boast some of the intriguing features previously mentioned. And will be accompanied by, at long last, an Apple Cinema Display with Retina screen.