Moshi makes a full suite of USB-C accessories that come in handy for owners of new MacBook Pros and the 12-inch iMac. Yep, I know you don't want to buy dongles and adapters, but, with its latest laptops, Apple has given us little choice.
My favorite of all the Moshi products is the $79.95USB-C Multiport adapter (pictured), a 3-in-1 hub that lets you connect additional USB-C or Thunderbolt 3 devices. It's extremely flexible in performance.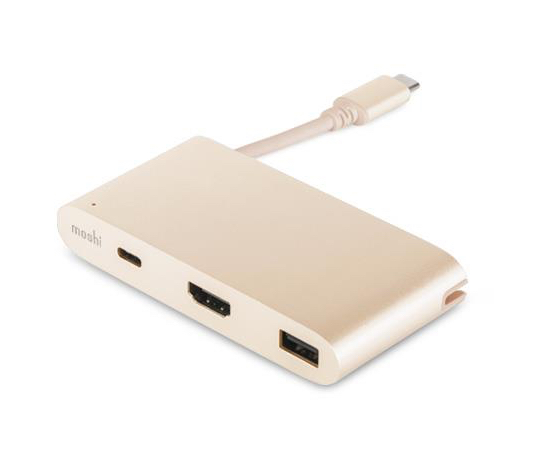 For example, it supports 1080p and 4K video output to any HDMI-enabled monitor or TV. A standard USB port is included to charge/sync your iPhone or connect legacy devices such as an external USB hard drive or hub. The adapter also supports fast charging of your laptop thanks to pass-through power on the female USB-C port.
An integrated Smart LED indicator lets you know when your computer is charged up, even when it's closed. Encased in aluminum and packed with advanced features, Moshi's USB-C Multiport Adapter can serve the purpose of a handful of stand-alone adapters. If you need individual adapters, check out the:
$39.95 USB-C to Gigabit Ethernet Adapter, which enables a MacBook or MacBook Pro with a USB-C port to establish a wired Internet connection. Encased in aluminum to minimize electromagnetic interference, the adapter also features integrated link/activity LEDs to show the status of your wired connection. Plus, it includes a USB pass-through port so you can charge your phone or connect an additional USB device to your Mac laptop.
$49.95 USB-C to HDMI Adapter, which allows you to output UHD video and digital audio to your Ultra HD TV or monitor with a 60Hz refresh rate. Both ends of the cable are encased in anodized aluminum to minimize electromagnetic interference.
$34.95 USB-C Charge Cable, which lets you power any USB-C device. Smart LED indicators keep track of your charging status. It supports up to 60 W of power output and USB 2 data transfer speeds, Measuring 6.6 feet (2 meters) in length, a HandyStrap is also included to keep your cable neat and tidy during transport.
Moshi also makes a $4.95 USB-C to VGA Adapter, but I've never had the need to use it.