Mophie, a ZAGG brand, has unveiled four new universal power solutions: the powerstation, powerstation XXL, powerstation wireless XL, and powerstation wireless stand each feature the ability to charge multiple devices through a USB-C PD input/output port and USB-A port.
The mophie powerstation batteries are accentuated by a premium fabric finish and are lightweight and portable to easily fit in a bag, according to Charlie Quong, vice president of product at ZAGG Brands.
The mophie powerstation and powerstation XXL contain a 10,000mAh battery, and a 20,000mAh battery respectively for charging of any phone, tablet, or USB device. The powerstation can charge two devices at once, while the powerstation XXL can charge three devices simultaneously through the USB-A and USB-C ports.
The USB-C PD port can be used to recharge the powerstations or charge a mobile device at up to 18W output, providing up to a 50% battery charge in 30 minutes.
The mophie powerstation wireless XL contains a 10,000mAh battery and features built-in universal wireless output to charge any Qi-enabled device on contact. Using the fast-charge 18W USB-C PD port, USB-A port, and wireless charging surface, three devices may be charged simultaneously.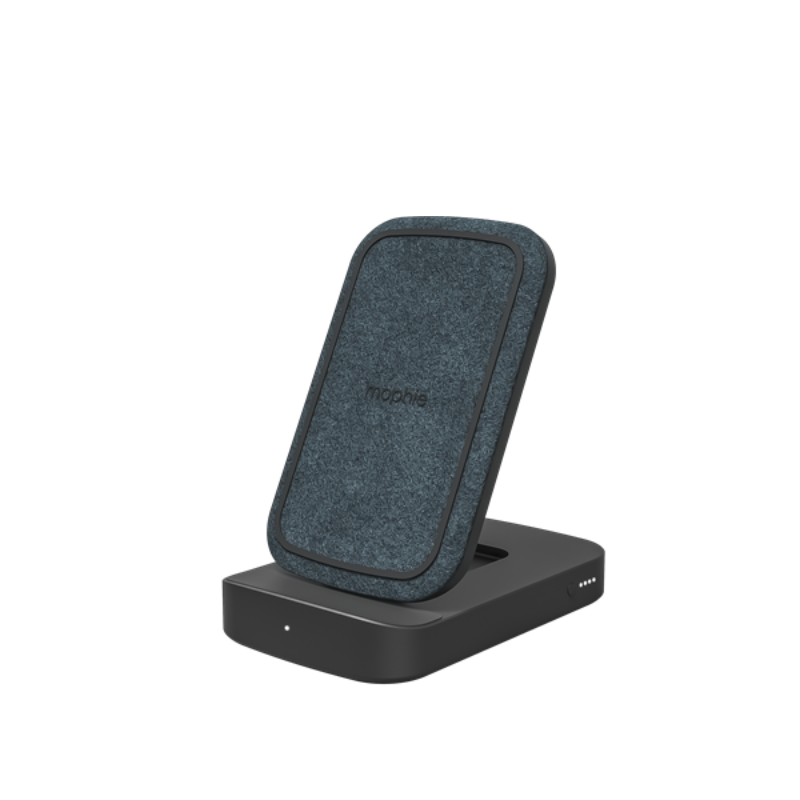 The power station wireless stand (pictured above) can be plugged into any outlet with the included 18W wall adapter or unplug it to use as a portable wireless charging stand in any environment. It contains an 8,000mAh battery with up to 10W of wireless power output, an 18W USB-C PD port, and a USB-A port so can charge up to three devices simultaneously. The powerstation wireless stand can hold your phone at an angle in portrait or landscape mode or can be folded down flat to use as a charging pad. Additional features of every mophie powerstation include:
° Priority+ Charging, which sends power to your device first then recharges the powerstation;
° Integrated LED power indicator: four lights display the charging status and current battery life.
The mophie powerstation batteries are available now on mophie.com, T-Mobile stores nationwide, and other major retailers in the coming weeks for the suggested retail prices of US$49.95, $59.95, $69.95, and $99.95 for the powerstation, powerstation XXL, power station XL, and powerstation wireless stand, respectively.