MacOS Mojave brought with it a number of improvements to security, and one of those changes might be affecting backups on your Mac(s). Since having an up-to-date backup is an important safety net for your Mac, we want to make sure that you check your backup utilities to make sure they're running and to update to new apps if they aren't.
Does this affect Time Machine?
Nope. If you just use Time Machine to do your backups, everything is taken care of with the upgrade to MacOS Mojave.
So what's the issue?
What's different in Mojave is that apps now require specific permission to have access to data on the Mac. For example, apps need permission to access Mail, Messages, Safari, Home, Time Machine backups and a number of administrative settings.
A lot of us use other backup apps. For example, I use two apps: Carbon Copy Cloner from Bombich Software for local backups and Backblaze for backups to the cloud. Both of those apps required updates.
With Carbon Copy Cloner, I received a message that a backup hadn't run. The app provided a message that said that I'd need to change a setting in System Preferences > Security & Privacy under the Privacy tab.
In typical Carbon Copy Cloner fashion, this was easy to do — I was instructed to open System Preferences, then drag an icon of a fish (yes, really!) to a field listing which apps are allowed to access data (see screenshot below):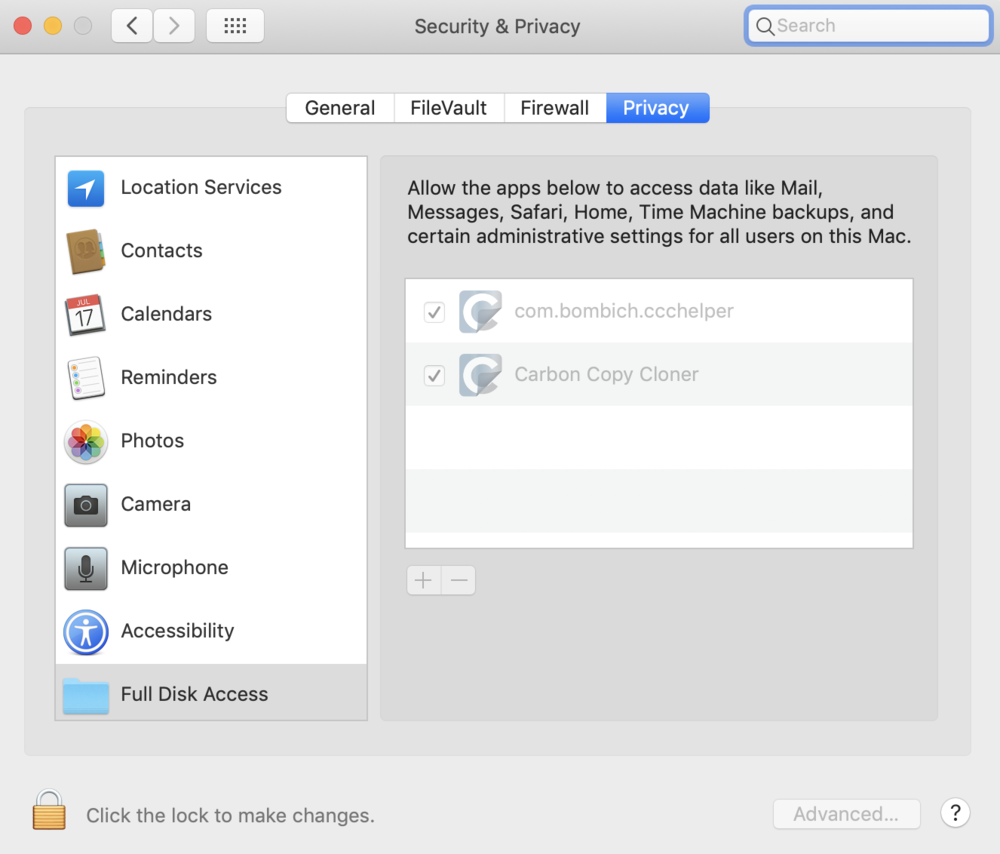 It added two components for Carbon Copy Cloner to the list of allowed apps. Easy!
<!— code from sekindo - Appleworld.today In-Article - outstream —>

<!— code from sekindo —>
For Backblaze, an update to the app was required. For Backblaze users, simply go to the menubar icon (it looks like a flame) and select "Check for updates". Within seconds I had downloaded the newest Backblaze app and installed it on the Mac.
Shortly after, the following message appeared on my Mac:
The Learn More button sent me to this web page where I was able to follow instructions on how to add a specific component of Backblaze to the list of apps that get full disk access. This allows Backblaze to back up the Photos Library properly.
The bottom line? Check any backup apps you have to see if they require a change in permissions or an update.