Apple has been named "the most intimate brand," according to the 2017 Brand Intimacy Survey by MBLM, a consulting, branding, experience and technology company. The rest of the top 10 were Disney, Amazon, Harley Davidson, Netflix, Nintendo, Samsung, Whole Foods, BMW and Toyota.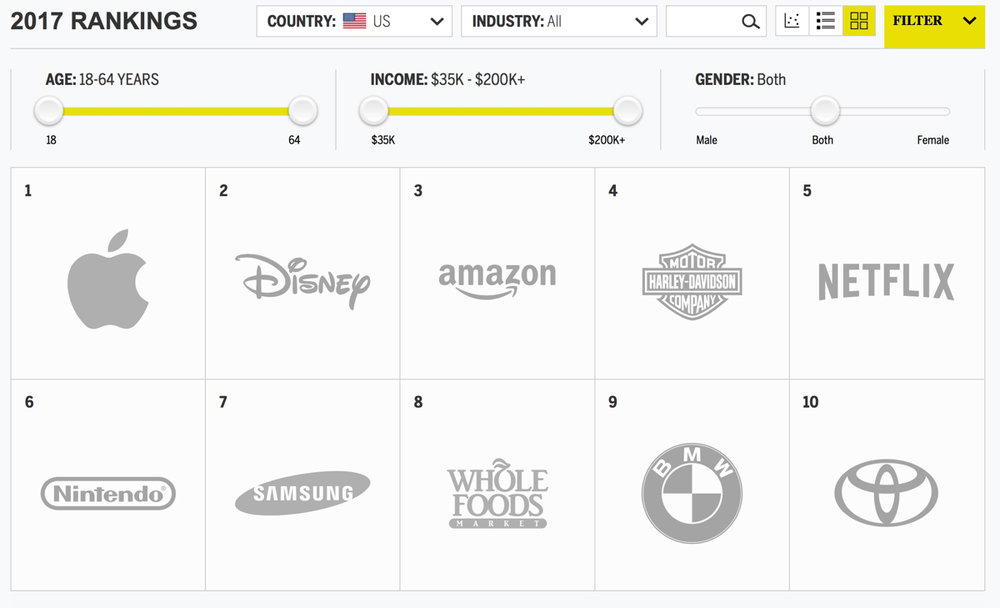 The rankings were based on the following criteria:
Fulfilment: exceeds expectations, delivering superior service, quality, and efficacy;
Identity: reflects an aspirational image or admired values and beliefs that resonate deeply;
Enhancement: becoming better through use of the brand—smarter, more capable, and more connected;
Ritual: ingraining a brand into daily actions—more than habitual behavior. The brand becomes a vitally important part of daily existence;
Nostalgia: focuses on memories of the past and the warm, poignant feelings associated with them. These are often brands a customer has grown up with;
Indulgence: creates a close relationship centered around moments of pampering and gratification that can be either occasional or frequent.
Half the 6,000 respondents in the survey were in the U.S, with the rest split between Mexico and United Arab Emirates. US participants were aged 18-64 with a household income of more than $35,000.