By David Perry
Mavin's Air-X are, the company claims, the first true wireless earbud to last 10 hours with one standalone charge, and up to 50 hours with its included charging case.
However — because I'm a man — I never read instructions first, so setting up the earbuds was a bit trickier than I expected. I had a bit of difficulty getting them to sync with my phone.
I pushed the Air-X button several times, turned Bluetooth on and off on my phone, paired and unpaired devices a few times, and they finally worked. What's with the blue and/or red flashing lights on the buds? A simple on/off switch should be sufficient. Right?
Moving on, I found the button controls seemed simple enough. Now I know why a simple on/off switch wasn't used….go figure. Once set up, the Air-X connect automatically with your phone when Bluetooth is enabled, which is cool.
The earbuds can also answer phone calls. I haven't had anyone complain about poor audio quality. I can hear better with these than using the phone in the traditional manner. The Air-X also allows for hands-free calls: you can answer and hang up with one push of the earbud button. Easy.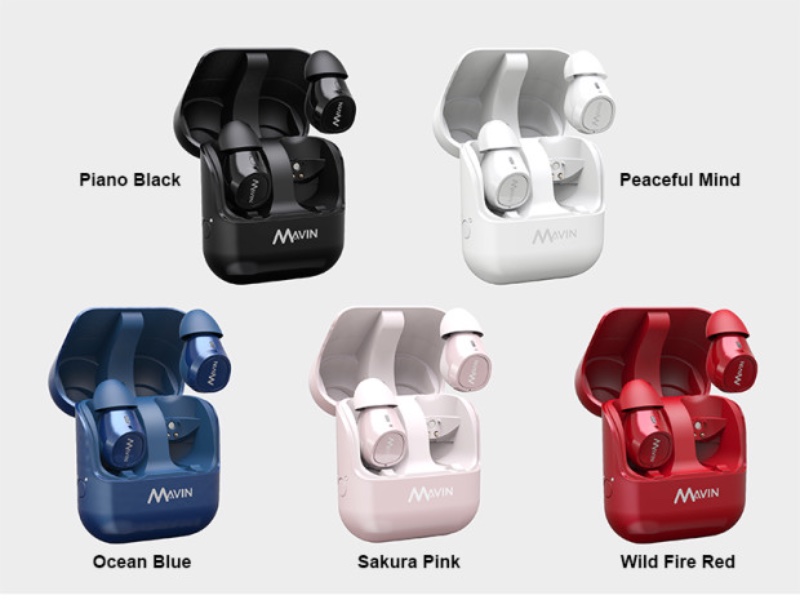 They consistently last all day with single charge. I've also found the carrying case can partially charge the buds without the need of an external power source — if it's pre-charged. Not sure how long a full charge would take, but it seems it would be much longer than if the case and buds are plugged directly to a power source.
Once you have the Air-X enabled, you'll probably find the ear piece is large and doesn't fit securely. Most other buds include inter-changable earpieces of several sizes, but these don't. Oh well, if you have Andre the Giant-size ears, they should be perfect.
The Mavin earbuds sound good, but the bass audio range is lacking. On the plus side, they have a good distance range: over 60 feet through a metal framed office building and several dividing walls.
<!— code from sekindo - Appleworld.today In-Article - outstream —>

<!— code from sekindo —>
The combo protective case/charge station — which weighs less than 4.5 grams per earbud — is cool. One component having multiple uses is always a plus for me, as it makes an item super efficient with space usage. The Magnetic charge connection makes for easy docking. I also like the Air-X charge cable for using Micro USB.
The case weighs less than 4.5 grams per earbud. Air-X also features voice assistant support for Siri, call audio in both ears and Qualcomm cVc noise reduction technology. The Air-X's patented antenna design provides a wide-range signal reception designed to enable reliable wireless connection from pocket-to-ear, and ear-to-ear.
Overall, I'm impressed. I think I'll continue to use these regularly even though I have to re-seat them into my ear canal every so often — and explain to people what's in my ears every hour or so.
The Air-X is available on Indiegogo with "super early bird" specials starting at $99 (44% off the regular price of $179).
Apple World Today Rating (out of 5 stars): ★★★★