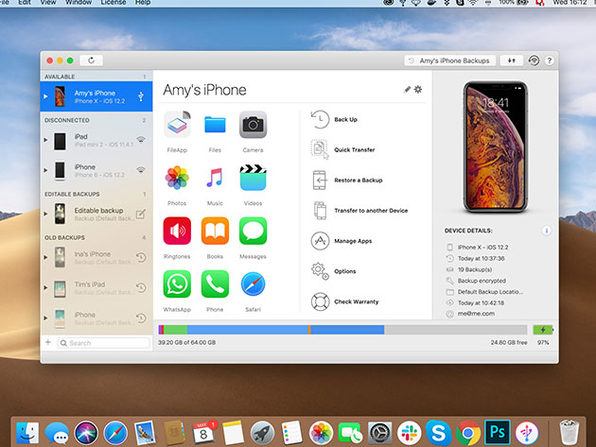 iMazing ($19.99) calls itself the Swiss Army Knife of iPhone, iPad, and iPod management because it lets you truly manage your mobile data the way you want to. This all-purpose tool lets you easily browse and manage your backups, extract and print your text messages, drag and drop songs to your iPhone – all without jailbreaking your device. If you've ever upgraded or had to switch phones, you know the pain of leaving data behind. iMazing feels for you and wants to help!
Trusted by over 10 million users, iMazing gives you these great features:
Transfer files between any Mac or PC & any iOS device wirelessly or w/ USB
Work w/ all app documents, data, & media

Quickly update a new iPhone w/ your old data by copying everything or selecting the content to transfer

Copy your music back & forth between iPhone, iPad, iPod, & your computer

Export your pictures & videos without iCloud or iTunes

Store your iPhone & iPad data for smarter backups

Manage your contacts by moving them between your iPhone & your Mac or PC

Access your iPhone voicemail, call history, voice memos, & notes

Import or export eBooks or PDFs from iBooks
iMazing has a whopping 9 out of 10 rating on Trust Pilot, and this universal license lets you run the app on an unlimited number of iOS devices and on up to two Macs or PCs. The sale ends in two days, so get iMazing today while it's priced at 77% off the regular price.