Your iPhone does everything for you. Isn't it time to thank it for its ceaseless service on your behalf with a little love? Tenorshare iCareFone is a Mac utility that quickly and easily transfers files between your iPhone and Mac, selectively backs up and restores iPhone files, and can transfer files between iPhones and Android phones. Read all about iCareFone, then see how you can get a free or discounted software license.
Why Use Tenorshare iCareFone for Mac?
With the release of iOS 13 last year, Apple finally did away with iTunes as the primary method of transferring files between Mac and iPhone, as well as performing wired backups. While this move was designed to encourage users to back up their devices to iCloud and use the Finder for file transfers, there are many valid reasons to avoid using Apple's solution.
First, iCloud comes at a cost. For those of you with an average storage requirement of 200GB, you'll pay $2.99 per month for the privilege. Need more space to handle all those videos and photos you have? Suddenly you're paying $9.99 monthly … forever. Backing up to a Mac and a secondary external drive suddenly looks much more attractive.
Next, while iCloud has been remarkably stable and secure, do you trust your personal data to an online service? Apple hasn't been hacked — yet — but all of your files, contacts, emails, photos, videos and other data could be at risk. Once again, a local backup becomes the more secure alternative.
Finally, backing up data to a cloud storage service can be slow depending on the speed of your internet connection, while fast USB 3.1 and Lightning connections can speed transfer and backup times.
All of these factors point to the advantages of Tenorshare iCareFone for Mac, which relies on local storage of your files via a fast wired connection, with no monthly subscription fee.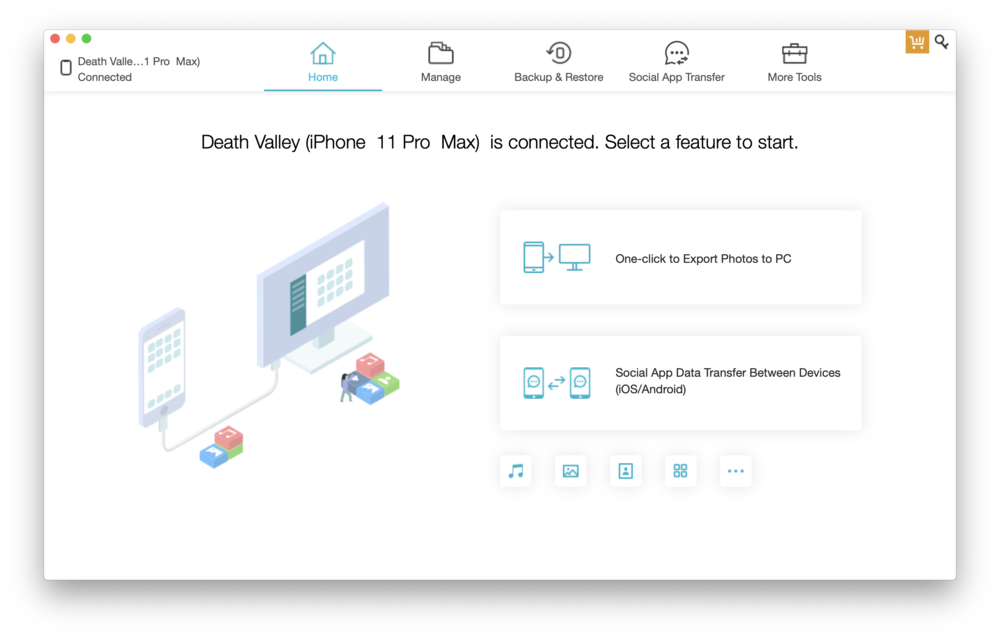 Tenorshare iCareFone for Mac Functions
iCareFone is the best solution for transferring files between your iPhone and Mac. Any file on your iPhone can be transferred to your Mac — media such as voice memos, music, photos, videos, documents, notes, contacts, and even WhatsApp messages. Of course, transferring information from computer to iPhone is equally fast and simple.
Unlike the standard Apple solution, iCareFone allows selective or batch addition of contacts, ebooks, and browser bookmarks. If you like to organize your data your way, iCareFone helps you create folders for bookmarks and custom music playlists.
Need more space on an iPhone? Rather than purchase a new iPhone with more storage, Tenorshare iCareFone lets you batch remove files that are no longer needed, and makes the removal of unwanted apps a few clicks away.
Are duplicates of photos, music files, contacts, and other files driving you crazy? iCareFone automatically deletes duplicates during transfer, and duplicate contacts are merged to save all information.
Have you ever tried sharing files and found that Apple ID restrictions keep you from doing so? iCareFone minimizes the need to log out of and log into multiple Apple ID accounts when transferring information between devices.
If the Finder confuses you while trying to look for information on your iPhone, you're not alone. iCareFone provides a much more intuitive way to display files for access, preview, and organization.
Caption: Unlike the old iTunes app, the new Apple Music app doesn't show you what tunes are on your iPhone. iCareFone is the best way to manage your music.
iCareFone is also one of the best apps for repairing common iPhone issues. Does your iPhone get "stuck", occasionally heat up for no reason at all, or have problems identifying your Touch ID fingerprint? A Standard Repair restores your device and repairs iOS to resolve those issues.
For more complicated and frustrating issues like the iPhone being stuck at the Apple logo during restart or the dreaded "infinite reboot" issue, iCareFone can erase all data and restore the device. Think this sounds difficult? Not with iCareFone.
The final item on this exhaustive list of things iCareFone excels at? It's the only app that lets you manage WhatsApp messages your way. All WhatsApp data can be backed up to your computer in a flash, and that backup can then be restored to any iOS or Android device. It's the best way to transfer WhatsApp between an existing iPhone and a new iOS or Android phone.
Selective Backup and Restore
Apple's iCloud backup is pretty much an "all or nothing" solution for backing up and restoring an iPhone. iCareFone gives you the power to select only the files you wish to backup or restore. As a result, you'll find that your iPhone is less cluttered with files that didn't need to be restored, and you'll have more space on your Mac as backups are smaller.
Moving Between iPhone and Android
We realize that many people like both iPhones and Android phones, and it's fairly common for someone to switch platforms on a regular basis as new phones are released. Apple doesn't make it easy to move your data from one platform to another, which is another key reason iCareFone is so useful.
Try Tenorshare iCareFone for Free, Then Take Advantage of Our Free or Discounted License Offer
Still not sold on the merits of Tenorshare iCareFone? Download a free trial and see how the app works. Once you see how easy, fast, and powerful iCareFone is, you can buy a license on Tenorshare's secure online store for one month, a year, or a lifetime for one or more Macs.
To sweeten the deal, we're going to give five readers a one year free license to iCareFone (US$65.95 value). Just use the coupon code D8TA8A at checkout to see if you get a free one year license. If you don't, no problem — you'll still get 40% off of your purchase of any iCareFone license.
The one month licenses are perfect for resolving iPhone issues or transferring data between devices on a one-time emergency basis. If you have a number of iPhones you're responsible for, the one year or lifetime licenses will ensure that you always have iCareFone on hand for data transfer, backup, and restore.