I wanted to like the $169.99 LED Pocket Pico Video Projector (especially since the price has been reduced from $299.99). which is lightweight, sports a pocketable (3.9 x 3.0 x 0.5") design, and packs a rechargeable battery. However, the limited number of Apple devices with which it works dampened my enthusiasm.
According to the folks at Magnasonic, the company behind the Pocket Pico, "the plug-and-play-device immediately projects crystal clear content up to 60" in size through 25 lumen LED light engines powered by Texas Instruments." However, it's only plug-and-play with the third generation iPad, the iPad 2, Mac laptops with display port to HDMI adapters, and PC laptops with a type A HDMI port.
The Pocket Pico worked with my wife's iPad 2. However, I have an iPad Pro and a 12-inch MacBook. No matter what I tried, no matter what adapters I used, I could never get the projector to work with them. It would project the Magnasonic logo when I fired it up, but I never could get photos or videos to broadcast from my laptop or tablet.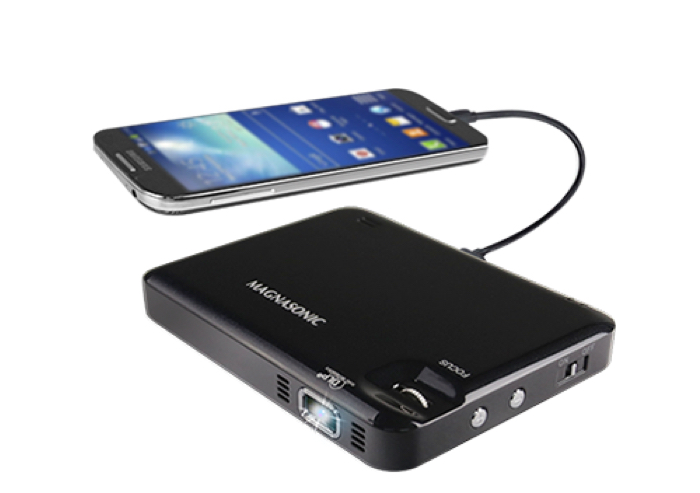 If the Pocket Pico works with your device, it projects "sharp and life-like images," according to Magnasonic. Its specs are 640 x 360 pixel resolution and 1100:1 high contrast ratio (though it accepts input up to 1080p), so you'll have to decide if that's "sharp" and "life-like" enough for your needs.
The LED Pocket Pico Video Projector has some nifty features. There's an adjustable focus wheel to project at the angle you desire. There are adjustable volume controls and a headphone jack to connect external headphones, earphones, or speakers to amplify sounds when projecting movies for large crowds. The built-in rechargeable 2100mAh battery allows users to stream content for up to two hours after a single charge. And it is compatible with various inputs including Micro HDMI, MHL, and Samsung Galaxy devices (cables and adapters are included).
If you need or want a small projector for carrying when you travel, the Pocket Pico is worth a look. But look you should to make sure it actually works with your mobile device.
---
Slim, Secure, And Stylish! The New Profile Series Cases For iPad Offer Certified Drop Protection In A Variety Of Colors. Available Now at OtterBox.com!