Apple's Macs and iPads continue to have the highest satisfaction score among personal computer users in 2020, according to new data shared today by the American Customer Satisfaction Index. The iPhone and Apple's streaming services also did well.
According to the latest data from the ACSI, the iPhone scored an 82 (out of 100), Macs scored an 83, and its streaming services scored 77 (Apple TV App) and 74 (Apple TV+).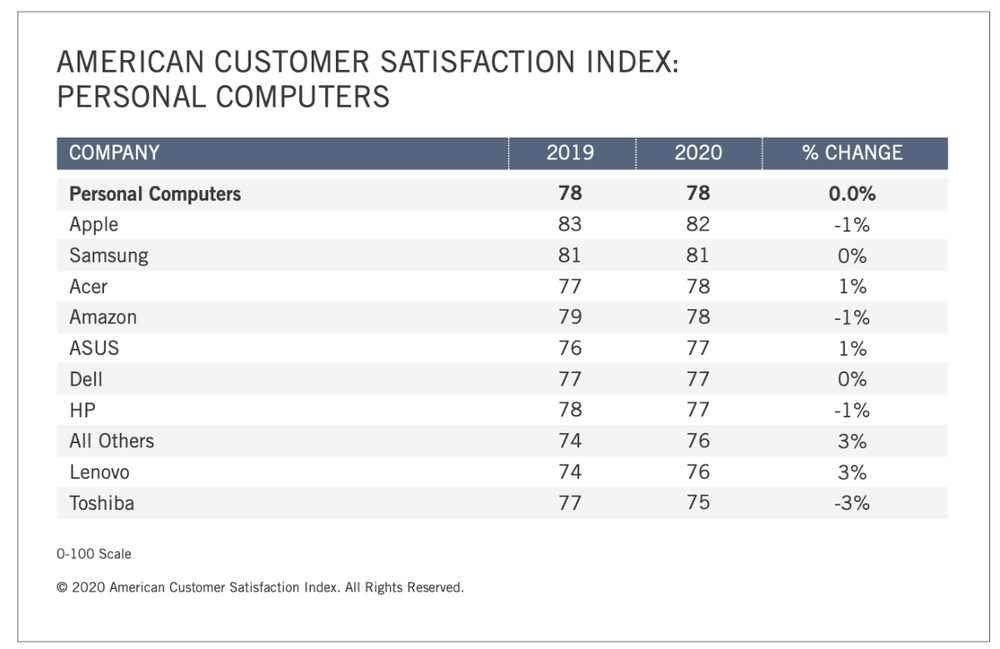 The ACSI says that customer satisfaction with personal computers—including desktops, laptops, and tablets—is steady at 78 (100-point scale) following a 1.3% uptick one year ago. The new results are based on interviews conducted over a 12-month period from July 2019 to June 2020 with customers who purchased a new device within the past three years. In general, user satisfaction with personal computers has been relatively stable since 2010, averaging 78 over the past decade. As mentioned, the Mac scored 82 points this year, compared to 83 in 2019.
Users of desktop computers continue to be more satisfied than both laptop and tablet users despite some erosion over the past two years. Although just 20% of survey respondents are desktop users, their satisfaction level (80) is much higher than laptop users (77) who make up the bulk of the interview pool at 64%. ACSI data show that laptops lag desktops for both quality and value, according to users. On the other hand, desktops garner nearly twice the percentage of complaints as laptops.
In the laptop segment, the tale of two companies continues as Apple and Samsung dominate the rankings, running nearly neck-and-neck at the top for customer satisfaction. Both Apple and Samsung have shown high and stable customer satisfaction for the past five years—separated by just a point in all but one of those years.
Apple continues to beat the field across the entire customer experience, receiving its highest mark for design. Samsung shines when it comes to value, rating best in class among all PC makers, according to ACSI. However, aside from Samsung, all of the Windows-based personal computers lag Apple by a significant margin.
Tablets, with less functionality than desktops or laptops, take the middle ground for customer satisfaction at 78. In terms of value alone, however, tablets come out the clear winner compared to desktops, laptops, or even smartphones.
In a new twist among tablet manufacturers, Samsung now ties Apple—the dominant U.S. market share leader in tablets—for customer satisfaction. Amazon's tablets come in a distant third for satisfaction, with the remaining companies well out of contention according to consumers.
The ACSI uses data from interviews with roughly 500,000 customers annually as inputs to an econometric model for analyzing customer satisfaction with more than 400 companies in 46 industries and 10 economic sectors, including various services of federal and local government agencies.