Longtime friend of TUAW and Apple World Today Krystian Kozerawski (@mackozer) of the popular Polish Apple site MyApple.pl recently visited the headquarters of popular Mac development firm MacPaw in Kiev, Ukraine to try to understand why so many top developers are located in the Eastern European country. Krystian shared his findings with Apple World Today in this special guest post.
---
I guess there is no need to introduce Apple World Today readers to apps like CleanMyMac, Hider 2 and Gemini, particularly the first two that have been around for seven years. My adventure with Macintosh computers started at about the same time, and shortly after I bought my first Mac I found CleanMyMac, a utility app published by Ukraine developers MacPaw. The Mac apps were created and the company founded by Oleksandr Kosovan.
From passionate student to successful entrepreneur
Oleksandr has been an Apple fan since he was a student. In the middle of the first decade of the 2000s, earning only 200 hryvnas (about 20 dollars) a month, he couldn't afford much. In one of computer shops in Kiev he was attracted by the desk-lamp-like iMac G4, but figured that he could only afford the Apple keyboard that went with it.
Oleksandr's father and brother – like many Ukrainians – emigrated to the West, to Paris. Thanks to their support and his own savings, Oleksandr bought a PowerBook. At that time he was probably the only student at Kiev Polytechnic who was working on a Mac. He remembers that lecturers were glowering at him, since he was the only student who was taking notes not on paper, but on his laptop. Oleksandr's diploma work was done on the Mac – a neural network app using image recognition to register the state of water meters.
While working on the PowerBook, he started to dig into the details of Mac OS X. Then Apple announced the move of the Mac line to Intel processors and the two-year-old PowerBook soon found a new owner. Once again, Oleksandr found himself short of money to buy a new Mac, so he turned to building a Hackintosh.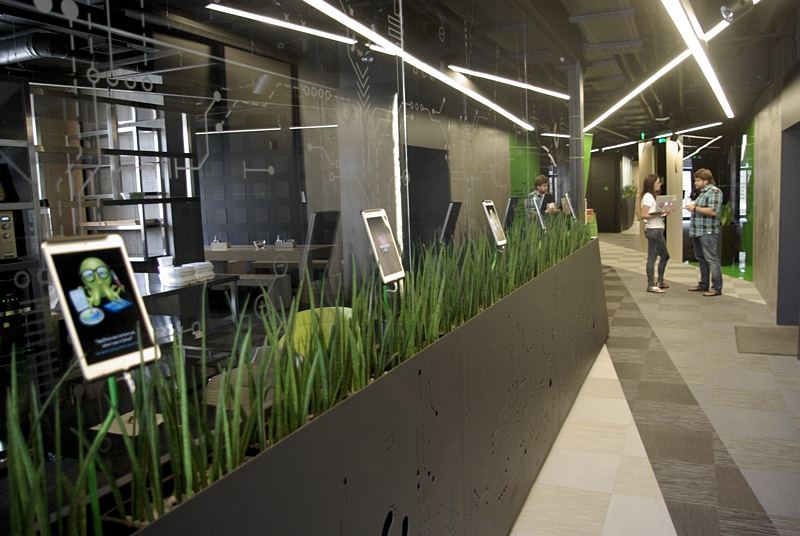 At the time, these customized PCs were gaining popularity among students who couldn't afford a Mac. Setting up Mac OS X on a PC required a lot of work, so Oleksandr began writing drivers and fine-tuning Mac OS X to make it work better on his own PC. Thanks to that work, he got to know Mac OS X architecture pretty well. During that time Oleksandr created his first apps – CleanMyMac and MacHider (currently known as Hider 2). He developed the apps mostly for himself, but when beta versions became available via download sites, users who wanted to buy a final version quickly appeared.
I was dreaming about my own company, about a company like OmniGroup or CulturedCode. I was learning from their experiences. And I was trying to promote my own apps
There were customers; there was also a company and website. Oleksandr admits that the company name – MacPaw – was chosen while he was checking out available web domains. It refers directly to Macintosh, but the second part of the name – Paw – refers to the big cats after which Apple named each major version of the operating system between Mac OS X 10.0 Cheetah and Mac OS X 10.8 Mountain Lion.
At that time in Kiev, a Mac developer community started to form. Oleksandr was helped by Ivan Ablamski, who later founded Coppertino, the development firm known for its popular OS X and iOS music player app Vox.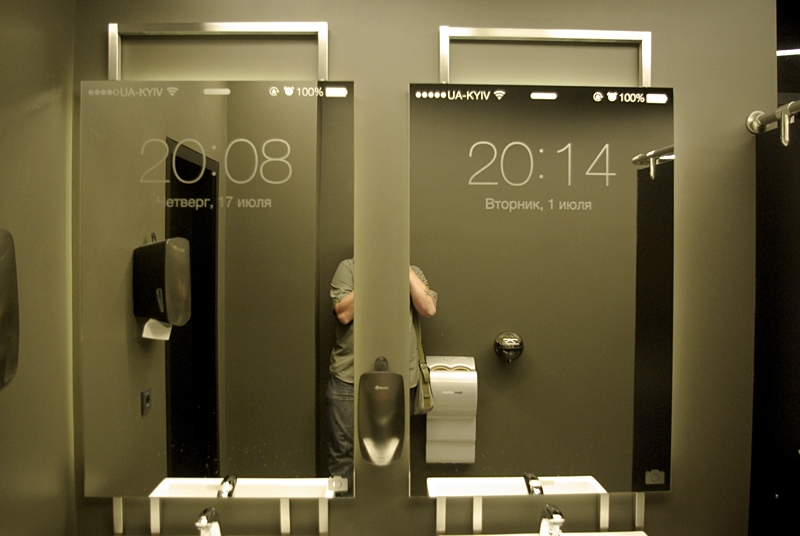 On January 6, 2009, sales of CleanMyMac and MacHider launched on the MacPaw.com website. The company was selling quite a lot of software at that time, but it wasn't profitable yet. In an interview for the Russian language site MacOSWorld.ru, Oleksandr recalled that at the end of the week they were eating the leftovers that they could find in the refrigerator, and only his sense of humor kept him going.
In 2009 the MacPaw offices housed five people working in a room of 23 square meters (about 250 square feet) furnished with old second hand desks and chairs. By 2012, there were 30 employees in a larger space, and now there are over 80. MacPaw is no longer a startup and – according to Julia Petryk, MacPaw's PR manager – it doesn't want to be regarded that way. The present MacPaw office is really huge and full of new technologies.
Each team works in its own spacious room. Employees can also hide in small compartments if they want to work on their own in quiet (see image below). There are two spacious terraces, and even a lab equipped with soldering stations, electronic test equipment, and a 3D printer where employees can work on their own projects that are not necessarily linked to MacPaw products. Almost everything in the office, including one of the coffee machines and a gas fireplace, is controlled with the iPhone. The apps to control the gadgets were written by the MacPaw team.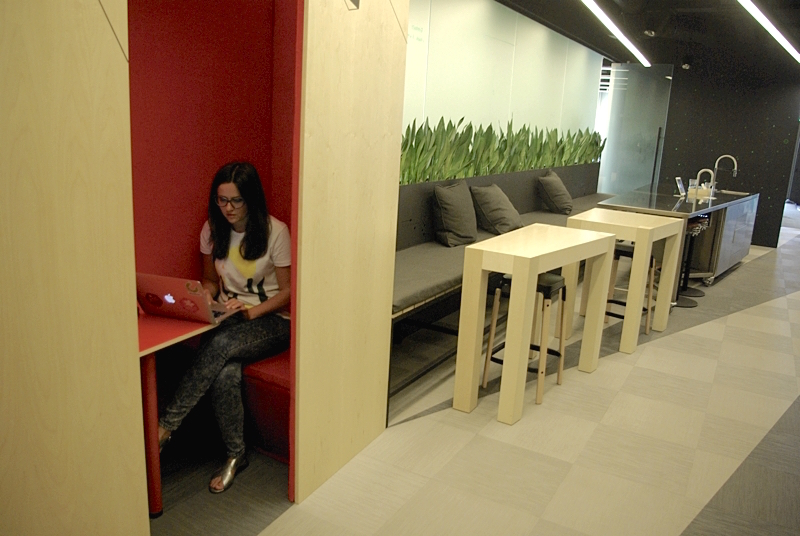 Writing about MacPaw headquarters for Apple World Today (the official home of Caturday), I of course have to mention the two cats that are living there – Fixel and Hoover. Furry animals make the atmosphere in the office more homelike. It's important for the company to strive to make the best apps, and the office is a place of work, but at MacPaw they try to make things enjoyable. Oleksandr even introduced his own motivation system for the employees, with an internal currency named after Fixel the cat. Coins with the cat on one side and MacPaw logo on the other are acceptable in vending machines at the office.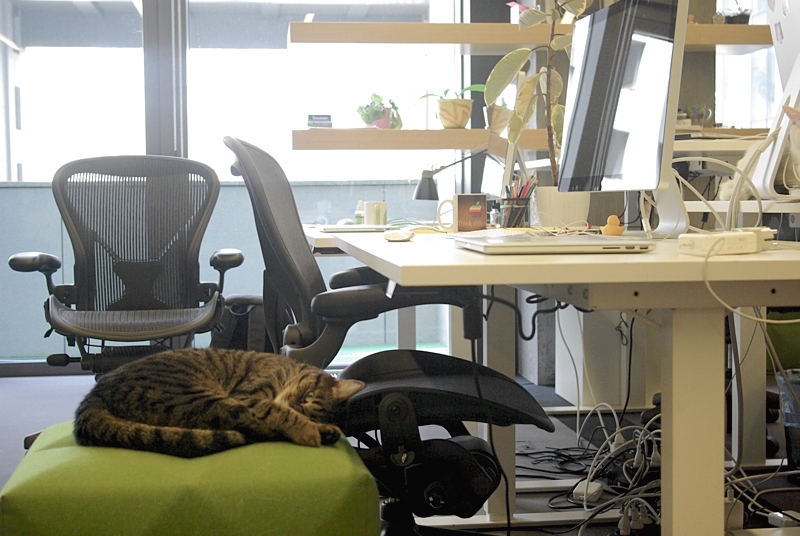 ---
Shche ne vmerla Ukraina (Ukraine has not yet died – national anthem of Ukraine)
Over the years of my adventure with OS X and iOS, I have discovered that many popular apps are made in the East (at least east of Poland), mostly in the Ukraine. CleanMyMac and the other apps by MacPaw are not the exceptions. I have mentioned Coppertino and its great Vox player, but there are more of them — MacPhun and its stellar photo editing apps for OS X and iOS, Softorino and its amazing multimedia converter Waltr, and even ZeoBit, the company behind MacKeeper. All of these companies are based in Kiev. There is also Readdle in Odessa – creators of a number of popular apps like Documents, Scanner and the new email client Spark.
There's nothing unique about the fact that there are a lot of excellent developers in Kiev and Ukraine. Here in Poland there are at least as many. What is interesting is how it is possible that in one country that for almost a century was a part of Soviet Union (and before that was part of the undeveloped Russian Empire) — a country that for the last 20 years was consumed by corruption and nepotism — not only are great apps born, but also great ideas for them. I know that my question "how can it be?" comes in part from my lack of knowledge about my neighbor (just to mention, I live in Poland) and stereotypes.
Oleksandr doesn't have a simple answer to my question. He is of the opinion that one very important factor is the quality of education. In his opinion, education and especially science education in Ukraine during its time as part of the Soviet Union was on a very high level. Over time, sadly, it got worse. However many people got an education from the old-school teachers, really passionate instructors who inspired students to develop themselves. Moreover, computers of all sorts were available in Ukraine in the past.
In one respect, MacPaw is an international company, with Ukrainians, Russians (like Dmitry Novikov, who designed CleanMyMac's logo and interface is originally from one of the top secret towns in Russia) and Americans. On the other hand, as Oleksandr admits, the entire team believes in the new Ukraine. It is symbolized in a portrait of the greatest Ukrainian poet and bard of the 19th century – Taras Shevchenko – holding an iPhone in his hand.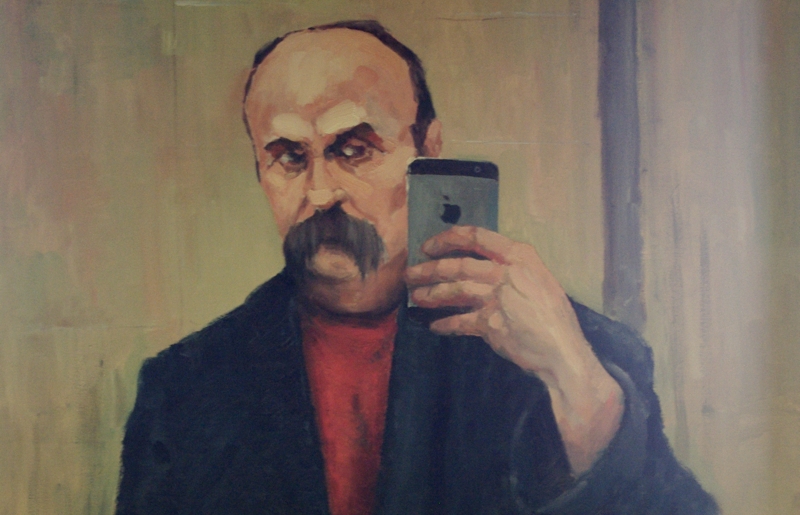 The MacPaw team not only believes in the new Ukraine, they were actively fighting for it. The company has supported the ongoing revolution and Oleksandr was fighting Berkut (a very brutal special police and a successor of the Soviet OMON) with his friends on Maidan Nezalezhnosti (Independence Square) in Kiev.
Oleksandr also admits that the events that have happened in the past three years, like the invasion by the Russian Federation and the annexation of Crimea, caused a massive change in the thinking of many Ukrainians. People started to help each other, thinking and caring not only about themselves, but also about their countrymen. You can feel it not only in MacPaw's office, but also on the streets of Kiev.
Oleksandr recalls that before the revolution when the Ukrainian state was decaying, he was thinking about moving the company to the West. Now there is a light at the end of the tunnel and you can see the change of mentality of Ukrainians. MacPaw, at least for now, is not moving anywhere.