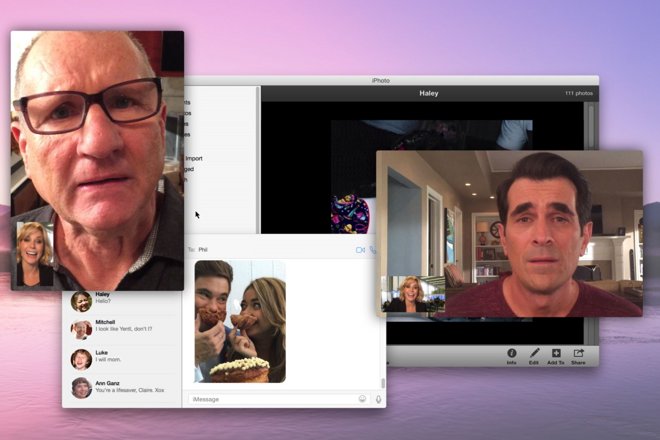 Re/code is reporting that an upcoming episode of ABC's comedy "Modern Family" will seem oddly familiar to Mac, iPhone and iPad users. That's because the entire episode — titled "Connection Lost" — will play out on a MacBook screen, with characters appearing in FaceTime calls, on Facebook, in email messages, and so forth.
In the episode, Claire Dunphy (played by Julie Bowen) is stuck at an airport and wants to talk to her daughter Haley (Sarah Hyland) for reconciliation after a fight. The entire story revolves around the screen of Claire's MacBook, with her using all the means at her disposal to try to reach her daughter.
For authenticity, the entire episode was shot with an iPhone 6 and iPad Air 2 tablets. The Mac screen, however, needed to be rendered so that it looked great on a large HD TV screen, so a post-production team created a replica of OS X Yosemite on which to place the iPhone and iPad footage. The team actually had to update their replica OS to keep it true to changes in Yosemite over time.
Re/code notes that having the story play out on the desktop provides ample opportunity for sight gags, with Claire at one point directing her attention to a Pinterest page while she's in a FaceTime conversation with her father's second wife Gloria (the amazing Sofia Vergara). Other in-jokes will show up on web pages that Claire is looking at.
Apple provided iPhones for the filming of the episode, but didn't pay for product placement. This episode will be aired on Wednesday, February 25 at 9 PM ET on ABC.