I had hoped to test out the Tesmo Kickstand with a 16-inch MacBook Pro, but since the rumored laptop hasn't yet arrived from Apple, I gave it a whirl on my 2019 MacBook Air. 
Described as the "world's smallest, invisible, and portable laptop stand," it weighs only 6 ounces and is about as thick as a quarter. Thanks to its PU material construction, it also seems durable. 
An ergonomic stand such as this can help you position the angle of your laptop so you can reduce screen glare, which can lead to eye strain and headaches. Also, some Mac laptop users find their keyboards are too flat to use for long periods of time. You can compensate for this by using an external keyboard or getting a laptop kickstand such as the Tesmo.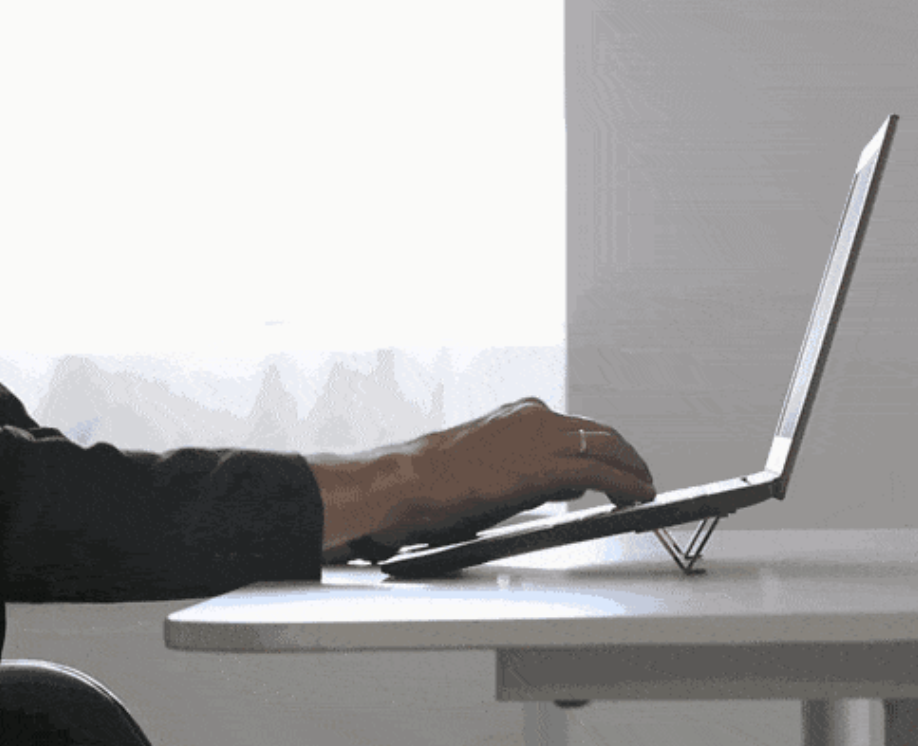 Finally, a laptop stand such as the Tesmo elevates your portable computer, facilitating air flow to keep it cool. To use you attach it to the bottom of your laptop. Its adhesive material allows you to repeatedly attach and detach it from your computer. 
What's more, the integrable design nature of the kickstand allows you to attach the pads to any corner of a portable, so it should fit most laptops. The triangular load-bearing structure of the kickstand allows it to hold up to 17.6 pounds in weight. Since the 2019 15-inch MacBook Pro weighs only four pounds, there's no worries that the Tesmo will collapse.
I was worried it would leave a mark, but after four attachments/removals, there's no sign of adhesive damage to the frame of the MacBook Air. Yet to be determined is if the kickstand's adhesive will wear out after lots of use.
The Tesmo Kickstand is currently in a Kickstarter fund-raising effort (I got an advance copy). If you pledge $15, you'll get two of the gadgets, which are expected to ship later this month.
Apple World Today Rating (out of 5 stars): ★★★★★