Photo editing apps are great; they can take a very good image and turn it into something spectacular by adding just the right amount of adjustment in terms of sharpness, exposure, color saturation, and so on. But with many apps on the market right now, making those adjustments can be frustratingly complex. Conversely, there are apps that try to make tweaking photos simple, but they don't give professionals a way to fine-tune adjustments. Macphun has just announced the start of pre-orders of Luminar, a new all-in-one photo editor that is designed around the idea that all photographers are different, as are their needs for photo editing.
Starting today and running through November 17, customers can pre-order Luminar for just $59. If you're already a user of any other Macphun product (including Aurora HDR) you get the new app for just $49.
So what makes Luminar so different from other photo editing apps? The adaptive user interface of the app really adds a lot of flexibility. For new users or beginning photo editors, the app offers basic "fixes" as well as sliders for fine-tuning photos to look their best or to set a mood for a picture.
I've had the opportunity to use Luminar for the past several weeks and find it as easy to use as some of the simple tools in the Apple Photos app, with a lot more power and possibilities. It supports RAW format images, provides live editing, processing and previews, and offers non-destructive editing of your photos.
The photo at the top of this page was one I took during a recent fall foliage trip to Steamboat Springs, Colorado. This shot was captured just as the last rays of the sun were hitting the top of the peaks, and the foreground of the shot was somewhat dark and muddy. I set Luminar to show me only presets for outdoor photography, then added two filters — one that brightened the scene where necessary and another that added saturation to the vivid greens, yellows and reds of the fall foliage (aptly enough called "Colors of the Fall"). As you can see from the split screen view in the top photo, the image was transformed from a good photo to one that's spectacular.
There are presets for many other types of photography — basic, travel, street, portrait and dramatic — and I'd venture a guess that Macphun will be adding more in the future.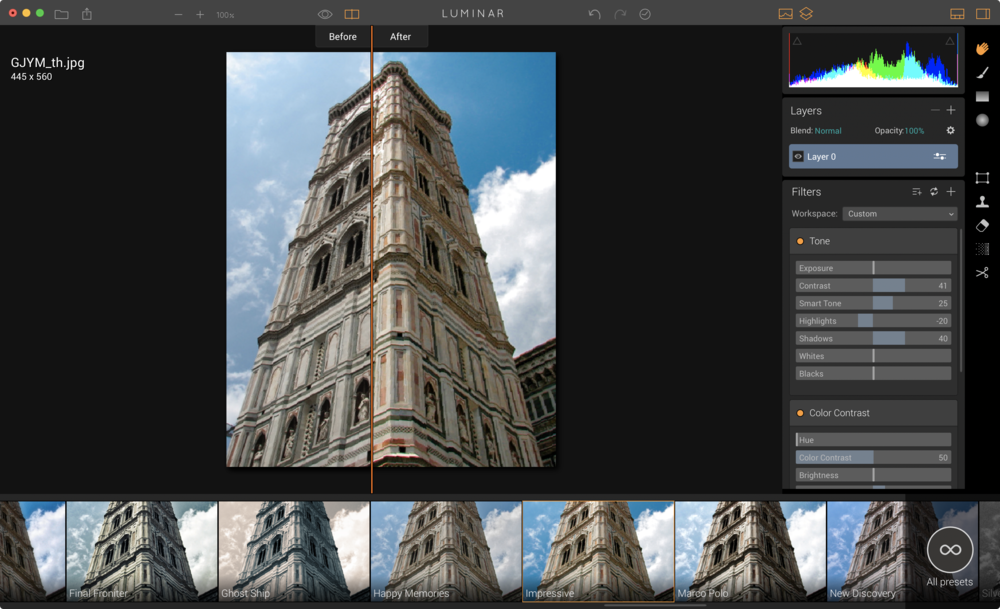 Luminar is more than just adding filters to a photo; there are also brush tools for adding an effect to just a part of an image, gradient tools, radial masks, cropping tools, copy and stamp tools, the all-important erase tool for getting those pesky power lines out of photos, de-noising tools, and transform tools. I found the last one to be very useful; I used it to make some slight adjustments to an architectural photo, then added an effect to emphasize the sky a bit more and bring out some colors in the stonework. The result was to take a very ho-hum photo and turn it into something worth a second look. Luminar can be used as an extension in Photos, Aperture, Adobe Lightroom and other apps.
If you're wondering how Luminar differs from Macphun's Creative Kit, it's that this is an all-in-one app, not a set of individual tools that can be used to fix one item or another. And while Luminar works well as a photo editor, it doesn't have the powerful asset management features of Aperture.
For me, Luminar has quickly become the go-to tool for taking really good photos and making them outstanding. I highly recommend the tool, and if you do decide to pre-order Luminar (it will ship on November 17), please use the affiliate links in this post so that Apple World Today can make some money in the process.