Logitech has a new label — Logi — and logo, and the first products under that new label are some iPad cases. These are protective cases and a shell in the Logi BLOK family, featuring bright colors and a radically new design.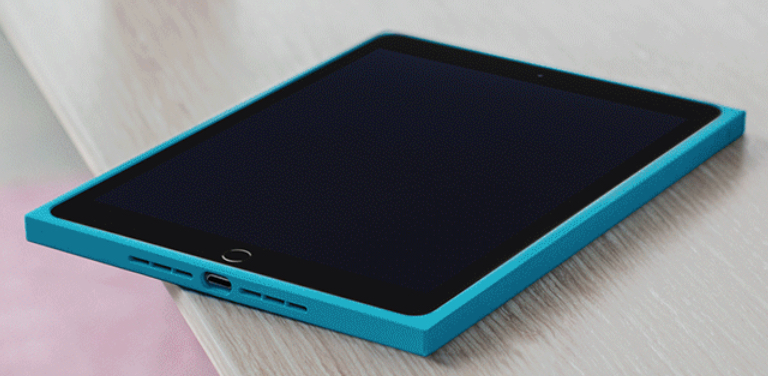 The first product is the Logi BLOK Protective Shell, which will sell for $39.99 and is available for iPad Air 2 and all models of the iPad mini. Available in teal/blue (see image above), red/violet and black, it's made of a flexible polymer with extreme squared edges — hence the BLOK name. The cases flex, allowing accidental drops from as high as six feet onto concrete with no damage to the iPad.
Next in the lineup is the Logi BLOK Protective Case for iPad Air 2 (image above). It features a similar design and the same colors as the Protective Shell, but also has a cover to protect the iPad's display from impact. The cover acts like a prop when open that can hold the iPad up over a range of 50°. The BLOK Protective Case will sell for $69.99.

Finally, the BLOK Protective Keyboard Case for the iPad Air 2 takes the Protective Case one more step and adds a detachable wireless keyboard (images above and below). The keyboard protects the screen during travel, there's an adjustable stand on the back of the case, and it looks rather Microsoft Surface-like… It'll cost $129.99, and is available only in black and teal/blue.
The Logi BLOK cases are expected to be available in the US, Australia, New Zealand, and selected European countries starting in August. We'll have a review coming soon to Apple World Today.