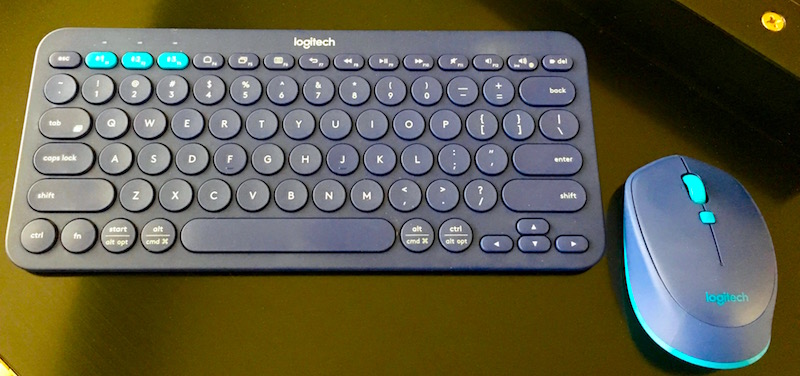 A lot of us use Apple Keyboards and mice or trackpads on our Macs and iPads until that inevitable day when they fail; then it's time to look for something that's going to be a longterm replacement that won't cost an arm and a leg. Logitech recently introduced the K380 Multi-Device Bluetooth Keyboard (US$39.99) and the M535 Bluetooth Mouse ($39.99), and I was able to put both to use with a tough customer — my wife.
She was using a six-year-old Apple Wireless Keyboard (the one with three, not two AA batteries) and an older Logitech Bluetooth Mouse. The keyboard was getting to the point that it was losing pairing on a regular basis, and the mouse was too large for her hand, causing issues with her rheumatoid arthritis. So when the review items showed up at the office, it was time to let a real user — and not a reviewer — try them out.
Logitech K380 Multi-Device Bluetooth Keyboard
The K380 Multi-Device Bluetooth Keyboard comes in black (with yellow pairing buttons) and blue (with teal pairing buttons). There's a definite design twist to the K380 — the keys are round, and those larger keys like the shift, caps lock and tab that are usually rectangular and lozenge-shaped.
While we both initially thought that the round keys might cause some issues with touch typing, they feel completely "normal" — in fact, I'd say that my typing accuracy went up when I was trying the keyboard, simply because some "off-center" keystrokes didn't hit another, larger rectangular key. My wife actually prefers the feel of the K380 to the Apple Wireless Keyboard, which is high praise indeed.
The K380 uses two AAA batteries for power, and it's expected to work for up to two years between a battery change. It's called "Multi-Device" for a reason; this keyboard works equally well with OS X, Windows, iOS, Android, Chrome OS, and even the Apple TV. In fact, the keyboard can be easily paired with and switched with a touch to three different devices. For my wife's situation, we paired it with her iMac, her iPad, and the Apple TV.
It handles the different operating systems with ease by having the control and fn keys in almost the usual spots (compared with the Apple Wireless Keyboard, they're swapped), and then using the option key for alt and Start as well, and the Alt key (Windows) as the OS X Command key. It sounds confusing, but was actually quite easy to get used to.

At its thickest, the K380 is only .6 inch (16mm) thick, so it presents a flat and comfortable profile on a desk. At $39.99, it's a bargain compared to Apple's $69 Wireless Keyboard and the K380 certainly can be used with many more devices with the press of a button.
If you are thinking about buying a K380, please use this Amazon affiliate link and help support Apple World Today.
Apple World Today Rating (out of 5 stars): ★★★★★
---
Logitech M535 Bluetooth Mouse
The M535 is just a normal two-button laser mouse, with some differences that make it stand apart. First, it can be matched color-wise with the K380, as it also comes in black and blue colors. Next, there's a scroll wheel — a standard for non-Apple mice — and also a small navigation button that's right below the scroll wheel.
Unlike the older Logitech mice that took a pair of AA batteries, the M535 lives for up to 10 months on a single AA battery. Like its sibling keyboard, the M535 works with just about any device except an iPad; it will, however, work just fine with some Android tablets.
Being a bit smaller than some of the monster mice on the market (think of the Logitech MX Master Wireless Mouse, for example), the M535 is surprisingly comfortable. It works well with our rather small hands, but might get lost in a big hand with long fingers. One thing I really liked when using the M535 was its slightly "rubbery" exterior, which ensures that your hands aren't going to slip off the mouse during a fast move.
How'd my better half like the mouse? She loves it. As mentioned earlier, the previous Logitech mouse she was using was quite hard on her arthritic hands. The M535 is very ergonomically designed and has a great feel to it; it's almost like an extension of your hand.
Tracking is accurate and smooth with the M535, and pairing was a snap using the standard Apple Bluetooth Preferences panel. The M535 is also a bargain at $40 compared to Apple's $69 Magic Mouse. While it won't knock the MX Master Wireless Mouse out of its AWT Top Pick slot, it's certainly a very usable, affordable, and comfortable piece of equipment.
Think you'll be purchasing a Logitech M535? Please support Apple World Today by purchasing through this Amazon affiliate link.
Apple World Today Rating (out of 5 stars): ★★★★★