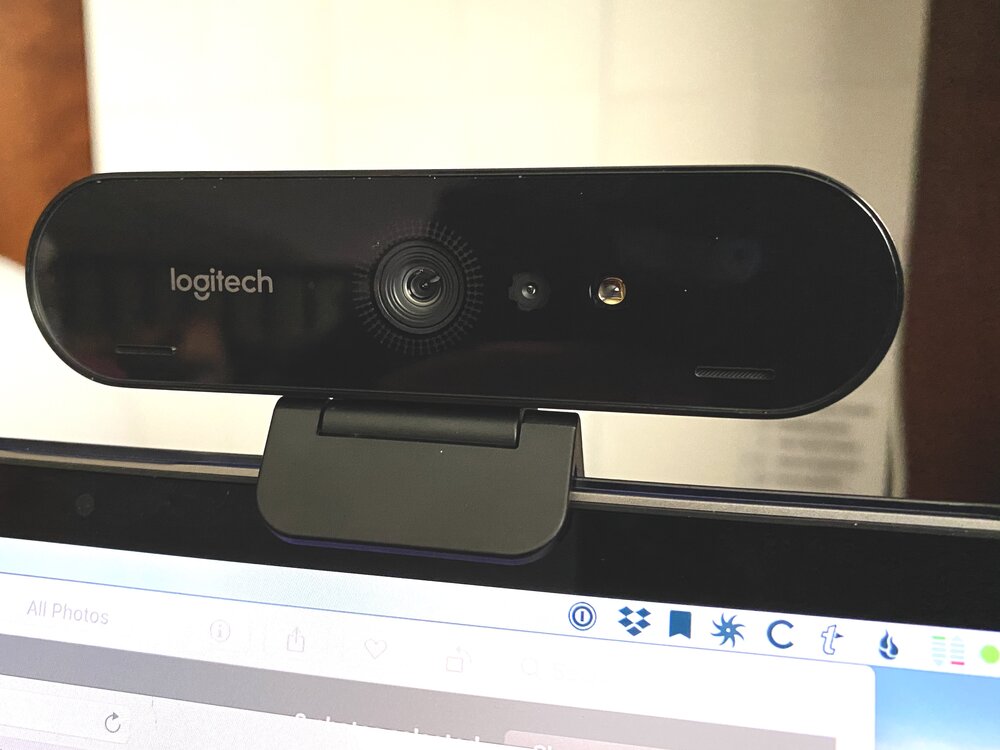 Don't get me wrong – I love my 16-inch MacBook Pro. But it really made me question the sanity of Apple engineers when I found that it used the same 720p FaceTime HD camera as the old MacBook Pro. Shouldn't a "Pro" Mac have a "Pro" FaceTime camera? Fortunately, Logitech's $199 BRIO Ultra HD Pro Webcam is designed to bring 4K HDR video clarity to the latest MacBook Pro. Does it deliver? Let's take a look.
Design
Since the BRIO webcam is an add-on and not built-in, it needs a way to easily attach to a monitor or screen. Logitech's designers have done a great job by producing a mount that is adjustable to just about any screen and quite solid as well.
Dennis Sellers recently reviewed the Logitech 4K Pro Magnetic Webcam for Apple Pro Display XDR, which is a similar webcam designed to work specifically with the high-end Apple display.
The camera has some pretty impressive specs:
4K Ultra HD video (up to 4096 x 2160 pixels @ 30 fps)

1080p Full HD video (up to 1920 x 1080 pixels @ 30 or 60 fps)

720p HD video (up to 1280 x 720 pixels @ 30, 60, or 90 fps)
Field of View:
Diagonal: 90°

Horizontal: 82.1°

Vertical: 52.2°
5x digital zoom in Full HD

Autofocus

Rightlight™ 3 with HDR for clear image in various lighting environments ranging from low light to direct sunlight.

Image controls with optional Camera Settings application for control of pan, tilt, and zoom

Built-in dual omni-directional mics with noise cancellation

External privacy shutter

Multiple mounting options, including clip and tripod mount

Supports multiple connection types, including USB 2.0 Type A and USB 3.0 Type A and C connections
The connector on the back of the BRIO is USB-C, so connecting the two with a USB-C to USB-C cable is recommended on the MacBook Pro.
Function
BRIO works with a simple app designed for macOS called "Camera Settings". This app is useful for tweaking the color, zoom, and even virtual pan and tilt of the device. For the most part, you'll still need to manually adjust the tilt of the camera, and fortunately the mount is flexible enough to ensure that you're in the field of view no matter how short or tall you are.
When the Brio webcam is working, a small white LED turns on, similar to the green LED on the MacBook Pro that indicates when the FaceTime camera is being used.
So, what apps does BRIO work with? Pretty much anything, although most apps are not well suited for 4K input. For example, the Photo Booth app shows a resolution of 1616 x 1077 when the camera is adjusted for widescreen – not exactly 4K. Likewise, recording video with QuickTime Player created a maximum 1080p resolution. That's better than the 720p built-in camera, but still not 4K.
I tried just about everything I knew of that would accept webcam input and nothing would record in 4K. Finally, I found a beta of Logi Capture after doing a somewhat desperate search, and I was happy to see that the Logitech app actually recorded in 4K. You'd figure that Logitech would advertise their own app! They did mention that it also works with SwiftCapture (US$40.32).
However, the app also cranked up the fan on my MacBook Pro to the point that it sounded like a jet taking off. I have an 8-core Intel Core i9 chip in this thing, along with the AMD Radeon Pro 5500M GPU with 8GB of RAM, so I'm a bit perplexed as to why the app taxed the CPU so badly. Even recording at 1080p ran the fan to the max. You can probably hear it in the following two video clips from the webcam.
First, the camera at 4K resolution, 30 fps:
And now at 1080p resolution, 60 fps:
The video quality in both samples is quite good, with the webcam autofocusing on my face. Note that the color of the video may be affected by the Nanoleaf panel I have near my desk; it changes colors so parts of the video may appear quite orange/red.
I also found the Logi Capture app to be ridiculously bad at recognizing the camera. I had to reboot my MacBook Pro several times and change USB-C cables until I finally got the app to "see" the webcam. Granted, it's beta software, but it needs a lot of work.
Conclusion
One thing that always frustrates me as a reviewer is when a company creates great hardware that doesn't work well with mainstream apps, and that's the way I feel about the Brio Webcam. It's a well-built, solid piece of hardware with some great specs, but when it doesn't provide a way to work with mainstream apps at the 4K resolution, it falls short of being perfect. Likewise, the beta Logi Capture app does provide the software features needed, but causes even a powerful MacBook Pro to sound like a fighter jet taking off. Potential buyers of this webcam shouldn't have to search for the Logi Capture app — there should be a link directly from the Brio web page, but Logitech really needs to fix the software first.
I'd give the hardware a 5-star rating, but the app compatibility and the Logi Capture app are both more deserving of a 2-star rating. If Logitech can work to increase its 4K support with mainstream Mac apps and debug the Logi Capture app, I would highly recommend this webcam.
Apple World Today Rating (out of 5 stars): ★★★★