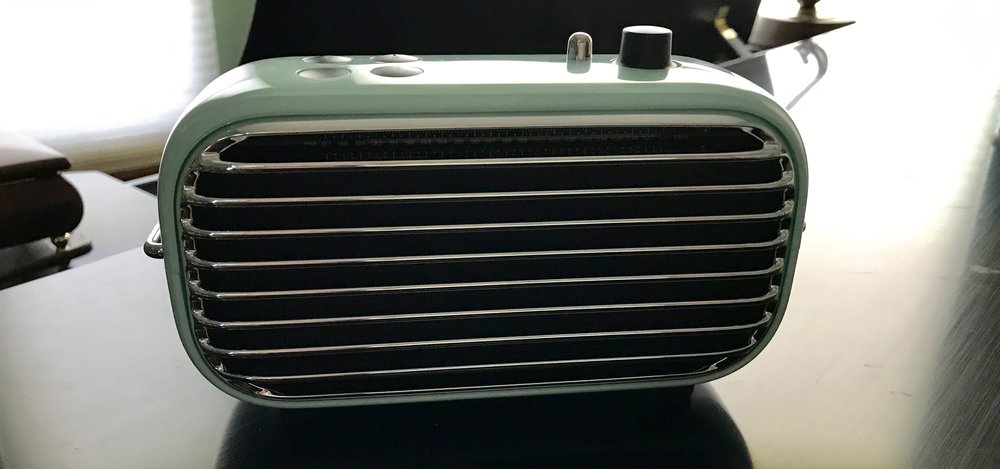 We see so many wireless speakers here at Apple World Today that it takes something special to turn our heads. Fortunately, we were given the chance to review a wireless speaker that not only has very cool vintage styling, but some features not found on other speakers. The Lofree Poison M (about US$70) began a Kickstarter campaign this morning and it surpassed its funding goal in minutes. Here's our detailed review of the Lofree Poison M.
Design
The design is the big thing with the Poison M. It rocks a chrome grille on the front, and comes in four colors: Venetian Red, Pure White, Olive Green, and my personal favorite, Turquoise Blue. I grew up in an era when turquoise appliances were the big thing, so I just HAD to try one out in turquoise.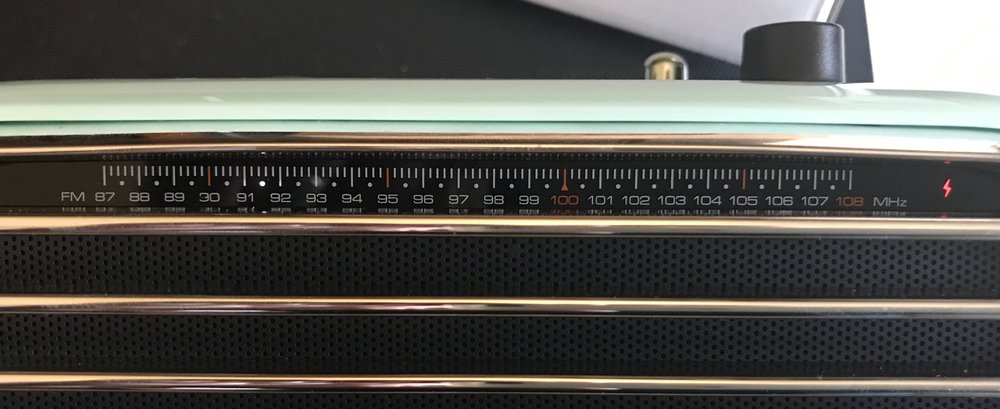 At the top of that grille is an FM tuner strip, which does have functionality because the Poison M includes an FM radio. It also plays music via Bluetooth from your iPhone or iPad and features an AUX line-in port to connect to other devices.
Four buttons grace the top of the Poison M. One is used to turn the speaker on and off with a push-and-hold, as well as switch between the three speaker modes (Bluetooth, AUX and FM). Another is used to link to Bluetooth devices and start/pause/fast-forward playback, while the other pair of buttons are for volume control. One smart design choice was making the volume down button "dished" so that it's easy to find even when not looking at the buttons.
There are two more features on top of the unit; a small chrome plated knob that lights up to display the mode (green for FM, blue for Bluetooth, white for AUX), and a tuning knob for the radio.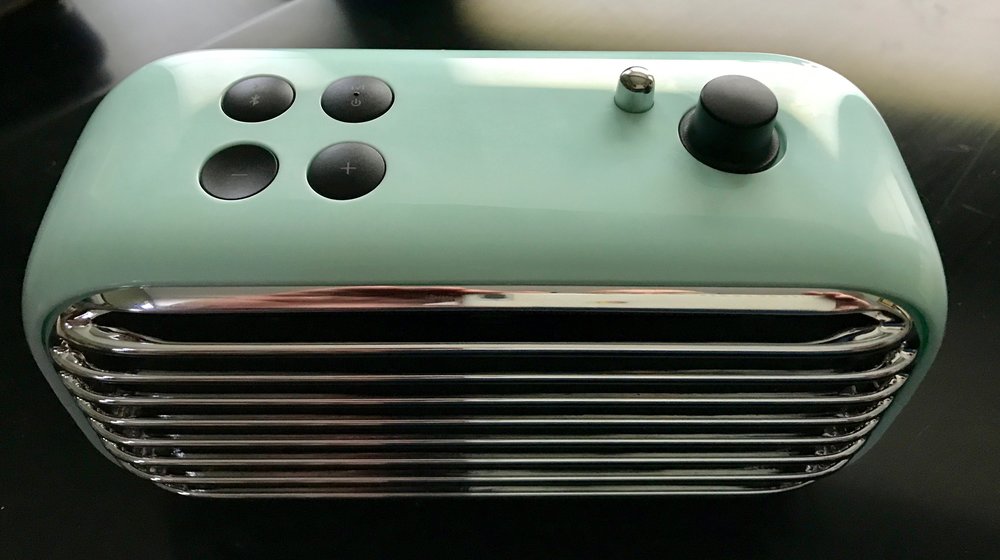 Go to the back of the unit, and you see the back of the diaphragm (who chrome plate on it) for the Bass Enhancement System. The line-in port and a micro-USB charging port are also located on the back. On a single charge, the Poison will play up to six hours of music.
Poison M has two 52mm speakers in front, each with a maximum power rating of 10 watts. It supports Bluetooth 4.2, and has a frequency response range of 60Hz to 20kHz. With dimensions of 7.08 x 4.13 x 2.75 inches (180 x 105 x 70 mm) and a weight of 1.21 lbs (550 grams), the Poison M fits just about anywhere.
The bottom of the device has four rubber feet, and they're needed for isolation — when you power up this baby it can really vibrate and those feet keep the speaker from dancing on your tabletop and making a racket. Included in the box with the Poison M are a leather strap for carrying (a very nice touch), an AUX cable, and a micro-USB to USB charging cable.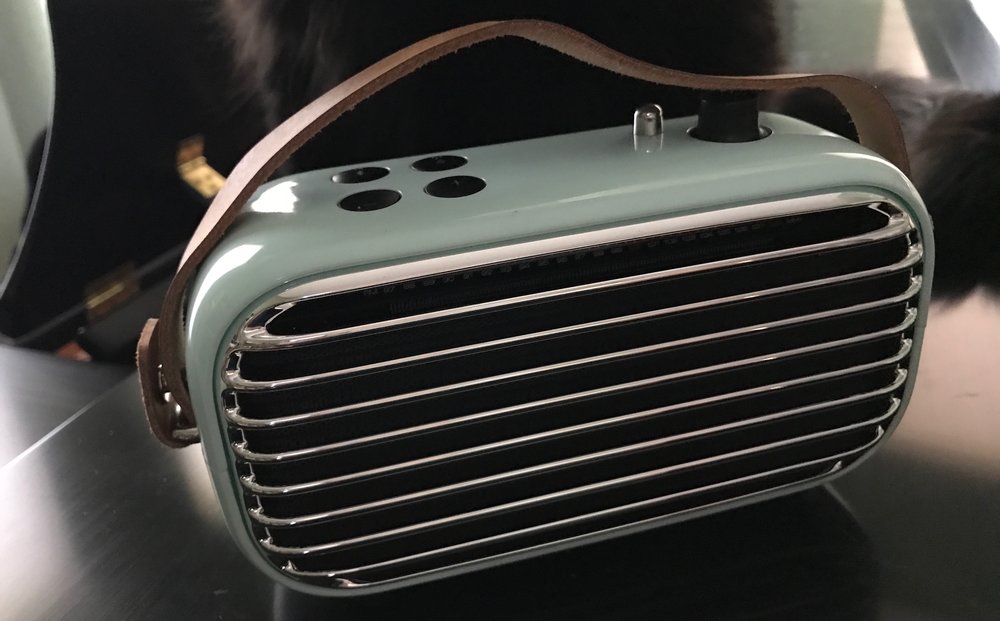 Function
When the speaker is put into Bluetooth mode and hasn't yet been paired with a device, the blue LED up on top flashes. Pairing took just a tap on the device name in Settings > Bluetooth, and was confirmed with a pleasant chime. Other notifications use a voice announcing things like "Power Off", "A-U-X Mode", and so on.
The Poison M is one of the best-sounding portable speakers I've listened to, and that includes comparison to much more expensive models. The sound in Bluetooth and AUX modes is crisp and balanced, providing bass that doesn't overwhelm the overall sound profile.
When I plugged the Poison M into my iMac for charging, the voice announced that I was in "PC Mode". The speaker does not show up as an external speaker when connected to a Mac by USB — that would be a nice feature. Fortunately, it can be connected via Bluetooth to your Mac.
It's fascinating to watch the back of the speaker when you're playing music with a significant amount of bass as the diaphragm really moves — there's a GIF on the Kickstarter site that shows just how much!
The one small disappointment was the FM mode. Many of our local FM stations were distorted. It all seems to depend on the signal strength of the station and how the Poison locks onto it. When it was able to tune in perfectly, the sound was excellent; if it was just a bit off in terms of tuning, it sounded awful.
Conclusion
The Lofree Poison sounds much better than most Bluetooth speakers we've tested, and at a price that is surprisingly affordable. Add in a unique design and multiple listening modes, and you've got a winner. The speaker ships next month, and the MSRP jumps at that time to $119, so get on the Kickstarter campaign now.
Apple World Today Rating (out of 5 stars): ★★★★★