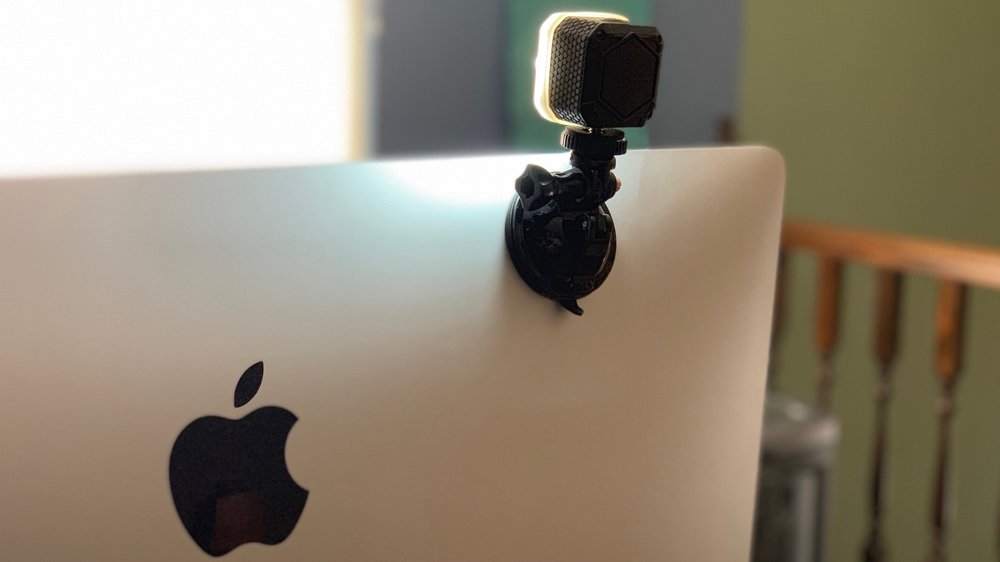 Last fall, I had the pleasure of reviewing a bright, compact video/photo light called the Lume Cube Air. This little light is perfect for filling in dark spots when taking photos or video, small enough to go anywhere, and is controlled by an iPhone app through a range of intensities. Now the folks at Lume Cube have made the Lume Cube Air even more useful with the release of the Lume Cube Air VC ($79.95), which adds a mounting option to the original that makes it easy to use for video conferencing and vlogging.
Design
The Lume Cube Air itself hasn't changed; it's still small (1.6 x 1.6 x 1.1 inches (40.64 x 40.64 x 27.94 mm)) and weighs just 2 ounces (56.7 gm). The light puts out 400 LUX at 1 meter (let's just say it is blindingly bright!), and is waterproof down to 10m.
Chances are that you're not going to use the Lume Cube Air VC while diving; its primary use case is for fill-in lighting during video conferences and taping video logs using the built-in camera on your MacBook, iMac, iPhone or iPad.
The "secret sauce" of the Lume Cube Air VC is the mount, which adds a GoPro connector and a very strong suction cup. That suction cup sticks like glue to your device while engaged, but there's a lever that makes removing the light a simple task.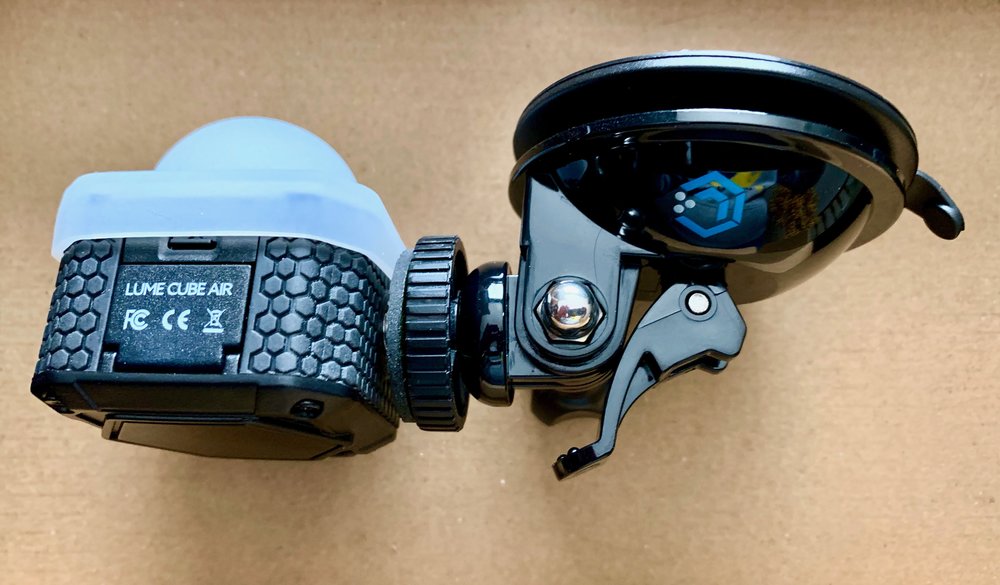 Like the original Lume Cube Air, the VC is also controlled by the Lume-X app. What's great about the app is that if you have more than one Lume Cube, all can be controlled from the same app over Bluetooth. The app automatically senses any Lume Cube in the area and connects to them; there's no manual pairing required.
In addition to the suction cup mount, the Lume Cube Air VC comes with two diffusers that are very useful in reducing glare from the lights. One is non-tinted, while the other (orange in color) has a warmer tone to it.
<!— code from sekindo - Appleworld.today In-Article - outstream —>

<!— code from sekindo —>
Function
The suction cup mount is made of a material that is sticky by itself, but uses suction to get a good grip on most surfaces. To attach the light to a device, you start by opening a latch, pressing the suction cup onto the surface, then closing the latch to increase the suction. I found that the mount had real staying power on my iMac, an iPhone XS Max in a clear case, an iPad mini 2, and even a 2018 iPad Pro in its Smart Keyboard Folio. It didn't to stick onto the side of a Canon DSLR, most likely because that surface has a pebbled texture for grip and isn't flat. That's really not an issue, as there are other hot shoe mounts available for DSLRs.
Like I noted earlier, the VC is basically just a Lume Cube Air with the added mount, so the light functionality is identical to that other product. The VC can be aimed in almost any angle and direction using the mount, making it perfect for any lighting situation. I can see where this would be a fantastic product for reporters doing remotes from an iPhone, and it works great as a fill-in light for videoconferencing and vlogging.
The slideshow embedded below shows how the Lume Cube Air VC helped to provide fill light in a tough situation. That situation is in my office, where my iMac faces a window covered by a translucent shade. In the first image, there's no lighting and my face is quite dark. In the second image, I'm using the VC for fill-in light with the white diffuser and my face is quite easy to see. The third image used the orange diffuser, which gave my face a somewhat ruddy look. Note that the "lights-on" images were with the Lume Cube Air at about 40% brightness to avoid washing out my face.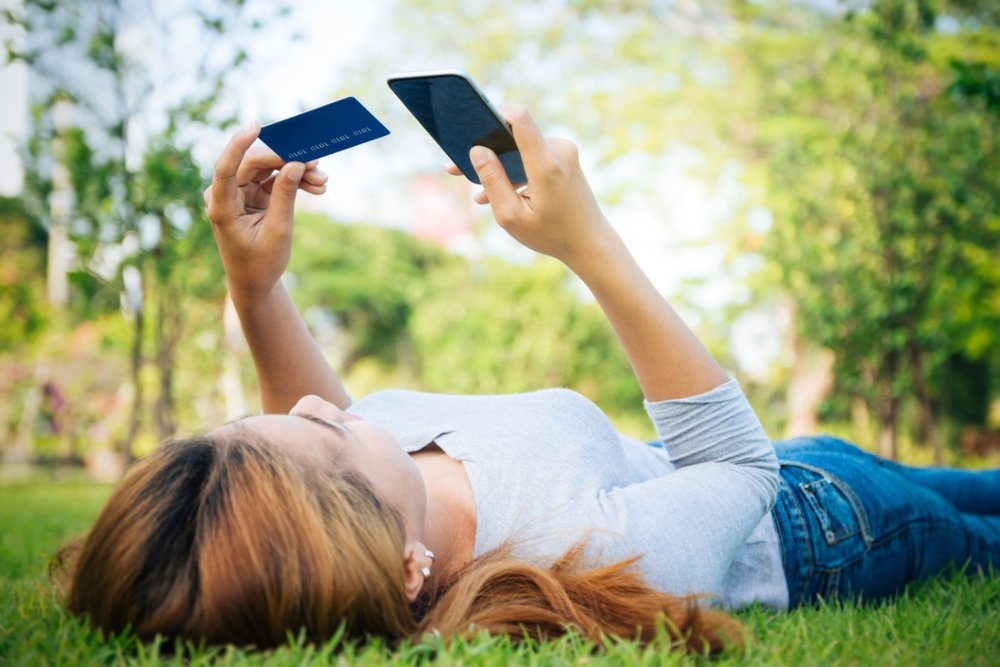 Speculation seems to be 2% across the board and better rewards on Apple purchases. If that's the case, and if there's not a substantial sign-up bonus, it's basically a close competitor to the Citi Double Cash, Rossman says, describing it as "not groundbreaking but an interesting offer from Apple and Goldman, two companies with strong brand recognition."
<!— code from sekindo - Appleworld.today In-Article - outstream —>

<!— code from sekindo —>
"They will likely position this as a good fit for cash back lovers who spend a lot with Apple. That may be the main differentiator from the Double Cash," Rossman says."Details remain to be seen, but if (let's say) it offers 3% back at Apple and 2% elsewhere, the incremental gain over the Double Cash would be just $14.49 even if you paid retail for the highest end iPhone ($1,449)."
Apple has had success with fitness trackers, another crowded space, and may apply many of the same lessons here with budgeting and debt reduction tools, he adds.
"I'm not sure consumers would sign up for a credit card just for the kinds of budgeting tools they can get for free from Mint and others, but Apple does have a lot of loyal followers."