Letterswirl for iPhone and iPad ($1.99, universal) feels like an artifact that was stolen from the land of Myst. Chimes, atmospheric music and an old-world, clockwork look create an effectively themed game. The fact that it's also challenging and fun is icing on the cake. Here's our look at the clever word game, Letterswirl.
How to play
You're presented with a ring containing 10 spheres. One additional sphere hovers in the ring's center. On each sphere is a letter. The objective is to arrange the spheres so that neighboring letters form words. Once you've created words all the way around the circle without gaps, you've won. Sound easy? It's not.
There are a few rules to be aware of. Once per turn, you may replace a lettered sphere that's in the ring with the one that's in the center. If you dislike the letter in the center, you can tap the "Spin" lever once to replace it. Proper nouns are out, so now writing your name.
You needn't make a word each turn, but you don't score any points that way, either (more on scoring later). Acceptable words are at least three letters in length, so means "It" and "He" are out. Additionally, all of your words must go in the same direction, clockwise or counter-clockwise. Finally, compound words can be scored as more than one word. For example, if you had "monkey" next to "stone," it could be scored as "monkey", "monk", "key", or "keystone".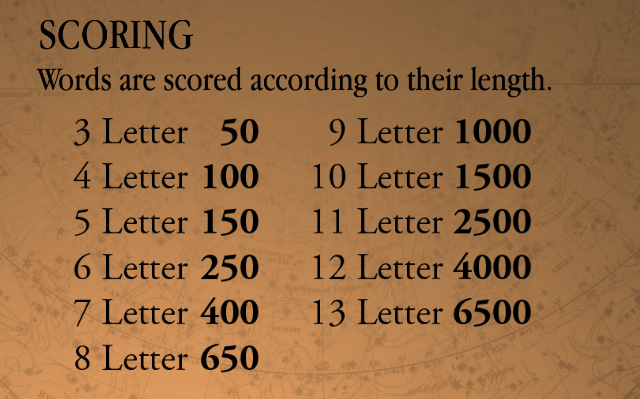 Play modes
Letterswirl offers three play modes: Single player, face-to-face and online. Right now I prefer single player mode, at it keeps my humiliation private. It also lets me chip away at the game's achievements, of which there are many.
Face-to-face mode offers pass-and-play fun. When starting a face-to-face game, you'll first choose a level of play, which defines the win condition across three levels of difficulty: * Haiku – Make a legal circle of words to win * Sonnet – Make a circle and earn 350 points in the process * Epic – Make a circle and score 600 points
Letterswirl then creates two rings: one gold and one blue. The gold player takes his or her turn and then passes the iPhone to the blue player. Play continues until one player is victorious.
Lastly, online mode pits you against your friends via Apple's Game Center. Once you've chose one of the three levels, the game beings. Here's what's really cool about online play mode.
You're presented with your ring of sphere as usual. Your opponent gets his/her own, and you can sneak a peek at what she or he is doing by rotating the perspective. It's a fun way to keep track of your opponent's progress and compare it to your own.
My experience
I love tabletop games and, when played on an iPad, Letterswirl offers a similar in-person, let's-play-with-cardboard-components feel. Sit face-to-face with a friend, place your iPad on a table and have fun. Gaming on an iOS device is often a solitary experience, so I must praise Letterswirl's developers for effectively implementing in-person gameplay on an iOS device.
The game itself is quite challenging, and choosing the sonnet or epic levels really ramps up the difficulty. Letterswirl's tutorial is also well done.
I recommend this game for its broad appeal (many people like word puzzles), great looks, effective theming and thoughtful two-player implementation. You can get Letterswirl for iPad and iPhone on the App Store now.