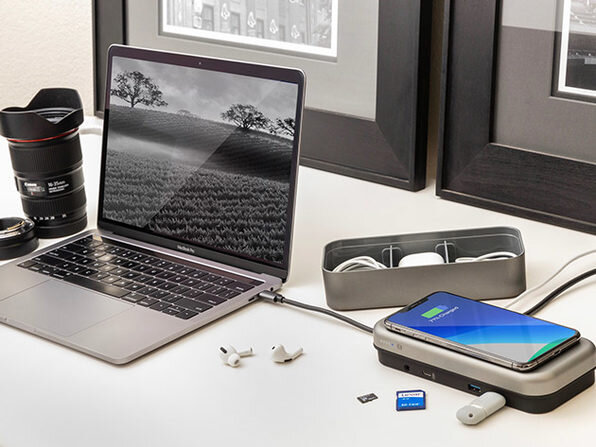 Less can be more. Less weight, less size, less cost — all of these are great features to have. The BentoStack PowerHub 5000 ($99.99) brings you more functionality in a small, attractive case, including a 5,000 mAh battery pack, Qi wireless charging, USB-C and USB-A ports, SD and microSD card readers, 4K HDMI video out, an Apple Pencil holder, and even storage compartment!
Less is more. The BentoStack PowerHub 5000 is a compact accessory organizer combining a charge cover, Type-C hub, and a storage compartment, all in one minimalistic stackable case.
Charge cover. Built-in 5,000mAh power bank w/ certified Qi wireless charging & USB-A port

Type-C hub with 8 ports. USB-C PD, USB-C 3.0, USB-A 3.0, SD, MicroSD, HDMI 4K, & 3.5mm audio plus magnetic Apple Pencil holder on top

Storage compartment. 3 custom storage spaces for smaller accessories
All of these components are stacked neatly together taking up a minimal workspace and a premium silicone strap keeps them secure when you're on the go.
Stay organized, stay connected. Get the BentoStack PowerHub 5000 on sale for just $99.99 today.