LaCie, the premium brand from Seagate Technolog, has announced its Thunderbolt 3 portfolio of storage solutions aimed at video professionals. They're described as "ideal companions to Apple's new MacBook Pro."
First, the LaCie Bolt3 combines Thunderbolt 3 speed with the latest M.2 PCIe SSDs to create what the company says is the world's fastest desktop drive. In addition, the LaCie 12big Thunderbolt 3 and 6big Thunderbolt 3 are ready to handle massive amounts of content thanks to fast transfer speeds, RAID 5/6 security and enterprise-class drives. These storage solutions have a design by Neil Poulton.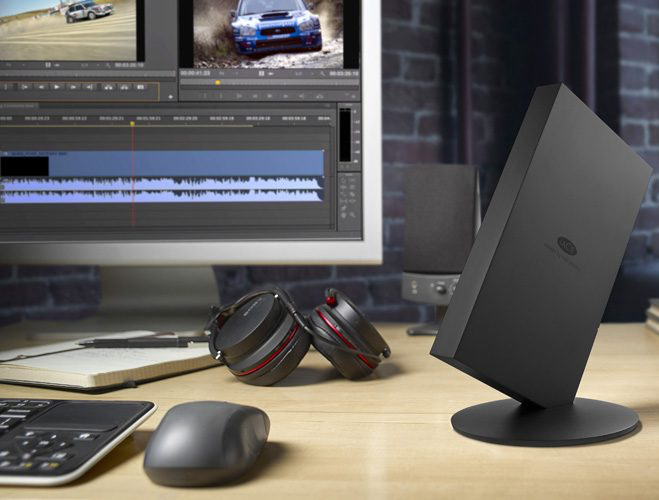 For the Bolt3, LaCie harnessed the breakthrough performance potential of Thunderbolt 3 and paired it with two M.2 PCIe SSDs striped into a 2TB volume. Bolt3 delivers record speeds of up to 2800MB/s and cuts time off of post-production workflows, such as ingesting RAW footage from RED or Blackmagic cinema cameras or transcoding 4/5/6K footage using Adobe Premiere Pro or DaVinci Resolve, according to aid Tim Bucher, senior vice president of Seagate and LaCie Branded Solutions. What's more, videographers can transfer a terabyte of 4K ProRes 4444 XQ footage from the LaCie Bolt3 to RAID storage—such as the LaCie 12big Thunderbolt 3—in only 5 minutes and 11 seconds, he adds.
Each LaCie product is individually Computer Numerical Control machined from solid aluminum blocks for rigid durability and heat dissipation. Effective cooling helps to ensure long-term component health, says Bucher. The stand docks the product with neodymium magnets—and detaches for easy transport.
With up to 120TB of massive capacity, the breakthrough performance of Thunderbolt 3 and RAID 5/6, the LaCie 12big, and the new LaCie 6big help video professionals meet the data demands of 4/5/6K cameras, says Bucher. Both feature Seagate enterprise-class drives with 256MB cache and 7200RPM.
With double the video bandwidth of its predecessor, Thunderbolt 3 lets a user daisy chain dual 4K displays or a single 5K display to the LaCie 12big or LaCie 6big. With two 4K displays, users can spread out their workspace by dedicating one display to the timeline and the other to previewing 4K footage, for example. It's even possible to power a compatible laptop through the USB-C cable. Additionally, the user can connect to USB 3.0 computers via the included USB-C to USB-A cable.
LaCie has also partnered with Pelican Products to offer custom cases to safely transport the LaCie 12big or 6big to and from set. The Pelican Storm Case is an injection-molded case made of HPX high-performance resin. The custom, durable foam configuration houses a LaCie 12big or 6big, multiple LaCie Rugged® drives and accessories such as cords or a power supply.
The LaCie Bolt3 will come in a 2TB SSD capacity for $1999. The LaCie 6big will come in 24TB, 36TB, 48TB and 60TB capacities starting at $3199.. The LaCie 12big will come in 48TB, 72TB, 96TB and 120TB capacities starting at $6399.00. The custom Pelican Storm cases start at $349. All LaCie Thunderbolt 3 solutions and the custom Pelican Storm cases will be available at LaCie resellers this quarter.
It was designed to make time tracking as simple and as fast as possible. Users can track time for new clients and projects with just one click. There's no need to fill out any fields; details can be added later. An Apple Watch app lets users start or stop tracking while on the move.
Caato Time Tracker+ is free, though there's a pro version available for $5.99 a month or $29.99 for six months. The macOS app is available at the Mac App Store, and the iOS app is available at the Apple App Store.
AKVIS has introduced Magnifier 9.0, an update of the tool for increasing image resolution. macOS and Windows compatible, the new version offers more configurability and customization options including the expanded pixel limit, new resolution values, support for Ultra HD, and other improvements.
AKVIS Magnifier automatically removes artifacts and preserves image details and sharpness of edges. Using the Batch Processing feature, it's possible to apply the same settings to all of the images within a directory.
The product is available as a standalone application and as a plugin filter for Photoshop and Photoshop Elements. AKVIS Magnifier, Home license, sells for $89. One license key allows activating the software on two computers. The update is free for users who bought Magnifier in the last 12 months. Otherwise you can upgrade to version 9.0 for $14.95.
watchOS Apps/Updates for the Apple Watch
Yonomi, the free app that connects your smart home devices and gets them to work together, now integrates with the Apple Watch. Consumers can now run their favorite Yonomi smart home Routines with a simple tap on their smartwatch. The app integrates with more than 60 popular smart home devices, including Amazon Echo, Sonos, Logitech Harmony Hub, Honeywell WiFi Thermostats, LIFX bulbs and more.