Here's a product that's designed anyone with a need for an external battery pack and extra storage for their favorite device: The Kuner KuPower currently has 7 days to go on Kickstarter, where it has beat its goal and is on the way to manufacturing. I have been testing a prototype of the unit, so let's see how it works.
Design
KuPower is a slender silver curvy box measuring 5.2 x 2.8 x .35 inches (132 x 72 x 9mm) and weighing just 5.1 ounces (145 grams). Packed inside that box is a 5500 mAh battery pack, a microSD card slot, USB and micro-USB ports, and proprietary chips Kuner has designed. The idea? To give users of almost any device the ability to have a way to charge their technology on the run and also store a lot of media.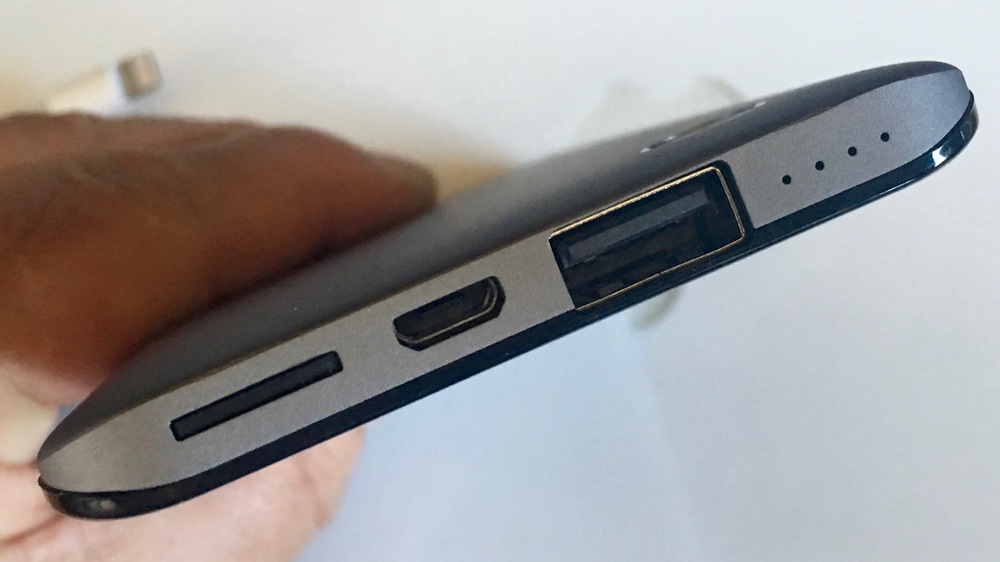 There's a single silver button on the device — with a push, it shows how much battery power is left by displaying 1 to 4 white LEDs. All in all, it's a nice-looking package. The device comes with a white carrying bag to prevent it from being scratched, and the production devices appear to come in both 16GB and 32GB models, those being the capacities of the microSD cards included. Of course, you can also use any other microSD card you may have; the specs say that the KuPower supports up to 128GB cards.
At the present time, backers can expect to get their KuPower in July, for either $39 (16GB) or $49 (32GB).
Function
Like just about every external storage device, KuPower comes with a free app. When installed, the app provides file management for photos, videos, musics (ahem, that's what's written on the app screen), and documents. There's also an function that not only shows the current charge and overall health status of your iPhone battery, but also formulates a charging profile that allegedly prolongs the life of that battery. The app is nicely laid out, with color icons and instant button access to various types of files.
There's not much more to say; the KuPower seems like a really well-designed product that will fit a need for anyone who wants both backup emergency power for their device and a way to store or backup files externally.
There's only one negative; Kuner doesn't include a USB to Lightning cable with the KuPower, just a microUSB cable. For charging an iOS device, you'll need to supply your own cable. Fortunately, most iPhone and iPad owners have those cables and that's no big deal.
Conclusion
At a Kickstarter price of $49 (including shipping anywhere in the world) for a combination of a 32GB microSD card, a 5500 mAh external battery pack, and a microSD card reader, you could actually buy separate components from other third-parties and come out ahead. However, the KuPower is a single solution and as such, you'll have to carry fewer separate items around. To me, that's worth the slight extra cost you'll incur for the KuPower.
Apple World Today Rating (out of 5 stars):
★★★★★