One of the companies that has been introducing a lot of HomeKit-compatible accessories during 2017 is Koogeek. Not only have they been creating things like smart plugs and light bulbs, but health-related devices as well. Now the company has created a first: the first Smart Outlet (US$59.95, Amazon affiliate link) that provides Siri control of three separate power outlets on a power strip.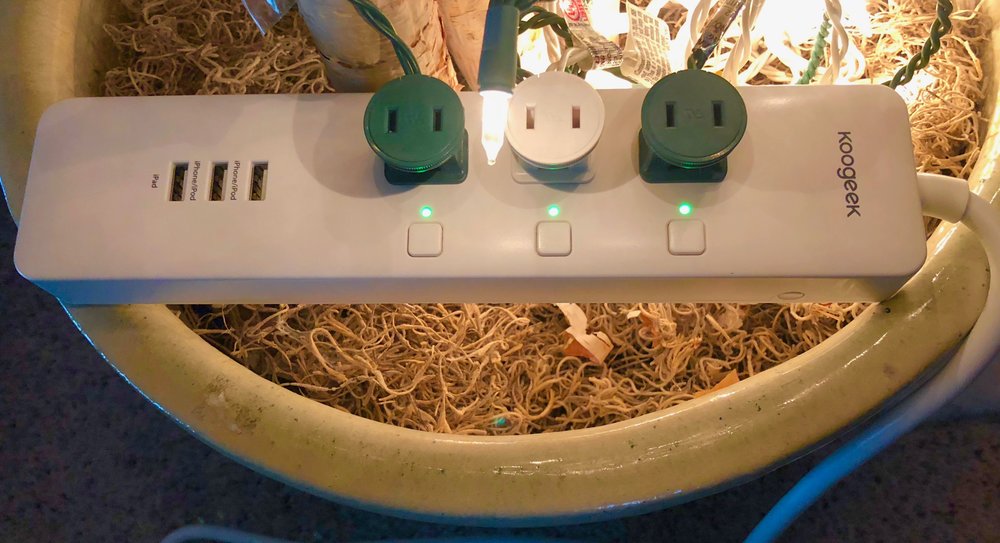 To start with, the O1US Outlet (as it's called on Koogeek's website) is rated for 1800W of power, so you can plug a lot of things into this — lamps, fans, humidifiers, you name it. There are three separate outlets, all of which can be controlled by Siri independently. Koogeek also thoughtfully provides three USB outlets, two 1A outlets which are marked for use by iPhone/iPod and one 2.1A outlet marked for iPad. Each of the three power outlets has a push button next to it for manual on/off control.
The cord is 1.5m (4.92 feet) long, and all of the outlets are surge-protected — perfect for keeping whatever accessories are plugged into the Koogeek Smart Outlet safe from power surges. Not only does it protect your devices from surge situations, but it also has built-in short-circuit, overheating, overvoltage, overcurrent and overload protection.
Setup is a piece of cake thanks to the Koogeek app and the standard HomeKit setup process. What's different about the Smart Outlet is that it asks the user to give each of the three outlets a separate name during the setup. I set up the Smart Outlet next to a decorative faux aspen tree that sits in my office. During a fit of Christmas decorating a few years back, I installed three strings of small white Christmas lights in the limbs of the tree. Now I can get lighting in my office year-round by simply telling Siri "tree lights on", which turns on all three strings of lights in a HomeKit scene. I can also ask Siri to "turn on Aspen Tree 1" (or 2 or 3) to tun on single strings of lights. 
Of course, it's also possible to automate the lighting by setting up HomeKit automations. Just to test out the Koogeek Smart Outlet with automations, I created a simple automation that turned on one string of lights at sunset, another string of lights 15 minutes later, and the third string of lights 30 minutes later. Pretty cool! Another automation turns off all of the lights later in the evening. Koogeek's app also makes it possible to monitor energy use for all devices that are connected to the Smart Outlet. 
Who's it for?
Anyone interested in home automation through HomeKit who has more than one power-using accessory that want to control using HomeKit or Siri. At $60 it's more expensive than most power strips…but then again, those other power strips can't be Siri-controlled.
Apple World Today Rating (out of 5 stars): ★★★★★