The US$289.99 SD5600T Thunderbolt 3 and USB-C Dual 4K Hybrid Docking Station with 100W Power Delivery is the latest, created hybrid dock from Kensington. At almost 300 bucks, it's not an impulse buy, but it is a great product for those who need to connect LOTS of peripherals to Macs. And it's especially handy for Mac laptops and their dearth of ports.
You can connect external monitors, USB drives, NAS, a keyboard, mouse, Gigabit Ethernet, etc. I sometimes use a 16-inch MacBook Pro connected to an external monitor, so the SD5600T makes it easy to have a desktop workstation through a single TB3/USB-C port.

As you might guess from its name, the SD5600T Thunderbolt 3 and USB-C Dual 4K Hybrid Docking Station is a Thunderbolt 3 dock with a SD Card reader that works with Macs (macOS 10.14 and later) and Windows systems with Thunderbolt 3 and USB-C connectivity.
It supports Dual 4K Ultra HD (4096 x 2160 30-bit color @ 60 Hz) or Single 4K (3840 x 2160) 60fps to a single monitor via two DisplayPort ports. For USB-C Alt Mode devices, a maximum resolution of Single 4K 60Hz or Dual 1440p @ 30Hz is supported for HBR3 laptops or Single 4K 30Hz or Dual 1080p @ 60Hz is supported for HBR2 laptops (dual monitors are for devices that support MST).
Multi-Stream Transport (MST), also known as Daisy Chaining, is a new connection specification that allows multiple monitors to be connected in series with the video signal being passed from the computer to a monitor, and then from the first monitor on to the second monitor, etc.
One Thunderbolt 3 port connects the hybrid dock to a computer. The SD5600T packs 15 (yep, 15) ports, including six USB-A ports, one USB-C Gen2 port, one Gigabit Ethernet port, and DisplayPort and HDMI video ports, as well as SD and Micro SD card readers. There's also an included vertical stand that reduces the dock's desktop footprint. You can choose vertical or horizontal placement.
The SD5600T's 100 watt power supply delivers 60W power that can charge your Mac laptop via Power Delivery 3.0. The computer must be designed to support Power Delivery).
If you're unfamiliar with it, Power Delivery (PD) is a charging standard that allows a charger to output higher currents and higher voltages, allowing you to charge your smartphone or laptop from 0% to 100% in a shorter time. It's the only charging standard that can charge a laptop.
The SD5600T packs fast data transfer speeds. It allows you to transfer up to 40Gbps of data, video, and audio (10Gbps for USB-C Gen2 laptops, 5Gbps for USB-C Gen1 laptops) using the included 0.8m (2.6 ft.) Thunderbolt 3 cable.
The SD5600T comes with Kensington DockWorks software for those using macOS 10.6 or higher. The software is designed to "ensures the best connection, performance, and security from your Kensington dock by:
° "Knowing" when to connect toLAN and when to connect to Wi-Fi;
° Mirroring a laptop's MAC ID, for greater network visibility;
° Allowing IT admins to see what is connected to each user's docking station.
This hybrid dock isn't for everyone. But if you're a pro user who needs a flexible, easy-to-use device for using a plethora of accessories with your Mac, you'll have to give this baby a look.
Apple World Today Rating (out of 5 stars): ★★★★
And if you need something a bit more compact but with most of the SD5600T's features, there's Kensington's $279.99 SD2500T Thunderbolt 3 and USB-C Dual 4K Hybrid Nano Dock with 60W PD – Win/Mac. The full-featured Thunderbolt 3 laptop docking station's features include universal compatibility, Single 8K or Dual 4K video output, 60W power delivery, UHS-II SD 4.0 card readers, free Kensington DockWorks software, and a three-year warranty. As best I can tell, it's THE most compact 10-port Thunderbolt 3 laptop docking station at 5.8 x 3.14 x 0.68 inches and a weight of only 0.71 pounds.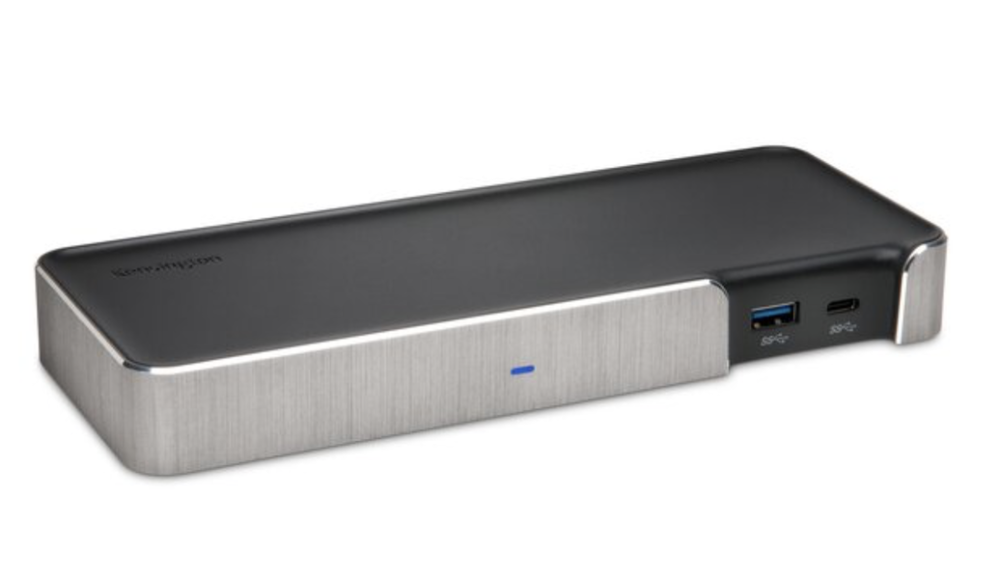 The folks at Kensington says that, in creating this nano dock, they prioritized desk real estate "and the desire to create an efficient, effective work space, while also providing 60W of power out of the box." In order to keep the form factor of the dock small, Kensington developed the accompanying power supply, which can be neatly stored out of the way.
Apple World Today Rating (out of 5 stars): ★★★★★