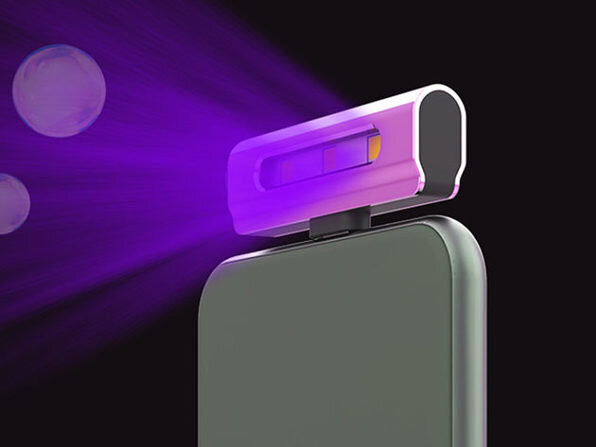 If you're tired of being cooped up in your house and your state is allowing it, perhaps you're starting to do some local travel. How do you keep safe in hotel rooms, or sanitize anything that's been in public? The Mobisan Mobile UV Sanitizer Light ($29.99) uses powerful ultraviolet-C light to kill 99.9% of germs on surfaces, yet it's portable enough to take everywhere.
Germs and viruses practically live and breed everywhere. Your phone, iPad, keyboard, door handles, ATM screen, paper bills, coins, and so much more. Complement frequent handwashing with disinfecting germ-prone surfaces using this Mobisan Mobile Plug-In UV Sanitizer Light. It simply plugs to any phone or device with Type-C charging port and kills 99.9% of disease-causing microbes in less than 10 seconds. Very portable at 3″ long, you can take this UV light anywhere and sanitize on the go.
Disinfects any surface in 10 seconds

Lightweight & easy to carry in pocket or purse

Easily plugs into any Type-C device

Perfect to use for elevator buttons, restaurant utensils, door handles & other germ-prone objects
WARNING: Ultraviolet rays can cause burns to the eyes and skin. Do not look directly at them during use, do not point the device toward people, animals, or plants. Keep away from children.
Specs
Color: black

Finish: matte

Materials: plastic, electronics

Dimensions: 1″H x 3″L x 1″W

Interface: Type-C

Disinfection rate: 99.9%

Disinfection time: < 10 seconds

Auto off UV LED light

Small & lightweight

Manufacturer's 30-day warranty
Grab one today while they're available!