New data from Juniper Research estimates the global number of mobile contactless users will exceed 760 million by 2020, up from an estimated 440 million in 2018. The research group forecasts services such as Apple Pay, Samsung Pay and Google Pay, will reach 450 million by 2020, with Apple accounting for 1-in-2 payments users globally.
Juniper say the combined market share of Apple, Samsung and Google will reach 60% of global mobile contactless users by 2023, up from an estimated 50% in 2018. Other mobile pay users — including Huawei Pay, Xiaomi Pay, Fitbit Pay and Garmin Pay — will exceed 20 million by 2020.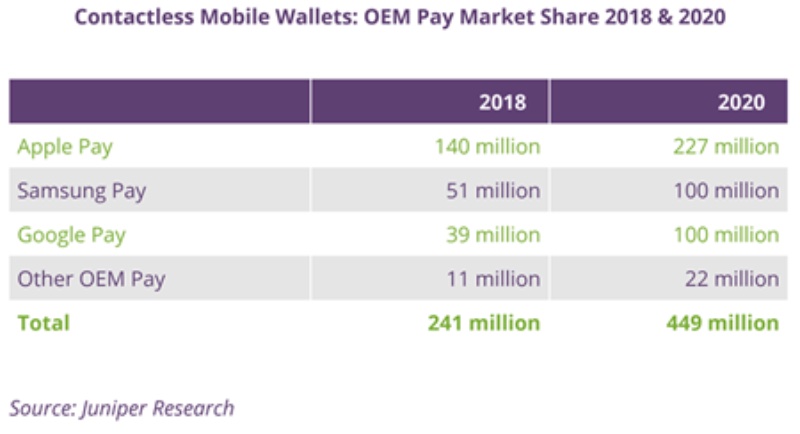 Meanwhile, well over 200 banks had deployed HCE-wallet services in 2017, expected to drive future growth in many markets, according to Juniper. Host Card Emulation (HCE) is the term describing on-device technology that permits a phone to perform card emulation on an Near Field Communication (NFC)-enabled device without relying on access to a secure element.
While contactless payments use has risen rapidly, this does not mean higher growth for mobile contactless payments, according to Juniper. In many established markets, contactless cards remain the most likely to have increased current and future usage by consumers, and pay options may struggle to gain traction amongst existing users in such markets. However, the research group found that contactless payment transactions, conducted across all types of payment cards, mobile and wearable devices, will reach $1 trillion in value this year, a year earlier than previously anticipated by Juniper Research.
"With contactless payments becoming the norm in many global markets, the attendant payment infrastructure is also becoming well established. Indeed, in markets such as Europe, contactless payments are becoming the preferred method of in-store payments," says research author Nitin Bhas.
Apple Pay is currently available in 22 countries: Australia, Brazil, Canada, China, France, Hong Kong, Italy, Japan, New Zealand, Russia, Singapore, Spain, Switzerland, the UK, the U.S., Denmark, Finland, Sweden, Poland, and the United Arab Emirates.
---
Like this article? Consider supporting Apple World Today with a $5 monthly Team AWT membership.