Small- and medium-sized businesses might think they're at a disadvantage in system management of Apple devices, but they have a powerful ally in Jamf Now. It's a cloud-based mobile device management (MDM) solution that empowers companies of any size to set up, manage and protect their Apple devices without the need for a dedicated IT team.
Jamf Now is the perfect solution for organizations that are struggling with setup and support of Apple devices for employees who are working from home due to the pandemic. If your business has immediate needs for setting up iOS, iPadOS and macOS devices that are geographically scattered, Jamf Now makes simple work of the task without the need to hire or contract additional resources.
It doesn't matter the size of your organization, or whether you're all in one office or located around the globe, Jamf Now uses the power of the cloud to provide its robust suite of capabilities anywhere, anytime.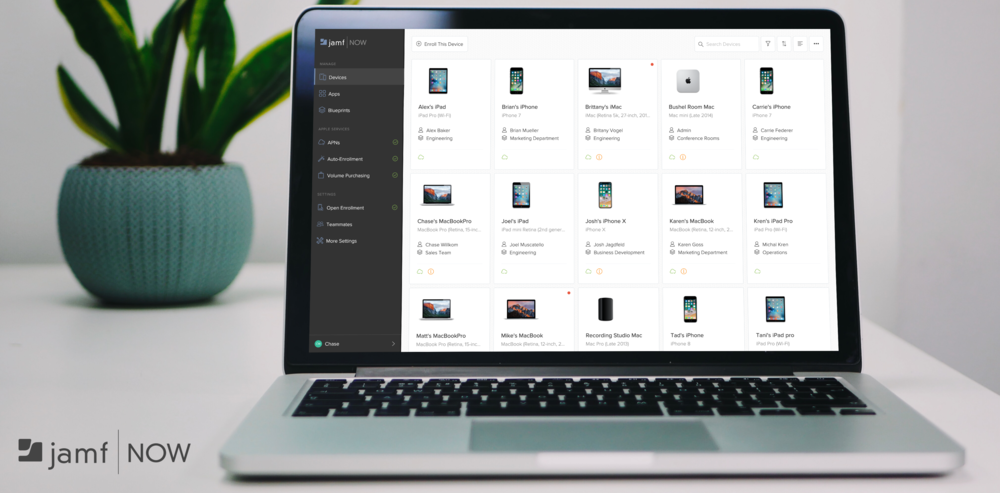 What can Jamf Now do for your business? There are three major ways it can empower your staff:
Jamf Now allows a designated employee to remotely configure devices with settings and email, set up Wi-Fi, and more — all from an easy-to-use management console.
Turnkey management techniques
Business owners can deploy apps from one central location, view device details and know precisely how many devices are in their inventory at any time.
Jamf Now protects sensitive company data on your employee's devices: providing remote enforcement of passcode requirements, and enabling locking or wiping of lost or stolen devices.
Jamf Now sounds pretty impressive, but if that's not enough to send you to the Jamf website to find out more, perhaps this offer will: Sign up for free today and see how easy it is to manage three devices using Jamf Now. After the free open-ended trial convinces you that Jamf Now is the solution you've been looking for, additional devices are added at just $2 per month each.
Take charge of your Apple devices today with Jamf Now!