Any true fan of action movies will have to see Mission Impossible: Fallout, one of the best action films ever made and now in theaters. To help enjoy the film, buy the $29.99 Mission Impossible Collection at iTunes. It bundles the first five films in the Tom Cruise-starring series.
Unlike most movie series, "MI" actually gets better over time, and its star — the best onscreen sprinter around (and he runs in every MI movie) — never slows down. Here's my take on the five films in the bundle:
Mission Impossible
Mission Impossible kicked off the series in 1996 and introduced us to Ethan Hunt, a young agent at the fictional Impossible Missions Force (IMF). He's framed for the murder when an assignment goes horribly wrong and must go on the run to prove his innocence and find the mole within IMF, who betrayed the team.
The screenplay by David Koepp and Robert Towne is filled with twists and turns (although there's one dark twist that betrays the spirit of the long-running TV series that inspired the film). Director brian De Palma is at the top of his game with his long takes, unusual camera angles, and compositions. Cruise does most of his own stunts, which is impressive, but the film doesn't make you question whether the actor has a death wish, something you have to wonder after the recent three MI films.
One downside: the special effects (used sparingly, thank goodness) in the climactic fight on a train scene look dated by today's standards. Overall, this is a good, if not great, action film. (Trivia note: besides Cruise, Ving James is the only actor to appear in all MI flicks) as Hunt's compadre, Luther.
Apple World Today Rating (out of 5 stars): ★★★★
Mission Impossible II
Mission Impossible II (2000) is the weakest link in the series. It's also largely defined by the style of its director, the legendary John Woo, who serves up his trademarks of slow motion, chaotic action sequences, Mexican standoffs — and flying doves. In fact, he serves up his motifs a bit too much.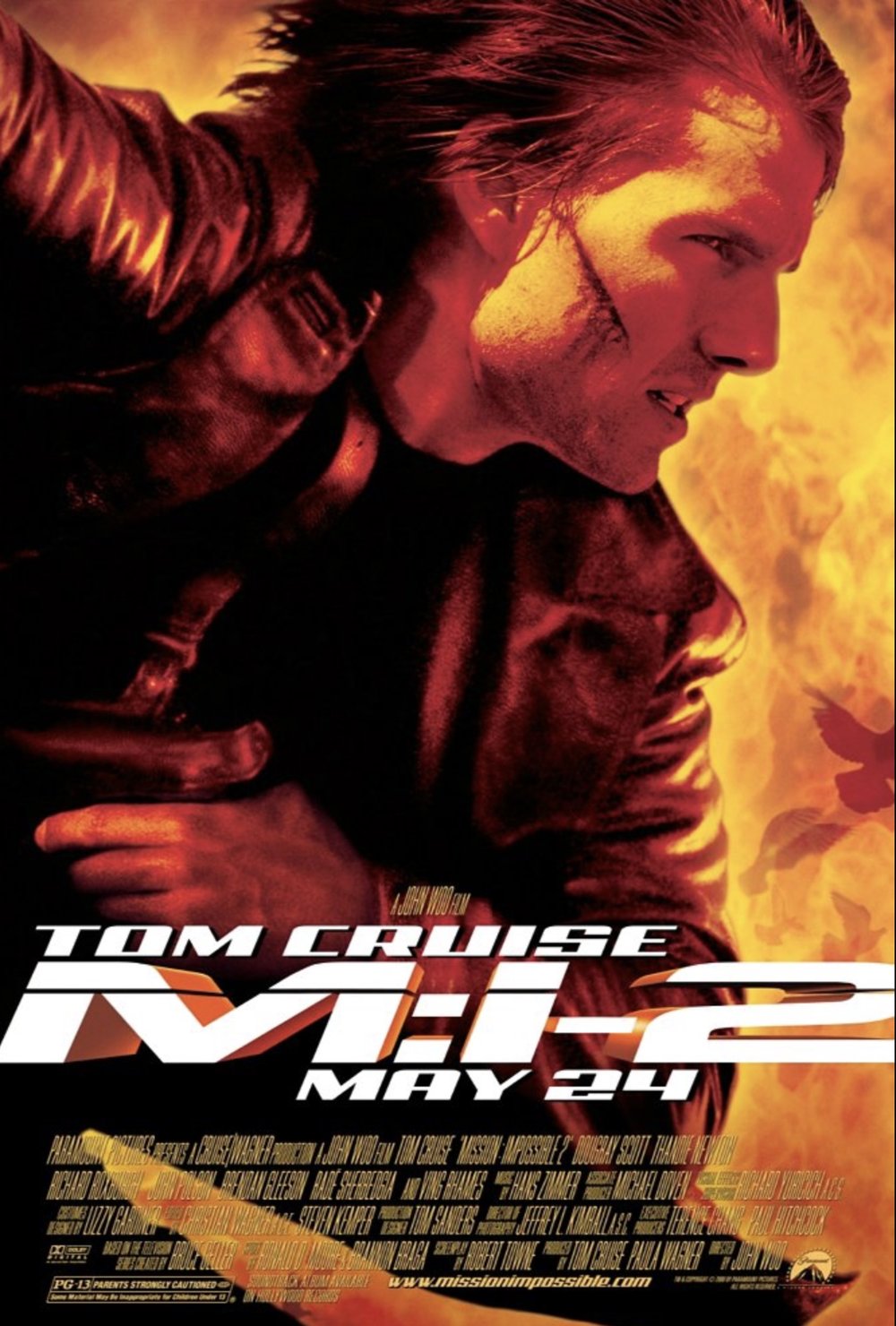 In MI II, Hunt is tasked with finding and destroying a dangerous biological weapon called "Chimera" from a rogue IMF agent named Sean Ambrose with the help of his new girlfriend, Nyah Nordoff-Hall.
Unlike the twisty fun of the first film, Robert Towne's screenplay is disappointedly straight-forward. Double and triple crosses are part of the fun of the series. Also, the romance between Hunt and Knordoff-Hall seems like a side note that someone felt was needed to draw females to the film.
However, Cruise ups the ante stunt-wise, this time, around, doing his own mountain climbing, most of his stunts, and all of the fight scenes. They're exciting, but, Woo's directing is so hyper and frenetic that these scenes veer into cartoonish territory.
Apple World Today Rating (out of 5 stars): ★★★
<!— code from sekindo - Appleworld.today In-Article - outstream —>

<!— code from sekindo —>
Mission Impossible III
The series begin hitting is stride with Mission Impossible III. The 2006 film — written by Alex Kurzman, Roberto Orci, and J.J. Abrams and directed by Abrams — offers fantastic action, plenty of plot twists, and a surprisingly emotional core.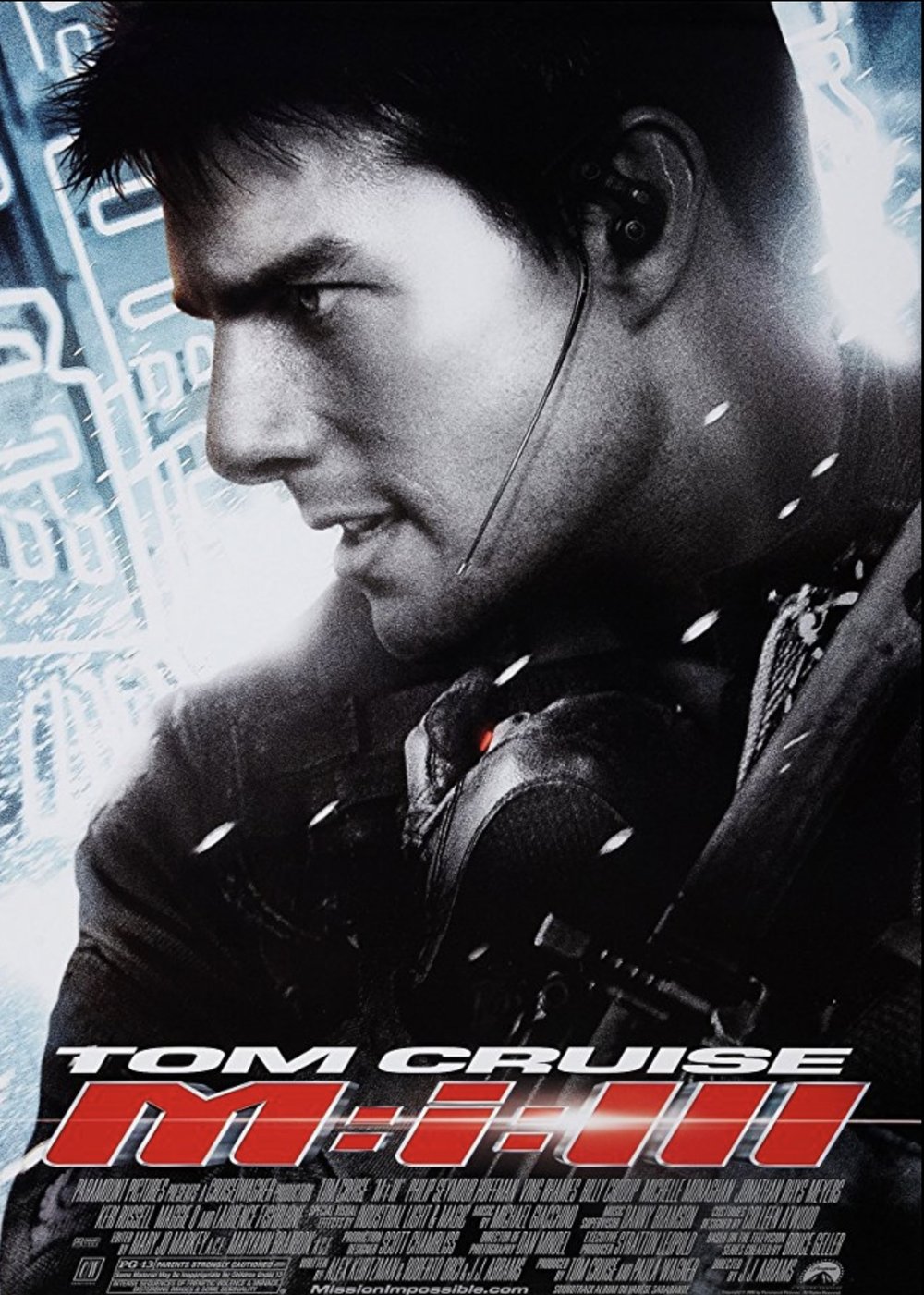 Hunt has retired from field work for the IMF. He instead trains new recruits while settling down with his wife, Julia, a nurse who's unaware of Ethan's true job. Of course, he lets lured back into action against his better judgement and pretty soon he's at war with an arms dealer and trying to save his wife.
The film is packed with trademark high-tech gadgetry, gravity-defying stunts (most by, of course, Cruise) and the latex masks used for identity stealing. Kicking off with a nail-biting sequence, the personal stakes provides M:I 3 more depth than its predecessors, while the action more than holds its own. What's more, the film introduces computer geek Benji (Simon Pegg), who brings some welcome humor to the proceedings.
Apple World Today Rating (out of 5 stars): ★★★★
Mission Impossible: Ghost Protocol
Mission Impossible: Ghost Protocol (2011) kicked the series to another level, and is one of the best action films of all time (I'd rate it and the next two MI films up there with the classic Die Hard). It's best known for the scenes of Tom Cruise scaling the world's tallest building, the Burj Khalifa building in Dubai. Those scenes are breath-taking, but there are plenty of other great set pieces, as well.
One involves a giant screen that replicates the vanishing point of an empty hallway even as the folks behind it move progressively closer. Another involves a fight in a sandstorm. Another involves a brutal fight in an automated parking-garage.
Written by Alias vets Josh Appelbaum and André Nemec, Ghost Protocol sees Hunt back in action after his wife is killed by a hit squad (or so he thinks, which adds some emotional heft to the movie) and on a mission with his team to take down a mystery villain known as Cobalt, who's trying to get his hands on (of course!) some nuclear weapons.
Almost as impressive as Cruise's derring-do is the fact that MI: Ghost Protocol was the first live action film directed by Brad Bird, who directed the Pixar classics, The Incredibles and Ratatouille. He and his writers hark back to the spirit of the TV series by having more of a focus on teamwork. In addition to Luther and Benji, the team includes tough agent Jane Carter (Paula Patton, memorable as a teacher in the film "Precious"), and brainy-yet-brawny analyst William Brandt (Jeremy Renner of "The Hurt Locker"). Movies don't get more enjoyable than this.
Apple World Today Rating (out of 5 stars): ★★★★★
Mission Impossible: Rogue Nation
I didn't think that the fifth film, Mission Impossible: Rogue Nation (2015), could equal the fourth. I'm not sure it did, but it came within a hair and also makes my list of the best action films of all time. In the sequel — written and directed by Christopher McQuarrie — Hunt is on the run from the CIA, following the IMF's disbandment as he tries to prove the existence of the Syndicate, a mysterious international terrorist consortium.
Again, he's not alone. He's accompanied by the team from the previous film, minus Carter but joined by a disavowed British agent Ilsa Faust (Rebecca Ferguson). Rogue Nation is best known for the scene of Cruise climbing and hanging on the outside of a flying Atlas C1 took place at RAF Wittering near Stamford.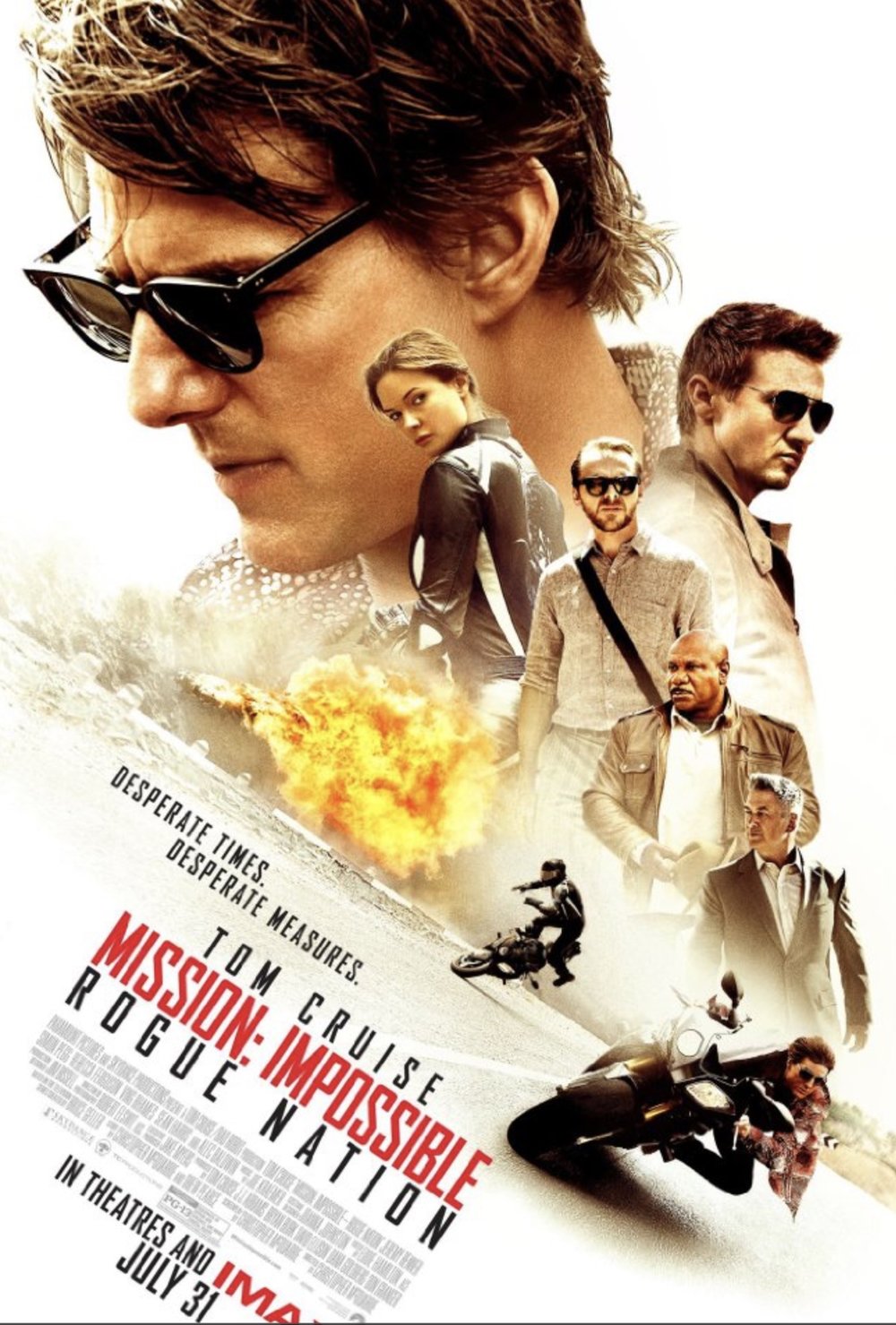 Cruise performed the sequence himself, at times suspended on the aircraft over 5,000 feet in the air, without the use of a stunt double. He also trained under diving specialist Kirk Krack to be able to hold his breath for three minutes (some reports claim it was SIX minutes) to perform an underwater sequence which was filmed in a single long take without any edits. And that's not evening mentioning the motorbike chase in which Cruise, leans sooooo sideways that you expect his knees to hit the pavement.
There are other hidden pleasures in addition to the actor's I'll-make-this-scene-look-real-or-die-trying shenanigans. Mainly: a lavish production of Puccini's "Turandot" and a very appealing casat.
Apple World Today Rating (out of 5 stars): ★★★★★
Say what you will about Tom Cruise, but he's the hardest working man in show business. Is he crazy to do some of the stunts he does? Perhaps. But his steely resolve to please his audience makes him the embodiment of the old-school Hollywood star and you gotta love him (or at least admire him) for that.