In observation of Distracted Driving Month this April, The Zebra, an insurance comparison site, surveyed 2,107 Americans to uncover what activities are distracting them on the road.
The survey revealed that 78% of Americans admit to engaging in activities other than concentrating on the road, even though the majority of them (66%) feel guilty while doing so. And iPhone users are twice as likely to text and drive as Android users.
According to The Zebra, when looking at iPhone vs. Android owners, Apple users are more addicted to their mobile devices, as they're more prone to text, take photos, video-chat and more while driving.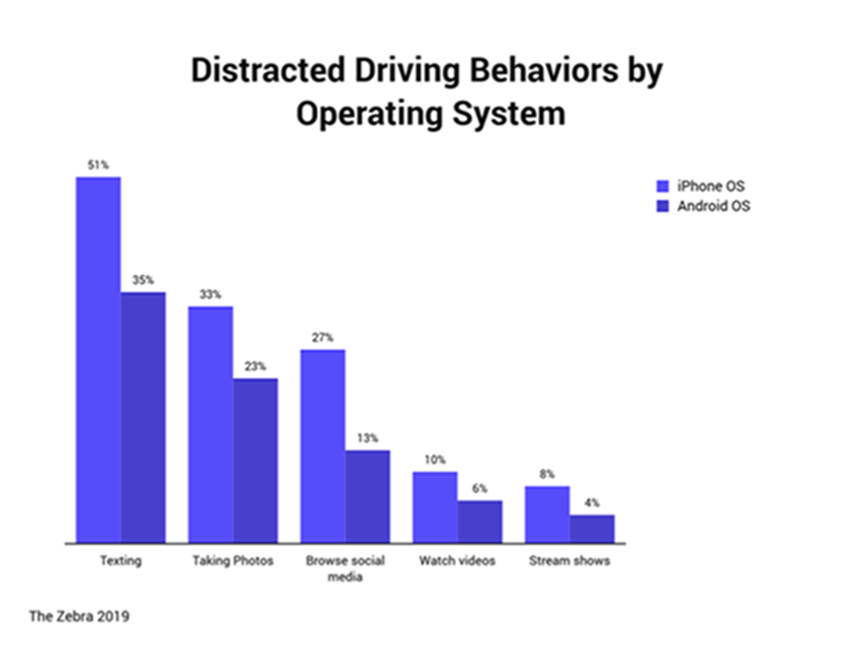 Emotional commercials and big brand petitions tell us that a text message can wait, yet 73% of respondents who admitted to texting and driving agree that this risky act can be classified as an addiction. Eighty percent of people in this group agree that it's equally as dangerous as drinking and driving.
As we become more aware of the dangers of distracted driving, The Zebra examined other ways drivers lose focus. Texting and driving falls second to eating food, which 78% Americans admit to doing while driving.
In addition to texting and eating, Americans are taking photos (25%), handling pets (24%), entertaining children (21%), taking videos (13%) and video-chatting (11%) while driving, indicating that texting is just one part of the problem. Additionally, 7 in 10 Americans (71%) agree that technological features within their vehicle, such as touch screens and navigation, distract them while driving.
As compared to the 78% of the national population who get distracted while driving, Millennials lead the pack, with 88% admitting the same. Millennials run the gamut for distractions while driving, including texting (59%), entertaining children (28%), browsing on Facebook (29%) and posting on Facebook (15%), reading (19%) and answering work emails (14%) and others.
According to the survey, Millennial drivers also feel the most pressure to work while driving. As a generation that harps on the option of unplugging and flexible schedules, it's interesting to note that 37% of Millennials said they feel high degree of pressure to respond to work related messages while driving, compared to the national average, at 25%.