According to preliminary results from the International Data Corporation (IDC) Worldwide Quarterly Mobile Phone Tracker, phone companies shipped a total of 347.4 million smartphones worldwide in the first quarter of 2017 (1Q17). Worldwide shipments grew 4.3% in 1Q17, which was slightly higher than the research group's previous forecast of 3.6% growth.
Apple remained essentially flat with shipments reaching 51.6 million units in the first quarter, up slightly from the 51.2 million shipped last year. The strong holiday fourth quarter carried into the month of January as the larger iPhone 7 Plus returned to stock across most channels in numerous regions, according to IDC. Apple introduced a refreshed iPhone SE with more storage capacity (32GB and 128GB) that puts the mid-tier device in line with the rest of the iPhone portfolio.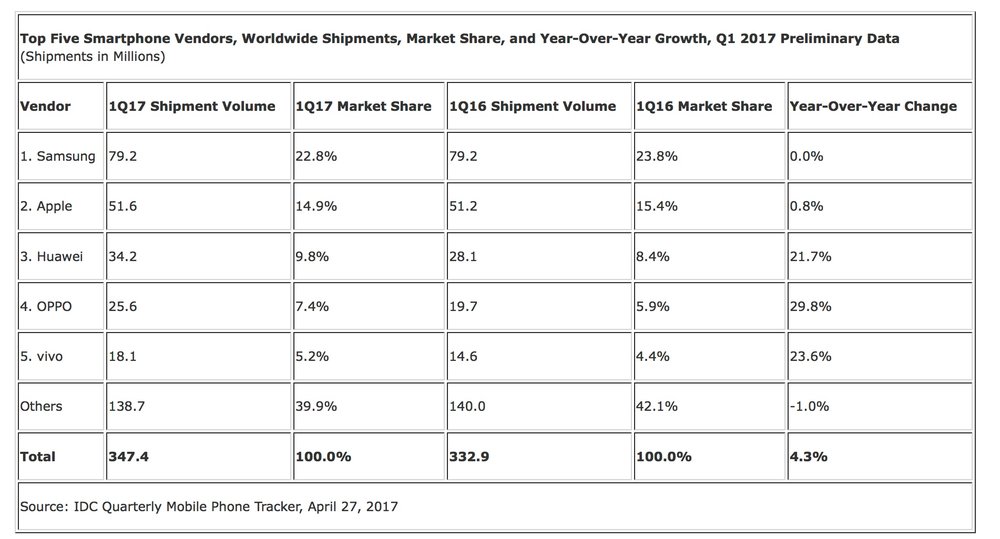 The tech giant also refreshed its flagship smartphone by bringing (Product)Red over to the iPhone which paints both the iPhone 7 and 7 Plus in a new red finish. Finally, rumors of a special edition 10th anniversary iPhone continue to grow as a pending new design, screen size, and performance upgrades all look to be in the works for the fall, according to IDC.
Samsung regained control as the leader in the worldwide smartphone market despite a flat first quarter (0% year-over-year growth), adds the research group. Huawei sustained its dominance in China growing nearly 22% as shipments climbed from 28.1 million units last year, to 34.2 million units in the first quarter of 2017.