According to the latest research from Counterpoint's Market Pulse program, the U.S. smartphone market saw sales of 38.7 million units during the first quarter [Q1] of 2018. That's a 11% decrease from Q1 2017 when sales were 43.7 million smartphones. Sales hadn't dropped below 40 million for the last three years.
Apple shipped a record 16 million iPhones for the first time ever in a Q1 in the US. This is a 16% year-over-year increase, with the tech giant showing continued success in taking share away from Samsung in the premium market space. Counterpoint says Apple now commands 80% of the +$800 price band. Six of the ten best-selling smartphones in the U.S. are iPhones.
Samsung's growth curve is slipping. The research group says there's increased difficulty maintaining momentum through product lifecycles.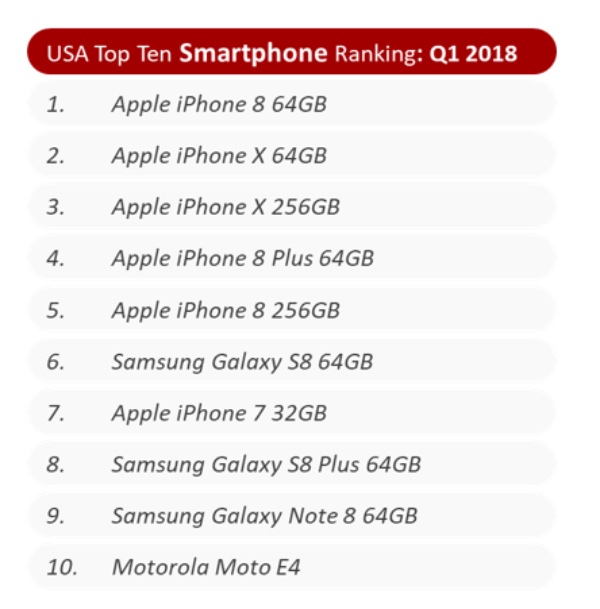 "Dips in sales coming off a holiday period are to be expected, however there are several other factors that make this the weakest Q1 in recent years," says Counterpoint Research Director Jeff Fieldhack. "For one, postpaid device promotions were not as enticing in the first quarter—most requiring a new line. In addition, prepaid did not receive its usual February and Q1 bump as prepaid service promos cooled. The ramp-down of government subsidized 'Lifeline' programs have cut into prepaid device volumes. BYOD [bring your own device] and refurbished devices also continue to impact new device sales."
---
Like this article? Consider supporting Apple World Today with a $5 monthly Team AWT membership.