Today's announcements at WWDC 2016 focused more on iOS than any other platform, and for good reason — iOS is Apple's bread and butter these days. iOS 10 is going to add power across the board in so many ways, so let's get right down to details.
Availability
Developers can get a preview of iOS 10 beginning today at developer.apple.com, and a public beta opens to all users in July. The free upgrade will be generally available this fall as a free update for iPhone 5 and later, iPad Air and iPad Pro, iPad 4th generation, iPad mini 2 and later, and iPod touch 6th generation. A preview of many of the features of iOS 10 is available on Apple's website.
Messages
Messages is used more than any other app, and as I mentioned to some of our Team AWT members in the Slack chat room, it's the "glue that holds people to iOS". With the new Messages app, that glue just became a lot more sticky.
Messages can now have animations that take over the entire screen, there are "invisible ink" messages that friends can only read after swiping over them with a finger, and handwritten notes. Type in a suggestion, and words that can be replaced with emoji will be highlighted so that you can enter emoji with a tap. Tapback lets you respond to messages with a tap — similar to what's seen on the Apple Watch right now — and iOS 10 users will be able to send rich links that can be viewed or (in the case of music or video links) played in the Messages app.
Developers can add their own apps to Messages, for stickers, personalized GIFs or photos, to allow payments, schedule appointments or make reservations, all within Messages.
Siri API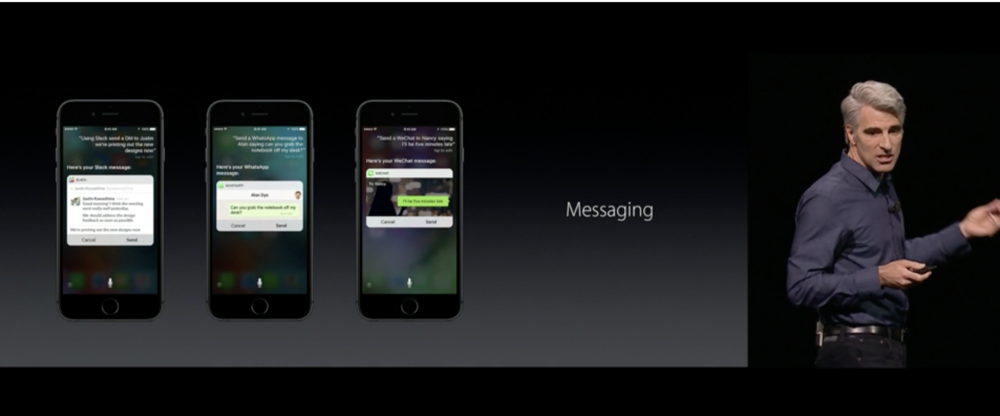 Siri is going to be a lot more powerful very soon. Developers can use SiriKit to design apps to work with Siri for messaging, phone calls (through VoIP), photo search, and ride booking. Need to send money to someone? Use an app and say "Send $1000 to Apple World Today", and Siri will use Apple Pay to send us the money! Siri will also be more useful when starting, stopping or pausing workouts, and to control both houses and cars through HomeKit and CarPlay.
Maps
Maps got a major revamp to make it more usable and intelligent. It's also open to developers with some new extensions, so bookings can be made right within Maps. Maps will now proactively deliver directions to where users are most likely to want to go next based on past experience or appointments listed in your calendar. At any point during a trip, Maps can tell you where the nearest gas station or restaurant is, and even tell you how stopping will affect your arrival time at your destination.
Photos
Photos gains some amazing capabilities both in iOS and macOS. The big thing in iOS 10 Photos is to make photo discovery easier by bringing them back to life in Memories. Memories scans your photo and video libraries, then finds favorite or forgotten events, trips or people, presenting them in pre-made collections. Each Memory has a Memory Movie, which is an automatically created movie with theme music, titles, and transitions.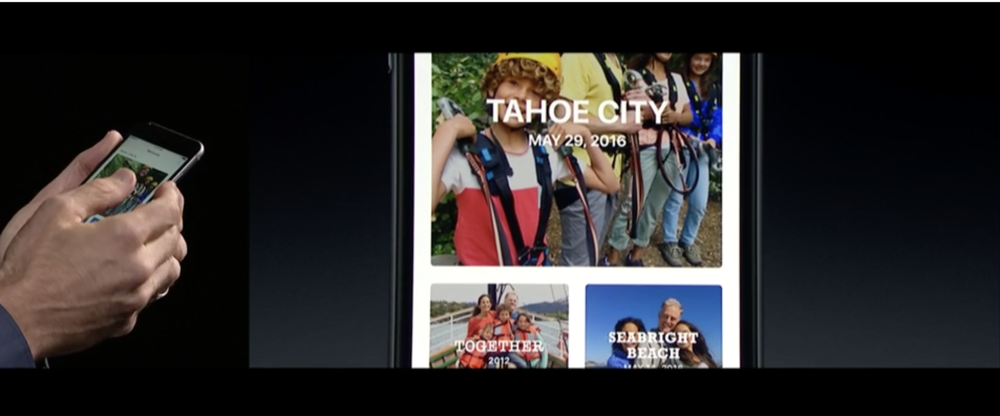 How does iOS do all of this? It uses advanced computer vision to group people, places and things into albums using on-device facial, object and scene recognition. By doing so on-device, Apple maintains your privacy. Take that, Google!
SiriKit integration with photos will also make it possible to do Siri searches like "Find all pictures of Barb from our Texas road trip" and get results.
Home App
Finally, one app I wanted Apple to add. Currently, every manufacturer that creates HomeKit-compatible home automation devices has its own app. Now the Home App will control all of those devices in a very personal way. Accessories can be managed individually or grouped into scenes, and can be controlled by Siri. The Apple TV gets a new job as a home hub that is the remote gateway to controlling your home remotely. Triggers can be set up by time of day, location or action.
Apple announced that even more home automation products including thermostats, lights, window shades, door locks and video cameras will be supported by the Home app. Some home developers have even committed in the US and China have also committed to integrating HomeKit devices into new homes — Brookfield Residential, KB Home, Lennar Homes and R&F Properties.
Apple News
The News app is redesigned, with a new For You page that's much more magazine-like, and Apple noted that there are over 2,000 publications — one of which is Apple World Today — that are now publishing in the Apple News Format. There are new sections made to make it easier to find stories, support for breaking news notifications, and paid subscriptions.
Apple Music
The Music app is completely redesigned, making discovery of music much easier. Library, For You, Browse and Radio tabs were redesigned so that they don't all look alike, and there's a Search tab. Playback controls "float" over the tabs for control of music at a touch.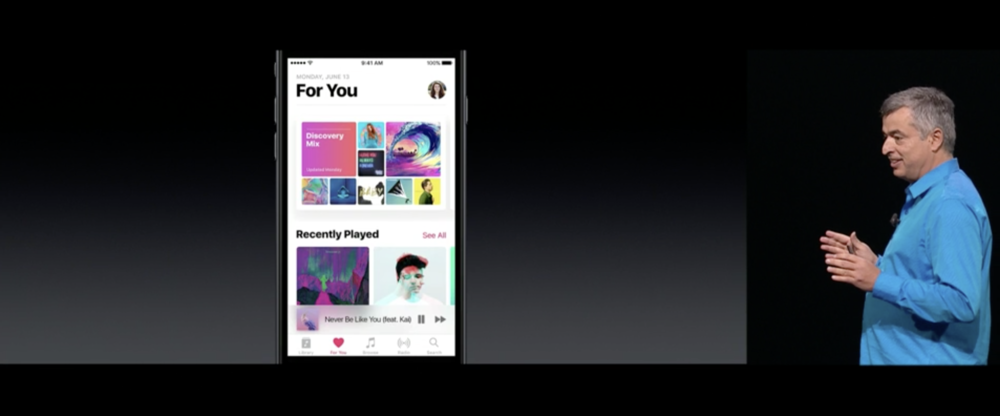 One other thing that was demoed – the ability to view lyrics while you're listening to music!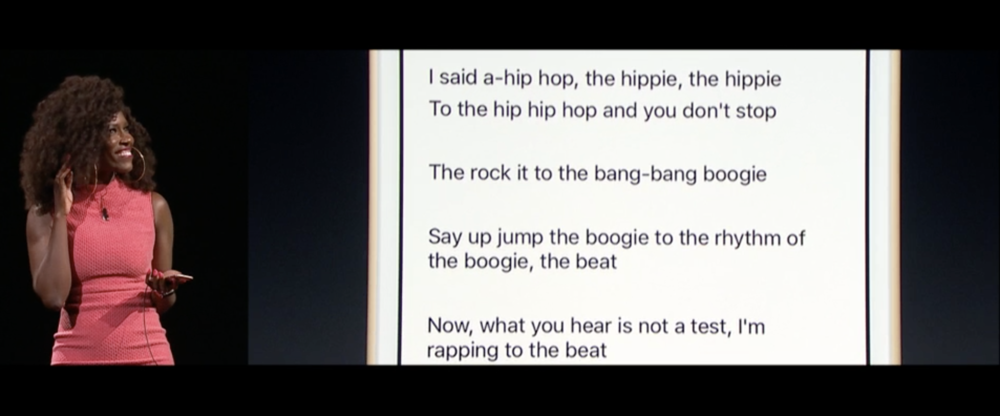 iOS User Experience and Features
The new iOS 10 Raise To Wake feature automatically wakes the screen when you pick up the iPhone, so notifications are available on the redesigned Lock screen with a glance. Notifications, Today view and Control Center are all easily accessible from the new Lock screen with a swipe or press, and even more capability was added to 3D Touch on iPhone 6s and 6s Plus to add notification from app buttons.
Siri intelligence is now added to QuickType so that it makes contextual predictions to bring up information based on location, calendar availability or contacts, and new predictive typing allows multi-language support without switching keyboards. The Phone app can now be used for third-party VoIP calls — think of using Phone for making Skype calls. Voicemails are now transcribed for reading, and there's a caller ID extension for spam alerts.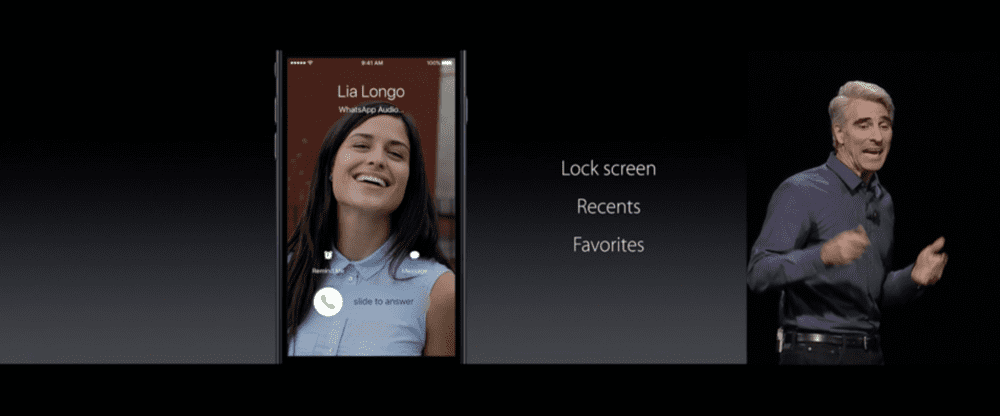 Safari will allow split view on iPad (two distinct Safari windows open at the same time!). Many people can collaborate on one Note, and Live Photos can be edited. Apple Pay will let users make payments on participating websites using Safari in addition to the existing in-store and in-app purchases.
Since sleep is so important to us, the Clock app now has something called Bedtime Alarm to set bedtime reminders.
Privacy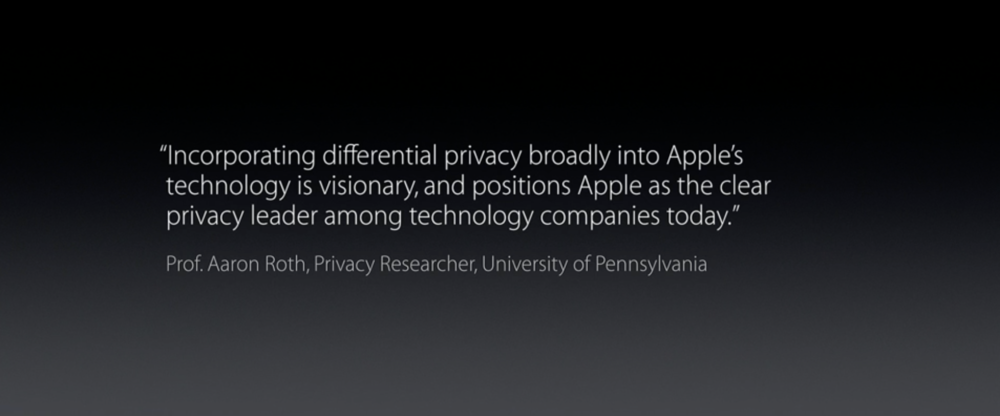 Apple doubled down on privacy today by announcing that iMessage, FaceTime and HomeKit all use end-to-end encryption. iOS 10 utilizes on-device intelligence and powerful CPUs to make Photos identification possible and make QuickType suggestions. And while some services, like Siri, Maps and News send data to Apple, the data isn't used to build user profiles. Apple will begin using a technology called Differential Privacy in iOS 10 to discover patterns of large numbers of users without compromising individual privacy. These patterns can help improve QuickType and emoji suggestions, Spotlight deep link suggestions, and Lookup Hints in Notes.
Conclusion
All in all, I thought the iOS 10 announcements were pretty incredible. There's a lot more that is hidden in the operating system, and we'll be sure to announce it as we hear about it. For the time being, feast your eyes on the fine print in this screenshot from the keynote livestream: