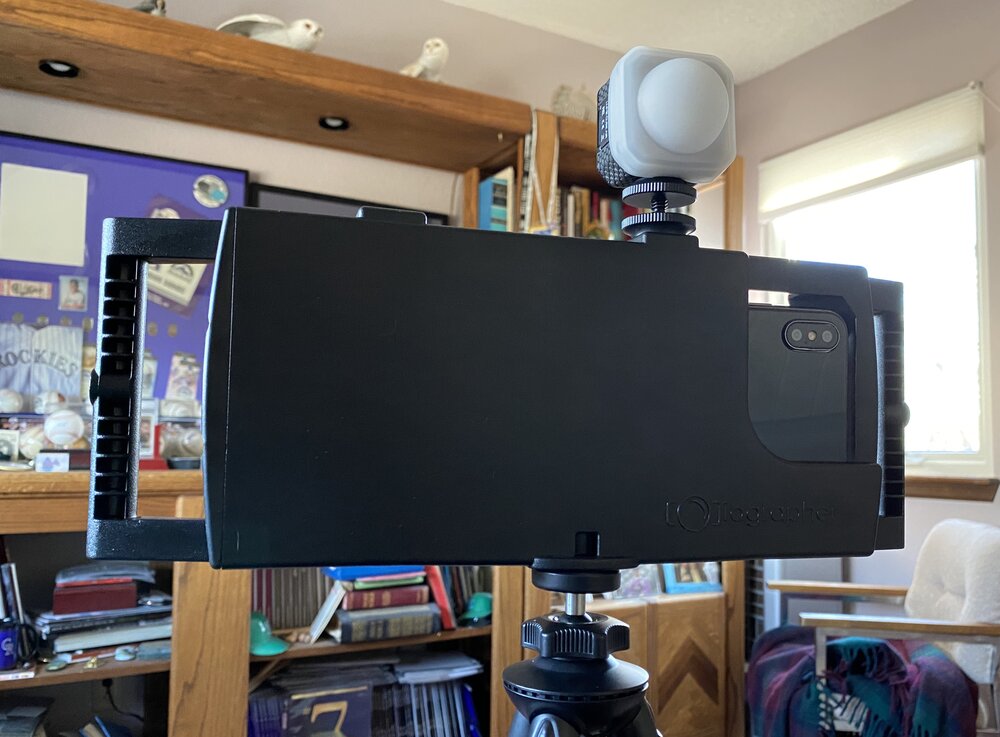 One of the biggest challenges to vloggers and filmmakers attempting to use iPhones and iPads as their primary video cameras is how to make that video look professional. iOgrapher has that all under control, with a line of accessories that make it simple to mount an iPhone or iPad on a tripod, add accessory lenses, lights and audio gear, and all in all provide a solid way to make your mobile device video look like it was shot by a pro. Today I'm looking at the iOgrapher Filmmaking Multi Case for Mobile Phones ($59.99).
Design
When shooting a video with an iPhone or iPad, one of the hardest things to do is keep the video steady. That's where the iOgrapher Multi Case for Mobile Phones comes in (note, there are also iPad versions available). Made of polycarbonate and ABS plastic in the USA, the Multi Case is a two-handle stabilizer case that can be either handheld or mounted on a tripod.
Standard screw mount holes are located in three locations on the Multi Case for vertical (portrait orientation) or horizontal (landscape) mounting. Add to that a set of cold shoes for attaching microphones or lights, and you have a tool that is able to turn almost any iPhone into a solid and professional video camera. Let's face it — current iPhones are capable of shooting 4K video at 24, 30 or 60 frames per second, and the available lenses on the iPhone 11 Pro line are incredible. Using the iOgrapher Multi Case as a way of adding lights, mics, and a tripod to the mix can help your shooting.
For example, I needed a way to hold my iPhone 11 Pro Max on a tripod with the screen facing toward me so that I could use the wonderful BIGVU app as a teleprompter and video capture method for some videos we're working on. With the iOgrapher, I simply snapped my iPhone into the case, added a small tripod (in this case, the $24.99 iOgrapher Flexible Mini Tripod), and was able to start shooting my green-screen video in minutes.
A little background about this company, by the way: the entrepreneur who started the company had a long career in Hollywood and then went on to teach media arts. He realized that students needed an inexpensive way to mount or handhold their iPhones or iPads as cameras, so he invented the device. Now professional and amateur sports teams use the cases, and real filmmakers love 'em too — you might have heard of a guy by the name of Steven Spielberg?
Function
While I love the device, I do have one concern — it's a bit of a tight fit for the iPhone 11 Pro Max, especially if you have a case on your phone. I actually needed to change to a case that I can easily remove and reinstall, since it was difficult to get the Max into the Multi Case with a case. A "naked" iPhone Pro Max can fit into the iOgrapher case with no problems.
Once the phone is mounted in the case, it's held very solidly. The two handles on either side make handheld videography a lot more stable — add to that the iPhone Camera app's ability to provide stabilization and you almost have a Steadicam-like solidity to your video.
Those two handles are nicely textured so your hands can get a good grip, and there's enough clearance to wear gloves if the weather is inclement.
For most of the handheld work I do, I add a Lume Cube AIR LED light for fill-in lighting. It has variable brightness and comes with a pair of diffusers to make the lighting less harsh. It fits on the MultiCase like a glove.
As soon as I get an adapter to go from a microphone stand (5/8") to a tripod mount (1/4"), I'll be mounting my IK Multimedia iRig Studio mic onto the iOgrapher Multi Case. Talk about a great filming setup!
Conclusion
I'm impressed. With the pricing of the iOgrapher Filmmaking Multi Case for Mobile Phones being so reasonable, it's possible for any budding filmmaker, vlogger, or student to afford the equipment and "up their game" in terms of video production. It's solidly built, can take all of your other accessories, and is truly an indispensable piece of equipment in my video production workflow.
Apple World Today Rating (out of 5 stars): ★★★★★